Take Five: Off the Beaten Path in the Finger Lakes, NY
Photo below courtesy of Pleasant Valley Wine Company
Travel
Lists
The Finger Lakes region is still relatively off the map for most. Those who have heard of it or driven through it on their way to Canada think it's a land of wine, lakes and gorges. And they're right. But New York's 9,000-square-mile region consisting of 11 lakes has more depth than their deepest lake, Seneca, which is 618 feet deep. That's really deep.
1. Two Goats Brewing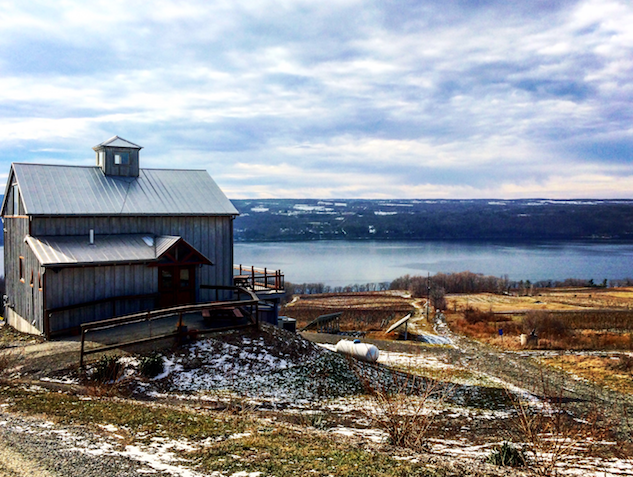 The region isn't known for beer, but don't miss out on the quality Finger Lakes breweries. Inside a barn shed off a side street on Seneca Lake is the six-year-old Two Goats Brewing. The tiny renovated shed is more modern than it looks; completely solar-powered, the interior bar is packed on weekends, dollar bills coat the ceiling, and live bands play until 1 a.m. The young owners are almost always manning the bar (the staff is smaller than the space itself) and are happy to fill you in on their business over one (or more) of their highly popular Goat Gasms—a double IPA of a light color that perfectly matches the rustic bar's wood interior and the Finger Lakes sunset.
2. Barnstormer Winery
Yes, wine is like water in the Finger Lakes, but it is possible to go off the beaten wine path. Barnstormer Winery opened in 2013 in a 170-year-old barn, blending new and old nearly as well as they blend their grapes. Unlike most tasting rooms in the area, Barnstormers is completely laid-back and even has seats. Park yourself at the bar and owner Scott Bronstein will pour you a glass of his silky vino. With live music on weekends, Barnstormers feels like a winery dressed up as a dive bar. If it's cold, ask for the mulled wine which is more like a hot cider than the typical spiced cocktail. Otherwise, you're safe with one of their award-winning Reisling's that have a slight refreshing tartness to them that most Reislings do not.
3. Farm Sanctuary
Cuddle up to rescued pigs and goats at Farm Sanctuary in Watkins Glen. The 175-acre New York shelter houses over 500 animals that have been rescued from the modern factory farming industry. Guided tours take you through the sanctuary to hear each animal's touching tale of suffering and then saving. You'll be allowed to feed chickens, pet cows, and watch ridiculously adorable lambs run (or more like hop) after their mamas. If you're lucky, you'll get a cow kiss, and if you want more, you can stay on-site in the Sanctuary accommodations.
4. The Rockwell Museum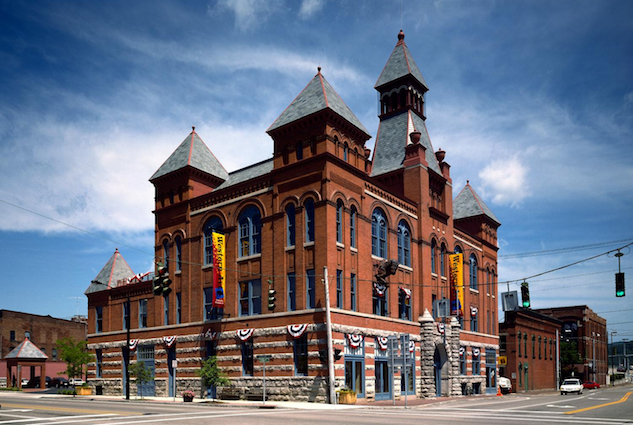 Photo courtesy of Finger Lakes Wine Country
While most visitors flock to the Corning Museum of Glass—which we cannot deny is pretty incredible—locals sneak off too the untouched-by-tourists Rockwell Museum of Art. The Smithsonian affiliate features a heavy dose of local art submerged into a countrywide collection of rotating exhibits that portray "the spirit, character and values of America through the eyes of American artists." Wandering around the amber building that once housed Corning's Old City Hall, you'll stumble upon everything from a bronze horse sculpture made in 2000 to a gallery full of historic photographs of neighboring Watkin's Glen State Park to mixed media pieces from a Native American artist. After your visit, wander around the Corning community and down some of the alleys to spot a Rockwell Museum-made mural, thanks to their Alley Art Project.
5. Old Tyme Woodshop
Forget glass, wood is where it's at, and you can find hundreds of woodshops dotting the lakes of this region. For handmade masterpieces and a big personality, visit Old Tyme Woodshop (also known as Chickadee Cottage), which from the road looks like a furniture-hoarders front-yard. Owner and craftsman Gary Kerbein will welcome you and tell you the story behind each piece of wood in the shop, if you have that kind of time. Even post-purchase, Kerbein is totally attentive, dedicated to his customers, and happy to answers questions long after creations have left the building.
Maggie Parker is Paste Magazine's assistant travel writer.