Nature can paint quite a colorful scene without the help of a human hand. From rainbow-hued mountains in China to tulip fields in the Netherlands, some of the most impressive art can be found outside of museum walls and occurring naturally around us. A palate composed of minerals, weather, time and geological forces make these eight destinations are among the most naturally colorful in the world.
1. Zhangye Danxia Landform Geological Park
Gansu, China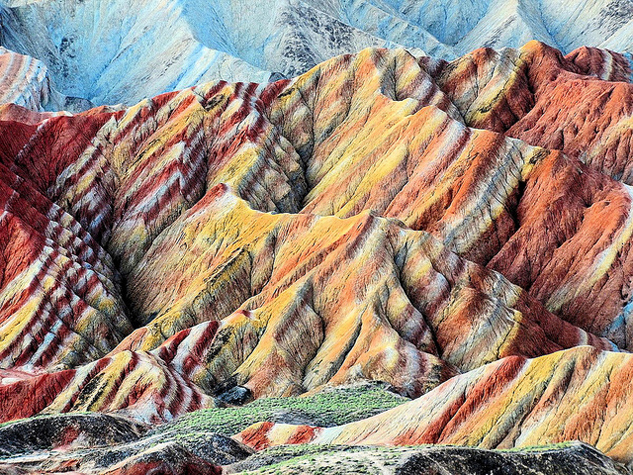 Photo by Eric Pheterson, CC BY 2.0
Dubbed the rainbow mountains, these landforms look like something straight out of a fantasy. The colorful formations are very much real and can be found in the Zhangye Danxia National Geological Park in China's Gansu Province. Over 24 million years, layer after layer of mineral deposits and red sandstone helped create the park's incredible formations. Aside from the colors, a recipe of elements like rain and wind helped shape the rocks into a variety of formations ranging from tall pillars to deep ravines.
2. Grand Prismatic Hot Spring
Yellowstone National Park, Wyoming

Photo by James St. John, CC BY 2.0
Not only is this the largest hot spring in the U.S., it's a real beauty as well. The Grand Prismatic Hot Spring, located in Yellowstone National Park, measures 370 feet wide and more than 120 feet deep. The spring's mineral-rich water is ringed with rainbow colors that are caused by pigmented archaea.
3. Mendenhall Ice Caves
Juneau, Alaska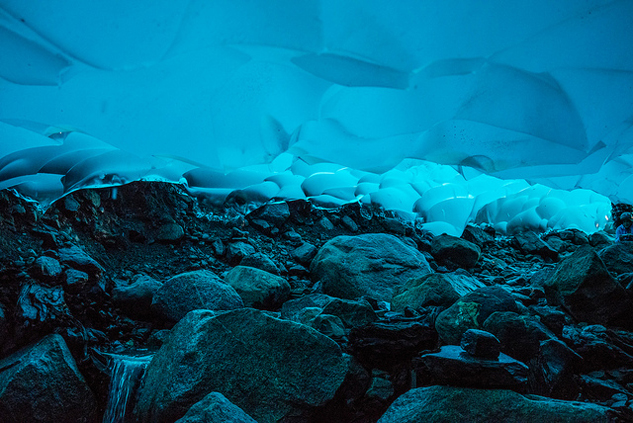 Photo by Andrew E. Russell, CC BY 2.0
Intrepid travelers up for the considerably challenging and potentially dangerous hike can see the stunning blue ice caves within the 12-mile-long Mendenhall Glacier in Alaska's Tongass National Forest. The glacier is retreating quickly and as it warms and shifts as a result, portions of the cave are at risk of collapsing. Those brave enough to explore it themselves will be rewarded with a remarkable sight. The deep blue cave gets its color as a result of how glacial ice absorbs and transmits light.
4. Antelope Canyon
Page, Arizona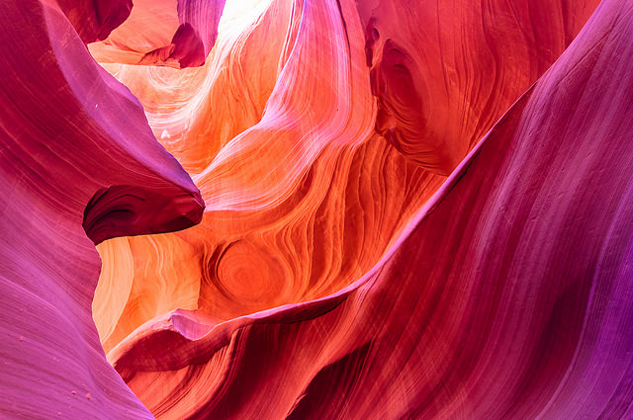 Photo by Bill Richards, CC BY-NC 2.0
When the light hits it right, the sandstone walls of Antelope Canyon take on sunset hues. The dual-chamber slot canyon was formed by erosive monsoon rains, which helped create the wave-like fiery red and orange (and with the right exposure even purple) walls. The canyon is located in the Najavo Nation and can be explored via guided tour.
5. Tulip Fields
Flevoland, Netherlands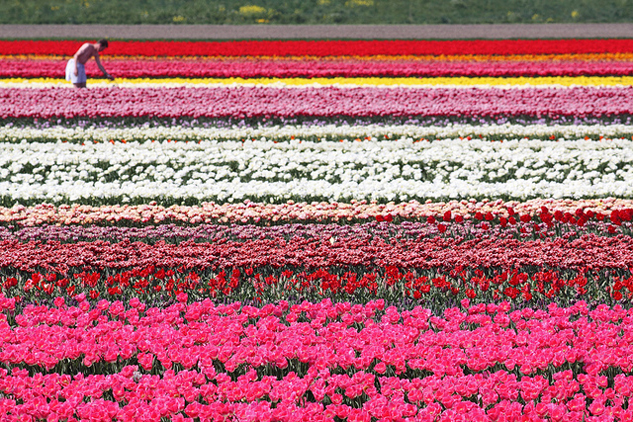 Photo by Dirk-Jan Kraan, CC BY-NC 2.0
With its rows and rows of colorful tulip fields that bloom each spring, it's no wonder Holland has been called the flower shop of the world. Head to the Netherlands between April and May when the official Tulip Festival takes place for your best chance at seeing the rainbow rows of flowers. The largest concentration and most popular route is in Noordoostpolder, a municipality in Flevoland Province, where more than 60 miles of these fields burst with color and fill 2,500 acres for a postcard perfect scene.
6. Cargill Salt Ponds
San Francisco, California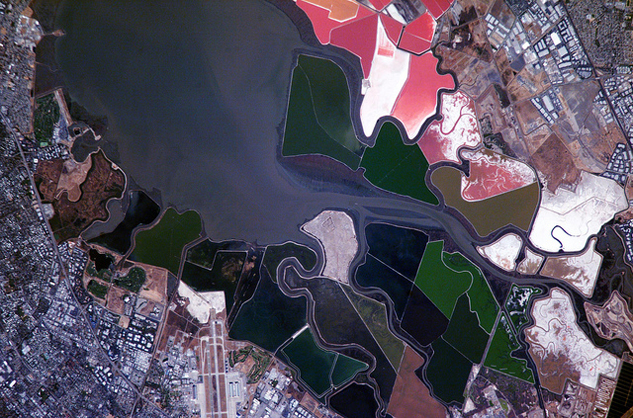 Photo by Stuart Rankin, CC BY-NC 2.0
Saline-loving microorganisms help give color to Cargill Inc.'s salt evaporation ponds located around the San Francisco Bay. While the area is used for industrial salt production, it's protected within the Don Edwards San Francisco Bay National Wildlife Refuge. The 30,000-acre refuge is home to millions of birds as well as the vibrant red and green salt ponds.
7. Grand Canyon
Grand Canyon National Park, Arizona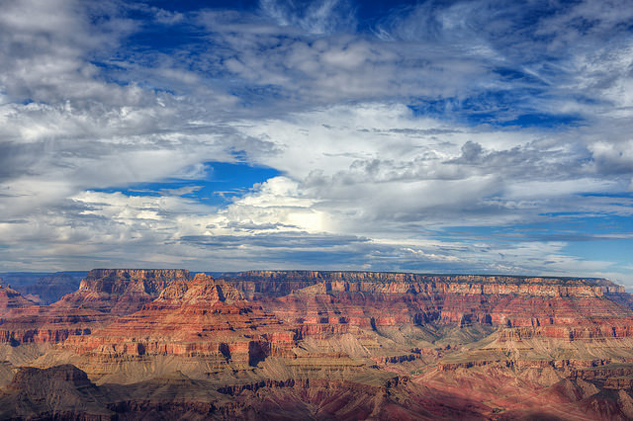 Photo by Diana Robinson, CC BY-ND 2.
The steep walls of the Grand Canyon display millions, if not billions, of years of geological history as well as an assortment of colors. The exposed layers of rock tell a story of earth's vast history. To see these rocks at their most colorful, visit during sunset when they take on an extra vibrancy.
8. Lavender Fields
Provence, France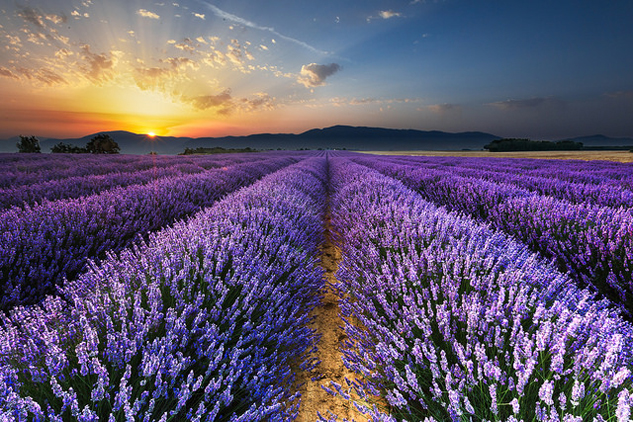 Photo by Loïc Lagarde, CC BY-NC-ND 2.0
What? tulips are to the Netherlands, lavender is to France. Every summer from late June to August neatly manicured rows of purple lavender bloom in Provence, a region that has turned the plant into a full-fledged industry. There's a dedicated lavender museum, countless distilleries that manufacturer lavender scented and flavored goods, as well as an annual festival.
Top photo: Mike Cilliers, CC BY-NC-ND 2.0
Paste Travel's Bucket List columnist Lauren Kilberg is a Chicago-based freelance writer. Her travels have found her camping near the Pakistani border of India and conquering volcanoes in the Philippines.