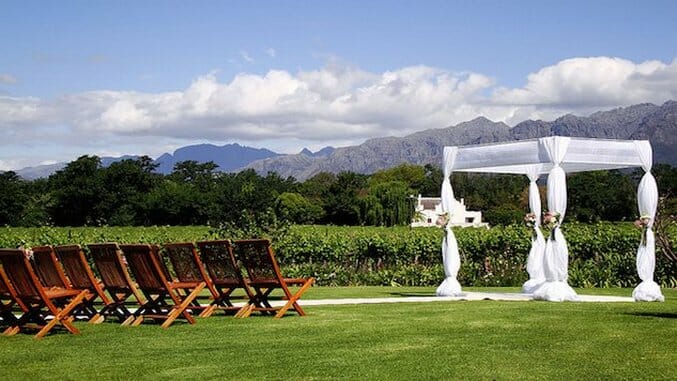 As wedding season approaches many of us face the big question. Should I say "I do" to a destination wedding? While an invitation to a friend or family member's nuptials in an exciting locale is affirmation of your friendship, plus an opportunity for travel, it's also a serious commitment.
Once you factor transportation and lodging costs, time away from work, and wedding-adjacent requirements such as wardrobe, gifts, and parties, putting a ring on travel plans can be an overwhelming endeavor. So how can we be present when a friend takes a giant leap while staying grounded?
We consulted experts for advice to help guests elegantly navigate the dos and don'ts of destination weddings. According to Mark Koehler, SVP of Hotels for Priceline.com, the company's recent Bridal Season Survey found 47% of respondents were excited about the prospect of wedding travel and 25% where motivated by a chance to visit a new place, which is good news considering destination weddings are becoming increasingly popular.
In more happy news, most couples have family and friends in mind when choosing a destination. Proximity and costs are usually prime factors, along with a location's meaningfulness. Julie Gladstone, CEO of Bride & Groom says couples are motivated by creating a memorable experience for guests. "Couples choose destination weddings to get a change of scenery, to turn their wedding into a grandiose celebration, to travel with friends and family, and to have a day that feels unique to them," she says.
Bottom line: Destination weddings offer an invaluable opportunity to explore a new place and strengthen bonds with family and friends. These pro tips will help you celebrate the special occasion to the fullest.

Assess the Commitment
Priceline found 40% of invitees decline a wedding-related event due to travel expenses. The company says this could be due to people spending on average more than $600 on wedding-related parties and events (more than a quarter spend more than $800; 15% spend more $1,000).
If you made the guest-list cut, you are close enough to openly discuss expectations and concerns, especially if the trip may be financially or schedule prohibitive. Most couples understand the undertaking but plan for the destination to pay off with an unforgettable experience. If you must decline, suggest alternatives for celebrating together before or after the grand event.
For those taking the plunge, plan to pool resources with friends like renting a car or van together to save money. For lodging, Koehler recommends looking beyond the wedding hotel. "When you're a wedding guest, you shouldn't feel pressured to stay at the venue hotel or within the block of rooms secured by the bride and groom," says Koehler.
He advises booking at least three months in advance to save on flights. Many couples choose long holiday weekends for more celebration time, which also means peak travel periods and higher costs. "As soon as you receive the save-the-date for an upcoming destination wedding, mark your calendar for the ideal time to purchase tickets," Koehler adds.
When it comes to gifts, some experts say your presence is the only present required, while others advise against showing up empty-handed. Gladstone suggests joining with friends and family for a group gift.
Understand Expectations
According to The Knot, it's typical for couples, often in collaboration with family, to treat guests to a welcome party, rehearsal dinner, reception following the wedding, and morning-after brunch. The site also suggests hosts cover a group activity like a city tour and transportation to wedding sites. Unlike hometown weddings where the spectrum of activities is generally reserved for wedding party and out-of-town-guests, destination weddings mean everyone is "visiting" and invited to most, if not all, events.
The Knot says traditionally the couple covers lodging costs for the wedding party (not all guests). If covering these expenses isn't within budget, the couple should consider alternatives. "If these expenses will burst your budget, tell your attendants their presence is a gift to you. (Keep in mind: If hotel room rates are $400 a night, that may be more of a present than they intended to give!)" the company advises hosts.
Generally, guests are expected to pay for the cost of travel to the destination, lodging (for non-wedding party guests), and any non-wedding activities including food and drinks. But, keep in mind, the new normal is there is no "normal." Each couple and situation is unique.
Say YES to Travel
Engage the opportunity as exploration time with family and friends and tap into your host's destination familiarity. "Unlike planning a vacation, people don't want to experiment when it comes to destinations for wedding events," says Koehler. "91% of respondents had been to the city prior to the wedding-related travel trip."
Consider using the occasion as a springboard for a more immersive trip. Once your bags are packed for a weekend, it may make financial sense to develop a longer vacation around the destination and region. After all, you've already paid to get there.
"Planning a vacation around a destination wedding is a great way to kill two birds with one stone!" says Gladstone. She says popular choices for destination weddings include places on many of our bucket lists anyway, including Napa, Hawaii, San Francisco, Miami, New York, and Italy's Amalfi Coast.
RSVP to Comfort Level
Just because a destination wedding comes with a 48-hour-celebration itinerary doesn't mean guests are required to participate in every activity. Optimize the experience by balancing wedding activities with personal time.
"Most wedding-related activities are only optional for the guest," says Gladstone. "For example, only the ceremony and reception are mandatory for a typical guest. While the rehearsal and day-after brunch would be required for the wedding party, these things are likely optional for guests."
Be clear with your friend when you will participate and when you will opt out so expectations are aligned.
Foster a Lifetime Bond
Long after that toaster you gifted stops toasting, you will have the memories created with your friend during their wedding. Being part of such an important life event is one of friendship's greatest privileges. Traveling for a destination wedding ensures you will have more time to enjoy with your friend, and hopefully, form a deeper bond with their new life partner.
See the experience as an investment in the friendship and joyful way to support the couple's commitment to each other. Gladstone says to remember that travel can strengthen friendship like no other experience, especially when embarking on a journey with such grand purpose.
Being grateful for the unique experience is a priceless gift to your friend – and to yourself.
Main and lead photo by warrenski/Flickr CC BY-SA 2.0
---
As a kid playing in Alabama's red dirt, Jess Simpson fantasied about exploring faraway sands. She still chases those dreams every day and aims to nudge fellow dreamers to explore farther, deeper, and more boldly. Read about her digital nomad adventures at Intrepid Travel, Mental Floss, Fodor's, Bustle, and her bi-weekly Travel Secrets column here at Paste Travel. Connect @ Twitter, Facebook & Instagram.