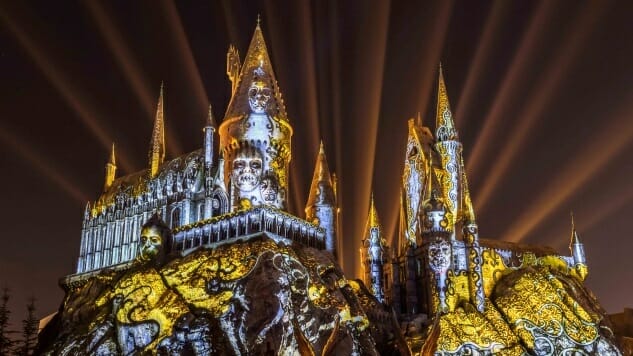 People can't get enough of the darkness. Bad guys and spooky stuff are on the rise everywhere, and that includes The Wizarding World of Harry Potter at Universal Orlando Resort. Starting next week, a new nighttime light show, "Dark Arts at Hogwarts Castle," will take over the Hogsmeade part of The Wizarding World. If you're a fan of Voldemort and the Death Eaters (which is clearly also a band name by now), this has to be some exciting news.
According to Universal's press release, the show will use "state-of-the-art projection mapping, special effects and lighting to bring a new dimension of magic to life on the majestic Hogwarts castle." Expect to see all manner of Potter villains attack the park's iconic castle, including Dementors, Thestrals, some tough-sounding customer named Aragog, and more. The show will use those lights and projections to eventually summon Voldemort himself for the epic conclusion. The show's only running for a limited time, though, so you might want to start making plans if you love that scary stuff.
Oh, did I mention the Death Eaters? They'll be lurking around Hogsmeade in the flesh—or whatever they're made of—once the sun goes down. It'll be possibly your best chance to get a selfie taken with a malicious spectral entity that's eternally devoted to a noseless Ralph Fiennes.
This isn't a nightly shindig, unfortunately. It launches on Sept. 14, and will happen on select nights up until Nov. 15. The full schedule doesn't seem to be out yet, but you can keep an eye on Universal Orlando's website for updates.
If you do somehow side with Voldemort over Harry and his crew, well, that's just kind of weird. Kind of like how Star Wars is now marketed as a "pick your sides" type of deal, encouraging people to identify with genocidal space fascists. I don't know, maybe I just wasn't made for these morally conflicted, shades-of-grey times. That's why I stick to the Jimmy Fallon ride at Universal—you always know where you stand with that guy.
This same "Dark Arts" show also ran earlier this year at the Wizarding World's west coast outpost at Universal Studios Hollywood. Universal produced a neat little behind the scenes video when the show started up there; take a look, if you want to learn more.