Hanoi is caught between two Vietnams: a pre-war village and a modern city rising from the ashes. Depending on the neighborhood, you'll find old women dumping buckets of snails onto the sidewalk to cook or couples in colorful tracksuits doing calisthenics on manicured lawns. Packs of motorbikes zip around the skyscraper-laden center and into the winding streets of West Lake and the Old Quarter, where ancient buildings abut hip coffee shops and art galleries.
Colorful apartments in French Provençal style shine through thick fog, creating a sense that a discovery might be behind any door. Narrow, winding streets give way to flea markets that sell clothes, spices and silver trinkets; and old men crouched over bowls of steaming hot soup on the sidewalk. A vibrant young crowd—most of Hanoi's population was born after the American war in 1975—and bourgeoning art scene may have emerged, but a piece of Vietnam's capital will always live in the past.
Day One
Morning
Start your day off with a cup of Vietnamese coffee—a concentrated brew, which slowly drips from a Phin filter (a steel, single-cup filter that fits over a glass) into a thick layer of condensed milk. Trust us, this coffee is strong; you'll need a little sweet. Head to Chat and Date for a twist on the classic made with coconut milk that tastes like a chocolate macaroon. Have it with any one of their French pastries, including chocolate and cheese croissants, or a yogurt smoothie.
Afterward, head down Van Mieu to the Temple of Literature, which honors Confucius and Vietnam's greatest scholars. Pass under the stone archway through five tranquil courtyards, which are dotted with bonsai trees, bronze bells and gazebos with red sloping roofs that match the temple itself. Inside the temple—built in the 11th century—the smell of incense is baked into the walls and visitors leave fruit and flowers in front of gold Buddhist shrines.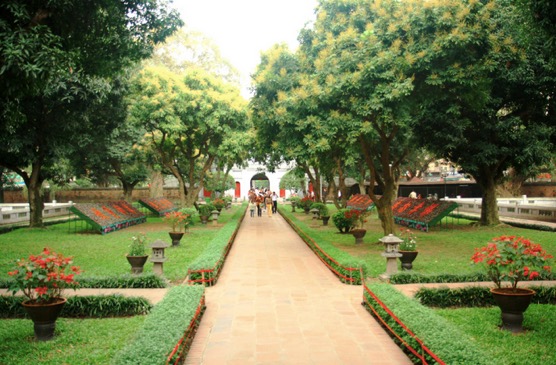 Temple of Literature Photo via Flickr/Andrea Schaffer
Afternoon
For lunch, make your way down Nguyen Thai Hoc, one of the main tourist drags, and turn onto Ly Van Phuc Street, a crowded alleyway better known as Chicken Street. Follow the sweet-barbecue aroma to the last open-air eatery at the end of the road. No need to look at the menu (it's all in Vietnamese anyway), you want the canh ga, or chicken wings. The chicken is perfectly smoked with crisp skin and a sticky glaze that will leave you licking your fingers for more. Adventurous eaters should try the barbecue chicken feet. The flat, honey-dipped bread rolls, which are served hot off the grill with a side of chili sauce, are also a must.
Continue the hunt for street food in the Old Quarter. This is the heart of Hanoi: tight, winding streets take you back in time, when Hang Duong—Sugar Street—and Hang Vai—Fabric Street—were once the city's major trading posts. Today, the Old Quarter is one of the best places to sample Hanoian staples, like fresh spring rolls stuffed with catfish, fried pastries with sesame seeds, and glazed pork on bamboo skewers. Follow the crowds to the most popular vendors along Ma May or Tong Duy, and you won't go wrong.
Escape the noise of the city center and snag a bench near Hoan Kiem Lake. Carved into the urban center, this is the best place for a glimpse into Hanoi's public life: eager students stop tourists for a chance to practice English, photographers rove the perimeter for subjects and, if you're lucky, you'll spot a turtle—said to have been living in the lake since the 15th century and considered very auspicious. Cross the red bridge to Ngoc Son Temple, which sits on a small island in the center of the lake. Built in the 18th century to honor the historic military leader Tran Hung Dao, the tiny pagoda's entrance is flanked by Chinese writing; it doesn't contain much inside, but for 20,000 Vietnamese Dong (at 21,800 VND to the U.S. dollar), it is worth a closer look if only for the view.
From there, make your way to Trang Thi to reach the deceptively extensive Military History Museum, where war history buffs will enjoy walking up to old, downed warplanes, including a B-52 and an F-111, and weaponry that dates from the Chinese colonization (111 to 938) to the American War in the 1970s.
If shopping is more your speed, head back to the Old Quarter, starting at Cho Hang, the best place for secondhand jackets, skirts, or the perfect silk Vietnamese dress, called an ao dai, in mint condition. For hand-embroidered linens, clothing and accessories, Tan My is a third-generation, family-owned shop that got its start embroidering messages on handkerchiefs for soldiers in the American War.
Evening
Head to Bia Hoi corner—the intersection of Ta Hien and Luong Ngoc Quyen Streets named after bia hoi, or "fresh beer," which is brewed and delivered daily throughout the capital. For about 2,000 to 5,000 VND a glass, you can have a few while munching on peanuts and watching people make their day-end commute.
On the way to dinner, walk the gallery-lined Hang Bong street, stopping into Mai Gallery to view one of the city's better collections of contemporary Vietnamese paintings. Then sit for a meal at New Day, a bustling restaurant that is popular among locals and tourists. The grilled aubergines topped with crushed peanuts are sublime.
Or, grab a bowl of pho, Vietnam's national dish, at Pho Gia Truyen, located at 49 Bat Dan in the Old Quarter. The stoic woman, who ladles soup, and the animal carcasses hanging from the stall might look uninviting, but the bone-sticking slabs of pork and beef, and thick noodles drown in rich broth, consistently draws a line around the block. Grab a plastic stool and slurp it down with the locals on the street.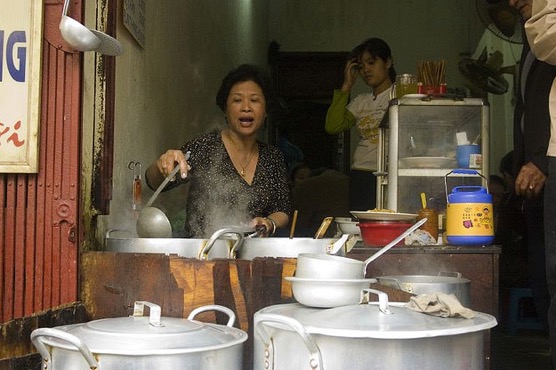 Photo via Flickr/audrey_sel
Ca tru music, which has survived among a small community of historians for hundreds of years, is performed at a handful of small temples throughout the city. Book seats at Thang Long Ca Tru Guild, which seats about 30 guests (mainly tourists) on folding chairs to watch the three to five musicians alternate between vocals—a high-pitched vibrato—and wooden clappers, a three-stringed lute and a praise drum.
Hanoi isn't known for its club scene, but Dragonfly and Funky Buddha are popular among the city's young population for dancing. They have decent size dance floors and moderately priced cocktails (the former also has pool tables and shisha tobacco), but expect a crowd of backpackers in their late teens and early 20s. For a more subdued nightlife experience, head to Mao's Red Lounge in the Hoan Kiem district. Good prices, attentive staff and a consistently jovial crowd make this the local favorite. Depending on your preference (and age), the playlist—which is dominated by 1990s western pop—is either a downfall or a huge plus.
Day Two
Morning
Start the day with Hanoi's most popular and strangest site: the Ho Chi Minh mausoleum, where you can view the former president's preserved corpse—skin and all—when it's not in Russia for its annual maintenance. The line is usually wrapped around the block, but don't be discouraged—the guards keep people moving briskly along. Next, cross the complex to the museum dedicated to Ho Chi Minh's life. The exhibits include an abstract table setting meant to symbolize the influence of Picasso and an ethereal installation meant to represent the leader's childhood home.
Afternoon
From the museum, walk north to the quiet residential Tay Ho District (West Lake), named after the city's largest lake. The lake used to be part of the Red River and served as a retreat exclusively for royalty. Today, the 1o-mile shoreline is a popular place for Hanoians to ride bikes and go for a morning run. However, some of West Lake's glamor still remains: the city's most expensive homes—four-story townhouses with ivy-covered balconies—and hotels, like the InterContinental and the Sofitel, line its shores. In the spring, the water is covered in lotus flowers.
Head back toward the city center for lunch. On the way, stop at Tran Quoc Pagoda, the oldest temple in Vietnam. Built in the 6th century, the brick-colored tower is stacked like a totem pole with sitting buddhas tucked inside. It sits on the lake as a symbol of Vietnamese Buddhism, with a planted clipping from the original Bodhi tree, where Buddha first achieved enlightenment.
For lunch, try one of Hanoi's most famous dishes, cha ca—whitefish fried in peanut oil with turmeric, shrimp paste and dill. The historic spot for cha ca in Hanoi is at Cha Ca La Vong, which has been owned by the same family for a century and is so famous that the city renamed the street (formerly Hang Son) after the restaurant's signature dish.
Make it to Gam Cau Street in time for sunset on the Long Bien Bridge, which connects downtown Hanoi to the city's poorer outskirts. Designed by Gustave Eiffel during the French occupation, the one-and-a-half mile bridge over the Red River was one of the longest and most spectacular bridges in the world when it opened in 1903. It's ramshackle appearance—a hodgepodge of styles and materials have been used to patch it up after it was bombed by the U.S.—stands as a symbol of resilience against Western imperialism. The bridge is closed to cars; traffic consists of motorbikes, people and a passenger train.
Evening
Come off of the bridge and walk toward Quan Tanh, turning right onto Phan Huy Ich for one of Hanoi's art bars, Manzi. Housed in a French villa, it features installations, fine art exhibitions, talks, workshops, film screenings and musical performances over coffee and cocktails. Check the schedule for events during your stay.
Stroll back toward the main road. Just off Phong Dinh Phung look for Quan An Ngon, a courtyard restaurant surrounded by lush greenery with stone walls that echo the sounds of people talking, chefs shouting and oil frying. The menu, which is a couple of pages too long, offers an elevated take on street food. Don't skip the banh xeo—a thinly fried pancake, stuffed with mushrooms, parsley and shrimp or pork—and the steamed banana custard for dessert.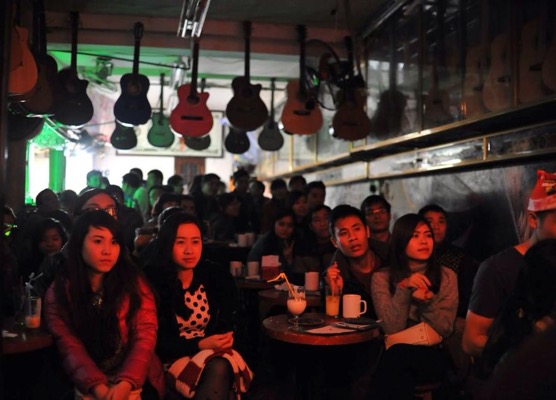 Photo via Cafe Guitar 4U
Live music is a popular component of Hanoian nightlife. At Cafe Guitar 4U (29 Nguyen Khang)—a quirky coffee shop and bar—dozens of guitars hang along the back wall and local bands come to play alternative and violin rock. The venue has a fun, upbeat vibe, but like most of Hanoi's nightlife spots, it can be smoky. For something a little softer, head to Binh Minh's Jazz Club, a small joint behind the Hanoi Opera House. The club owner, Quyen Van Minh, is a talented musician—he plays the tenor sax—and is often seen out playing or chatting with guests. There is outdoor seating with table service. Entry is free and music lasts from 9 p.m. to 11:30 p.m.
Getting There
Fly into Hanoi's Noi Bai Airport, which is about 28 miles from the city center. Vietnam Airlines is the traditional option if flying from the United States. There are no direct flights from the U.S., so you will have to stop over, most likely, in Seoul or Hong Kong. Budget carriers like AirAsia, Nok Air and Tiger Air offer low fares for those traveling within Southeast Asia. Hanoi Railway Station is a major transit hub for domestic travelers; it connects the city to nearly every Vietnamese province.
To Stay
Little Hanoi Diamond is by far the best quality for the cost. The hotel is located in the Old Quarter. The hotel provides unlimited tea and coffee for throughout the day, as well as a very generous breakfast buffet—both included in the cost of stay. Rooms start at low as $15 a night.
On the other end, there's the Sofitel Legend Metropole: a five-star hotel walking distance from the Hanoi Opera House. This is the place to go to be pampered—an on-site spa, hot tub and poolside bar are just a few of the perks. Rooms start at $279 a night.
Christina is a beach kid living in Brooklyn and a world traveler on a budget. She writes about food, style, travel—and the occasional short story.