Singapore, a multiethnic, multilingual and multicultural Southeast Asian island nation off the southern tip of the Malay Peninsula, is more than just a quick stop en route to the region's more talked-about destinations like Bali or Bangkok. For centuries, immigrants from China, India and Europe have made the 276 square miles of Singapore home, creating a cultural mix of 5.4 million people unique to this part of the world.
Bypass Singapore's famed zoo, its casino complexes and Sentosa—the theme park-esque island resort off its southern coast—and spend your holiday sampling Singapore's lesser-known culinary delights or exploring its overlooked parks and nature preserves. Admire the temples, churches and mosques. Lose yourself among the colonial-era Palladian, Renaissance and Neoclassical civic buildings. Contemplate the modern and postmodern office towers that punctuate the skyline. And when you're on the streets, fitting in like a local, attempt to converse in Singlish, an English-based language comprised of English, Malay, Hokkien, Teochew, Cantonese and Tamil vocabulary, which are all languages and dialects spoken by the majority of Singaporeans.
Singapore is celebrating its Jubilee year, or its 50th year of independence, throughout 2015 and commemorative events line the calendar. From February's Chingay, a "We <3 SG"-themed street parade, to the October opening of National Gallery Singapore, which will house the world's largest collection of Southeast Asian art, no matter when you visit, there will be cause for celebration.
Day 1
Morning
Begin the day at Tong Ah Eating House on Keong Saik Road, one of the city's many kopitiams, or old school coffee shops. Kopi means "coffee" in Malay and tiam means "shop" in Hokkien. Some seven hundred kopitiams dot the island and they can be often found on the ground floor of Singapore's public housing estates. Kopitiams are where people from the neighborhood gather to slow down and appreciate the beauty and rhythm of the community. For some sustenance, order kaya toast, a slice of bread or a roll smeared with pandan-flavored coconut custard and topped with thick slabs of cold butter. The traditional morning dish is served with hot kopi or teh (tea) and soft-boiled eggs seasoned with soy sauce.
Kopitiams operate using a special lingo. To order like a pro, ask for kopi-c, coffee with evaporated milk; kopi-o, black coffee with sugar; or kopi-o kosong, unsweetened black coffee.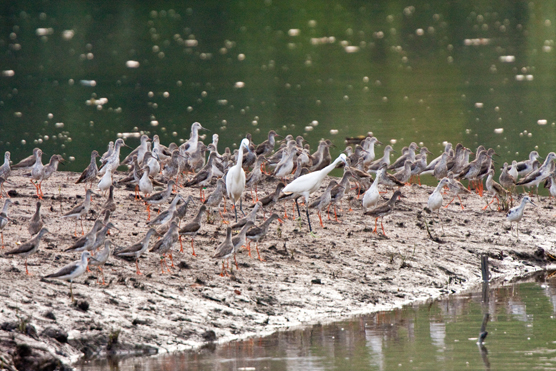 Sungei Buloh Photo by Flickr/Brian Jeffrey
Afternoon
Sungei Buloh Wetland Reserve, in the Northwest, is a jewel of an ecosystem where you can spot exotic migratory birds like whimbrels and plovers and resident herons and sunbirds. Stroll along the 1,640-foot long Mangrove Boardwalk, which winds its way through the mangrove trees. In the 19th century, mangroves were found all along the coastline of Singapore, but were cleared for industry and housing. Today, forests of mangroves can only be found on offshore islands and nature reserves. Look out for Singapore's monitor lizards, which can grow up to 6 feet long.
Next, travel about 14 miles from the city center to the nearby Kranji Countryside, Singapore's rustic corner that few visitors know exists. The farms here champion farm-to-table practices and educate city-dwellers about where their food comes from. Lunch at Poison Ivy, a bistro at farming collective and organic growing education center Bollywood Veggies'. The menu carries Indian fare commonly eaten in Singapore such as samosas and co-owner Ivy Singh-Lim's creations, such as otah (fish paste with spices) omelets and banana curry, which you will not be able to find anywhere else. Produce like eggplant, okra and pumpkins are often available for sale, as well as the farm's 20 varieties of bananas.
The Kranji Countryside Express runs daily from the Kranji mass rapid transit (MRT) station and stops at both Sungei Buloh Wetland Reserve and Bollywood Veggies.
Evening
Singapore is home to a small Eurasian population. The minority's origins can be traced back to some of the region's oldest colonial settlements: Singapore, Malacca, Penang, Goa, Macau and Sri Lanka, formerly known as Ceylon. Quentin's Eurasian Restaurant is the Eurasian Community House's in-house restaurant. The building also houses a small museum about the history and heritage of Singapore's Eurasian community and serves as a gathering and recreational center for that population. Work up an appetite by learning about Eurasian sports and how World War II affected Eurasians at the Eurasian Heritage Centre. Then, head downstairs to Quentin's to sample authentic Singapore Eurasian cooking such as patchri, which is eggplant in a sweet, sour and spicy sauce, and curry debal, which is chicken cooked in a fiery and rich curry.
After dinner, kick back at Blu Jaz, a laid-back music venue in Kampung Glam, Singapore's historic Malay quarter. The three-floor lounge hosts a variety of live bands and DJs from across the region.
For a late night nosh, head to Geylang, one of Singapore's red-light districts which functions as Singapore's business center in daylight, but come sundown transforms into a bumper to bumper sea of party-seekers hopping from hole-in-the-wall club to seedy bar. Foodies flock to curbside plastic tables to chow down on snacks under 10 Singapore dollars (8 USD) like on frog congee (frog rice porridge) at G7 Sinma Live Seafood Restaurant, tau huay (silky bean curd) at Rochor Beancurd House and beef kway teow (rice noodles and beef cooked in black bean sauce) at Lorong 9 Beef Kway Teow.
Day 2
Morning
Enjoy breakfast at Loysel's Toy Cafe, an airy joint best known for its premium gourmet coffee concoctions tucked away on the banks of the Kallang River in Kallang Riverside Park. Menu favorites include pancakes drizzled with gula melaka, or palm sugar, and the "Egg Ben Trio," three poached eggs with salmon, bacon and smoked ham.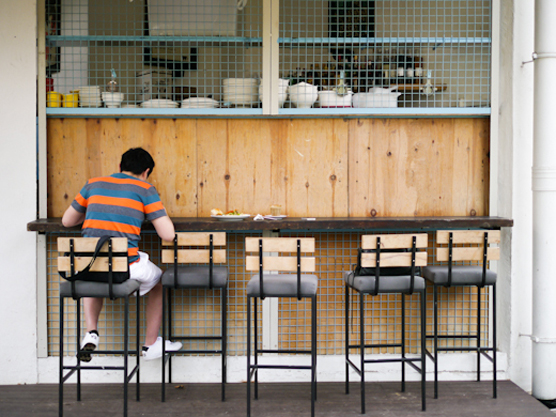 Loysel's Toy Cafe Photo by Flickr/Mechie Choa Yu
From here, stroll west along the winding Kallang River toward Kallang Basin where you can rent kayaking gear at Water Venture or watch dragon boats race the length of the body of water. Further downstream is Marina Barrage, a fresh water reservoir and a protected waterfront in the heart of the city, where you can catch stunning vistas of the South China Sea and the Singapore skyline.
Afternoon
Annalakshmi is a restaurant run by volunteers, has a pay-as-you-wish policy and features the city's freshest vegetarian, all-you-can-eat Indian buffet, which changes from day to day. Annalakshmi's South Asian dishes are rarely found outside of Singapore's home kitchens due to their complex nature. Dine on homemade snake gourd sambar—spicy lentil and vegetable stew flavored with tamarind—and erissery, which is pumpkin in a roasted coconut sauce. Donations help fund the activities of the Temple of Fine Arts.
After you're good and stuffed, walk it off as you head across the Singapore River to immerse yourself in Asian culture at The Asian Civilizations Museum, a gem that displays art and artifacts from China, Southeast Asia, South Asia and West Asia, the regions responsible for Singapore's melting pot of a population. The permanent collection in Gallery 1, The Singapore River Gallery, provides insight into the intersections between trade and the growth of the city.
Take a cab to Telok Blangah Hill Park for a walk along the Southern Ridges, a 5.5-mile trail that spans the hills of southern Singapore and offers encounters with butterflies and sweeping views of Singapore's shoreline. Begin at the Forest Walk, an elevated walkway through secondary forest, and end at Henderson Waves, a spectacular 900-foot pedestrian bridge with a distinctive wave-like structure. Watch Singapore's colorful sun set here between 7 p.m. and 7:30 p.m. depending on the time of year. Make sure you're not late or you just might miss it; because of Singapore's proximity to the equator, there is no twilight and darkness falls almost instantly after sunset.
Evening
Peranakan is a distinct local culture that fuses Chinese heritage with Malay influences. Those interested in learning about this culture unique to Singapore must try Peranakan's main cooking ingredient buah keluak, a tree nut native to the mangrove swamps of Southeast Asia. Candlenut, an upscale and modern Peranakan restaurant, incorporates buah keluak in many of its preparations—from appetizers like buah keluak pais, black-nut paste wrapped in a banana leaf and grilled to desserts like buah keluak ice cream, made in-house.
A number of speakeasies and hidden bars have opened in this equatorial city in recent years. After dinner, visit the speakeasy that launched the trend, 28 Hong Kong Street, near raucous Clarke Quay. The bartenders pour inventive, creatively-named cocktails, such as "Tropic Thunder," made with Leblon Cachaca, mango syrup, Falernum, lime juice and allspice dram. "The Whore's Bath," is made with 42 Below Manuka Honey vodka, umeshu plum wine, fresh lemon and pear liquor.
Getting There
Singapore Changi Airport is a major aviation hub in Southeast Asia and serves more than 100 airlines, including American carriers such as Delta and United. Singapore Airlines operates flights from New York City, San Francisco, Los Angeles and Houston to Singapore.
Getting Around
This small city is easily traversed by its efficient public transportation system. Taxis are readily available as well, but are difficult to flag down at rush hour and during Singapore dramatic rainstorms.
Where To Stay
The hip Hotel 1929 is housed in five converted Art Deco shop houses that were built in 1929. Rooftop suites are fitted with outdoor bathtubs overlooking charming Chinatown. Rooms start at $144.
Naumi Hotel is a luxury boutique hotel steps away from City Hall MRT. The 10th-floor infinity pool offers breathtaking skyline views that can't be beat. "Habitat" rooms start at $330.
Pooja Makhijani writes children's books, essays and articles. She also develops educational media and curricula.