Jackson Hole is turning 50 this winter, and is celebrating its "golden anniversary" by opening 200 acres of new terrain and a brand new high-speed quad to service it all. If you're a skier, this much fresh land at one of America's most storied resorts is a big deal. Jackson Hole is often considered the toughest inbound skiing in the lower 48, with jaw-dropping expert terrain like Corbet's Couloir setting it apart from the rest. Ski media heavy hitters Teton Gravity Research call Jackson Hole their home mountain, as do a number of pro skiers and boarders.
This new terrain, which has tons of intermediate slopes, also gives us mere mortals a brand new playground. And now is the time to go. Beyond the slopes, the resort and the town of Jackson are on fire with new restaurants, new hotels, and artisans that are redefining everything from whiskey to that Swiss Army knife in your pocket.
We picked eight adventures, classic and new, to help you make the most of Jackson on and off the slopes.
1. Throw Hatchets Downtown
It's not often that you get the chance to throw hatchets in a back alley as snow falls, but that's exactly what happens at Mountain Man Toy Shop, just off the square in downtown Jackson. Mountain Man is the retail arm of New West Knife Works, a small group of artisans that make pocket knives, kitchen cutlery, axes and tomahawks by hand. The shop is filled with all kinds of beautiful, sharp things, but you absolutely have to try the throwing hatchets. Get a quick tutorial in the back alley next to the shop, then give it a go, throwing the steel into a huge crosscut trunk hanging on the brick wall.
2. Ski Jackson's New Terrain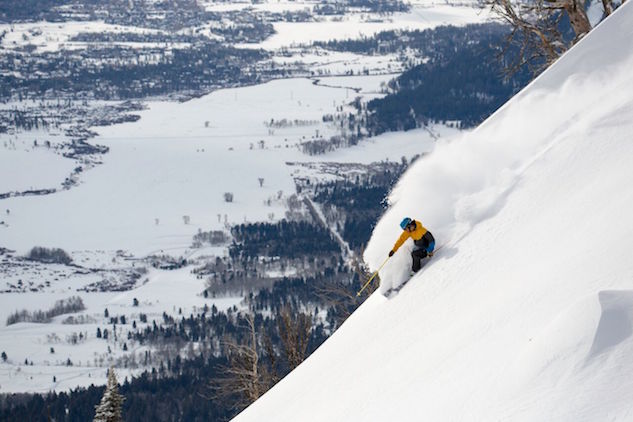 Photo courtesy of Jackson Hole Resort
This is probably why you're making the trip, and here's what you need to know: the new terrain is awesome. We're talking 200 acres with a 1,650-foot vertical drop, most of which was only skiable previously if you were willing to hike for your turns. Now there's a ridiculously high-speed quad—the Teton Lift—to whisk you to the top. Intermediates will rejoice in really steep groomers like Kemmerer Run and Crags Run (the latter of which has big views of Grand Teton National Park). But advanced skiers should look to the trees between the groomers, where big, pillowy stashes of powder sit between evergreens and the occasional boulder drop.
3. Go Country-Western Dancing
The town of Jackson still maintains its Wild West edge even though there are more ski bums than ranchers living in the valley these days. And there's no better way to experience the western side of this destination than giving Country-Western dancing a go in the back of the Million Dollar Cowboy Bar. Move past the pool tables and saddle seats serving as bar stools to the back where live bands fill the dance floor with couples doing the two step. If the crowd is into it, be ready for some line dancing.
4. Get French at Rendezvous Bistro
This French-American restaurant helped usher in an era of fine dining in Jackson and the surrounding valley when it opened its doors 15 years ago, and it's still the go-to for locals and tourists looking for a white tablecloth experience. You'll be happy sticking to French classics like cassoulet, frog legs Provencal, and yes, the obligatory escargot, but don't be scared to order something with origins that are closer to home, like the fried chicken or the chef's choice of local beef, which comes from farms within a stone's throw of the restaurant.
5. Drink Wyoming Whiskey
Fact: every city and suburb in America now has an operational "whiskey producer"—those entrepreneurs that buy barrels of whiskey from larger distilleries, then bottle them and give the hooch their own label. There's nothing wrong with it. There's also nothing wrong with making whiskey from scratch, which is exactly what the folks at Wyoming Whiskey do. Their bourbon is made by hand in the Big Horn Basin, outside of Jackson, by a family that sources as much as they can from within the state of Wyoming. And it's good. You can find the whiskey in just about every bar throughout the valley, but take the time to visit the distillery in person so you can behold their beautiful, 38-foot copper still with your own eyes.
6. Sleigh Ride With the Elk

Photo courtesy of National Elk Refuge
The National Elk Refuge is a 25,000-acre chunk of valley and mountains that protects roughly 11,000 elk right next to downtown Jackson. You'll never have a better opportunity to see these massive animals in their natural habitat. While you can usually spot a bunch of elk along the highway as you come in from the airport, arguably the best way to see these antlered beasts is from the back of a horse-drawn sleigh. The refuge offers morning and late afternoon sleigh rides that will take you right through the middle of the meandering herds.
7. Ski Snow King with the Family
Even though Snow King Mountain Resort and Jackson Hole Mountain Resort are only 20 minutes apart, the two mountains couldn't be more different. While Jackson Hole is home to some of the most extreme skiing in the Rockies, Snow King offers some of the most family-friendly terrain. "The King" rises directly from the edge of the town of Jackson, giving you quick access to easy groomers, as well as a host of new family-friendly adventures. The owners are in the midst of a $50 million upgrade to the mountain, and have already built a new ropes course and Alpine Sled, which operates year-round. Check it out, your children (or inner child) will thank you.
8. Snowshoe Yellowstone
Forget Yellowstone National Park during the summer. You'll be standing in a crowd, three back from Old Faithful and end up just getting a picture of the back of some bald accountant's head. Throw on a pair of snowshoes in the dead of winter though, and the country's most famous national park will be practically all yours. Even better, rangers lead free, two-hour snowshoe discovery tours inside the park, that are perfect for people who want to experience Montana's winters without strapping downhill skis to their feet. Grand Teton National Park (the other national park in the area) offers similar programs.
Graham Averill is Paste's Drink Editor. He spends too much time during working hours drinking beer and watching Archer, but that's what happens when you get a liberal arts degree. You can follow him as Daddy Drinks on Twitter.