Doctor Who fans arrived at (Re)Generation Who on March 27th with one goal in mind, pure, unadulterated, Whovian-centric fun. The self-proclaimed "Doctor Who Convention for Every Generation" kicked off its inaugural celebration of The Doctor in Hunt Valley, Maryland. The brainchild of married couple (and Doctor Who fanatics) Oni Hartstein and James Harknell, (Re)Generation Who was conceived to provide a Doctor Who convention for fans in the Mid-Atlantic area of the United States. The 3-day event was jam-packed with intriguing panels, impeccable cosplay, unforgettable performances, and appearances by several Doctor Who alumni, including Nicola Bryant, Sophie Aldred, Colin Baker, and Sylvester McCoy. Fan-favorite Tom Baker (AKA The Fourth Doctor) also made a rare Skype appearance for an hour of Q&A.
Throughout the weekend, we "Geronimo-ed" into the Whovian atmosphere with our sonic-screwdrivers and learned a few interesting facts along the way.
Here are 12 things we learned at (Re)Generation Who.
1. Actor Colin Spaull Once Worked with Alfred Hitchcock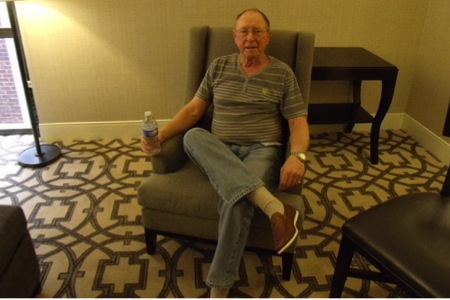 British actor Colin Spaull is one of few actors who have appeared in both the Classic and Modern series (as Lilt in "Revelation of the Daleks," as Mr. Crane in "Rise of the Cybermen" and "Age of Steel"). But, long before he became a part of the Whoniverse, he had an uncredited part in the 1972 Hitchcock thriller Frenzy. Since his last appearance on Doctor Who, Spaull has been busy with his first love: theatre. But during his panel with fans, he hinted that he may make a return to Doctor Who via a Big Finish Productions audio drama.
2. Tom Baker Thinks Johnny Depp Would Make A Great Doctor
On March 28th, (Re)Generation attendees lined the hallways and patiently waited to secure a spot at the Tom Baker Skype session. Undoubtedly one of the most popular Doctors of all-time, the 4th Doctor attracted a massive audience as he spent an hour answering pre-submitted fan questions. When he was asked which actors would make a great Doctor, he first responded that "any good actor who plays the role sympathetically" could succeed. But, he name-checked the Pirates of the Caribbean star and said Depp had an "enchanting quality." Check out the exclusive snippet above for more of Baker's thoughts.
3. Building a Creepy Weeping Angel Is Possible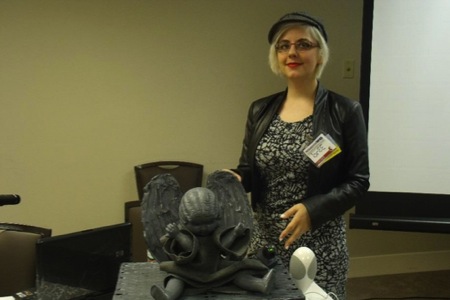 Do you wanna build an angel? Of course you do. Product designer/artist/hacker Bree Rubin hosted a session about what it took to build the popular adversary made famous in the "Doctor-lite" episode "Blink." Fans were given insight on different open-source electronic platforms, coding tips, and detailed pictures of materials needed to complete the process. Rubin also provided a list of websites, including Arduino to help each builder construct their scary masterpiece. Attendees were able to witness the pint-sized angel (pictured above) in action as it tracked the eye movements of the audience and snapped a Twitpic of them when they shifted their glance. For more information, check out Bree's blog.
4. Cosplay is SERIOUS BUSINESS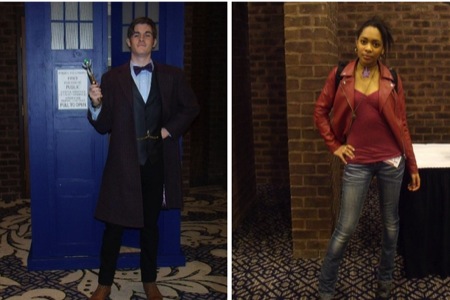 Cosplay and conventions are a perfect match made in fandom heaven. We were expecting to spot a fez or two running around, but (Re)Generation Who attendees took cosplay to the next level! We spotted a few Doctors, Rose Tyler, Martha Jones, and even Davros himself roaming around the hotel. Many of the cosplayers were eager to jump in front of the camera for a quick snapshot, and often took on the full character in their chosen costume.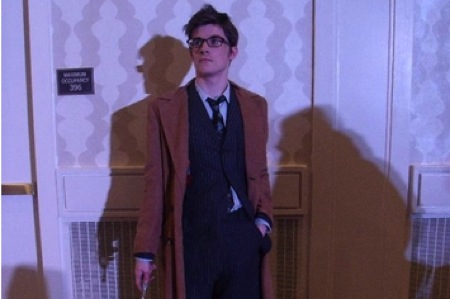 Whovian Robert Coe wins as the Tenth Doctor
5. The Story Behind Ace's Dalek Beatdown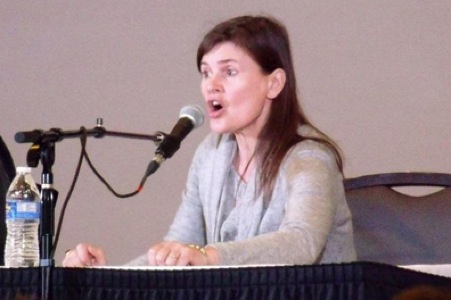 Sophie Aldred
Enthusiasts of the Classic series were delighted to spend time chatting with 7th Doctor companion Ace. Portrayed by Sophie Aldred, Ace was a troublesome teenager on the show who famously beat up a Dalek with a baseball bat. During Aldred's interview, she revealed that a while after the scene was filmed, there was a strange knocking sound on set. She soon realized the knocking sound was coming from inside the Dalek. The actor was not only stuck in his costume, but he was apparently forgotten by the other people on the set! Random recollections and hilarious stories like this one were the highlights of guest panels.
6. Terry Molloy Turns Fans Into Dramatists
Terry Molloy gave fans an innovative and interactive treat when he hosted a panel about audio acting. Known as Davros during the classic series, the passionate thespian brought in several audio recordings and scripts he worked on in the past. For each scene, he cherry-picked audience members and encouraged them to dig deep into their imaginations to recreate the scenes. Then, he offered small tips on how audio actors approach their lines and played the actual recordings for everyone. From intense, emotional scenes, to comedic exchanges, the audience was on the edge of their seats as they watched brave souls flex their acting chops like the man featured in the video above.
7. The Best Part of Writing for Doctor Who is….
(Re)Generation Who succeeded at covering all aspects of the fandom, including audio stories and books. Watch as writers Matthew Smith, Nev Fountain, and John Peel come together with Doctor Who game designer Darren Watts to share the best and worst parts of writing for Doctor Who.
8. Zygons Had Exclusivity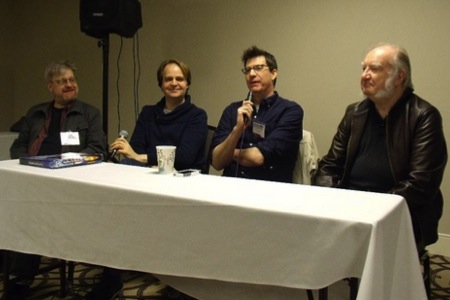 Panelists (l-r) Darren Watts, Nev Fountain, Matthew Dow Smith, and John Peel
During the same "Expanded Worlds of Who" panel, Matthew Smith revealed that he was denied the opportunity to write about Zygons. The shape-shifting aliens hadn't made a TV appearance since 1975, and Smith felt like they were overdue for a triumphant return. He later discovered that the red alien was being reserved for the 50th anniversary special, "Day of the Doctor."
9. Doctor Who Adversaries Occasionally Unite
Daleks, Cybermen, and Weeping Angels all have something in common—besides hating The Doctor. Every once in a while, the Doctor's enemies like to put their agendas for universal destruction to the side and hit the dance floor. Geek Bellydance group Antipode combine cosplay, dry humor, and incredible moves to create unlikely stories that only Doctor Who fans would understand. To learn more about Antipode, head over to their website and take a peek at "Ms. Dalek's" dance moves above.
10. Colin Baker Wanted to Look Like the Ninth Doctor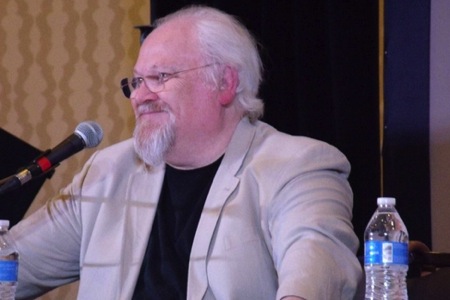 Actor Colin Baker during a TARDIS Team Discussion Panel
The Sixth Doctor's multi-colored coat and penchant for pattern mixing has made him a cosplay favorite among fans. But, if Colin Baker could have had his way, he would have gone for a sleeker look. When he was asked how he would have liked to look as the Doctor, his description brought visions of Eccleston's outfit to mind: a black jacket and jeans. Like Eccleston, Baker was not interested in looking flamboyant, but then-producer John Nathan-Turner's vision won in the end.
11. Peri vs. Mickey Smith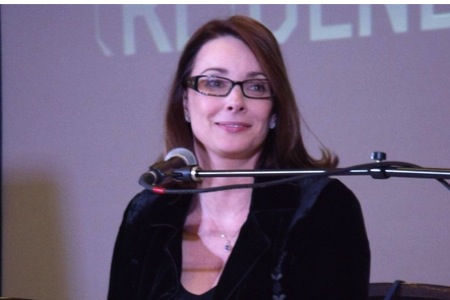 Nicola Bryant answers fan questions
English actress Nicola Bryant landed her first acting role as Fifth/Sixth Doctor companion Peri Brown back in the mid-80s. Throughout her tenure, she was the solo TARDIS sidekick, but Nicola believes the American girl Peri and British boy Mickey Smith would have made a great duo. According to the Doctor Who star, Mickey and Peri's relationship would have been intense, yet fun.
12. Andrew Cartmel is the Real MVP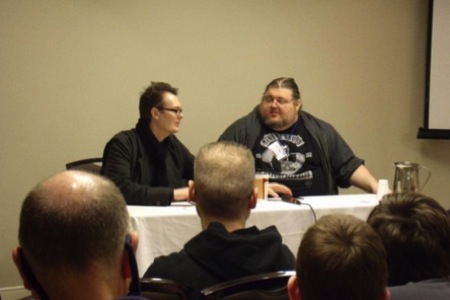 Andrew Cartmel (l) discussing his impact on "Modern Who"
According to die-hard Whovians, script writer Andrew Cartmel is the "father of modern Doctor Who." Cartmel is known for introducing a more Machiavellian and manipulative Doctor who had a specific agenda, instead of carelessly wandering into each situation. He was responsible for bringing in new writers with fresh ideas, even though the series ended up being put on hiatus. His approach to the Doctor as a complex chess master who was enigmatic, yet not a full-blown action hero, served as the blueprint for the many Big Finish Productions, novels, and eventually the revived series. Hats off to you Mr. Cartmel!
(Re)Generation Who's first year was an obvious win! Plans are already underway for the 2016 event, so connect with them via Twitter and Facebook for updates. And, for more information about showrunner Oni, follow her on Twitter.
---
Tai Gooden is a freelance writer, author, part-time blogger and full time Whovian who has written for several online publications including The Guardian, xojane, HelloGiggles, HuffPost Parents, and BlogHer. When Tai isn't waiting for the TARDIS, she can be found rambling on Twitter.