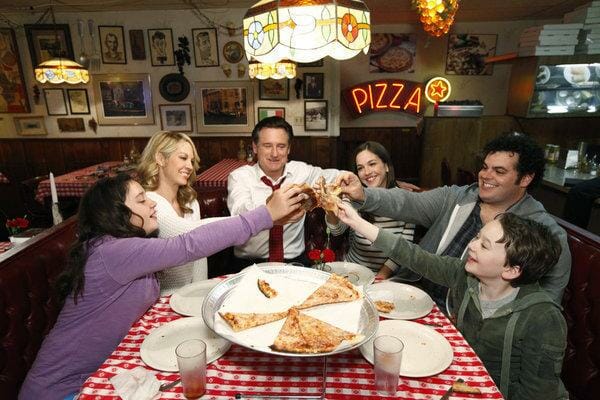 Sixteen years ago, President Bill Pullman showed himself to be a great leader. He united the world in our battle against the alien forces that could easily be defeated with computer viruses and a drunk Randy Quaid in a crop duster. He led the attack from the ground while Will Smith and Jeff Goldblum kicked tires and lit fires. Thanks to President Pullman, we did not go quietly into the night. We did not vanish without a fight. We lived on. We survived. We celebrated our Independence Day.
Now, President Pullman only has to worry about losing a tennis game and keeping his slacker son from burning down The White House.
Oh, how the mighty have fallen on 1600 Penn, another attempt for NBC to show that through broad humor, they too can reach a larger audience with their comedies. Not content with the ratings from their already great comedies like Community, 30 Rock and Parks and Recreation, NBC continues to trot out shows like 1600 Penn, which along with other freshman series The New Normal and the already-canceled Animal Hospital, go for a much simpler and much less interesting level of ambition.
It's easy to imagine what the one-line sell of 1600 Penn was: "imagine a sitcom…IN THE WHITE HOUSE!" Pullman is President Dale Gilchrest, who has to deal with his family, which is filled with character that he seems to lack. Besides an overpowering patriotism and dedication to his family, little else is shown of what makes the president an interesting character. His son Skip, played by Book of Mormon's (and show co-creator) Josh Gad, has been in college seven years and after a prank goes wrong, is brought back to The White House to stay. Gad provides almost all of the humor here, as he plays Skip as a Farley-level buffoon.
But the presidential family is filled with characters with other quirks. Jenna Elfman is First Lady and second trophy wife to the president, Emily Nash Gilcrest. Then there's the president's daughter (who unbeknownst to him is pregnant), named Becca. And in a last-minute episode reveal, his younger daughter Marigold turns out to like other little girls. Their kid Xander, however, hardly makes an appearance and is talked about more than he's actually on screen.
1600 Penn doesn't even need to take place at The White House. In fact, Pullman could just have easily been the head of a large corporation with very little changes being made. The family can sit around and watch Jay Leno talk about their recent antics and laugh, but the family is just as unrealistic as the idea that people would still watch Leno and laugh.
1600 Penn's characters, especially Skip, are so overpowered and yet are all able to be boiled down to one simple description, there's nothing here to latch on to. It just feels like a thrown-together idea, a way to combine different types of people with varying outlooks (slacker, pregnant teen, overcompensating stepmom) into a relatable sitcom in the world's most famous house. What it does is create a scatterbrained and relatively uninteresting show. Maybe the next few episodes will flesh out these characters and have some enjoyable comedy, but as of right now, 1600 Penn doesn't deserve its future placement on NBC's Thursday night comedy lineup.
After the first episode of 1600 Penn, I have the same opinion of this show that the aliens had about what they wanted the human race to do 16 years ago:
"Die. Die."
Maybe they got to see 1600 Penn early?