Akira Kurosawa's Rashomon Is Being Made Into a TV Series by Amblin Television
Image via RKO Radio Pictures
TV
News
Akira Kurosawa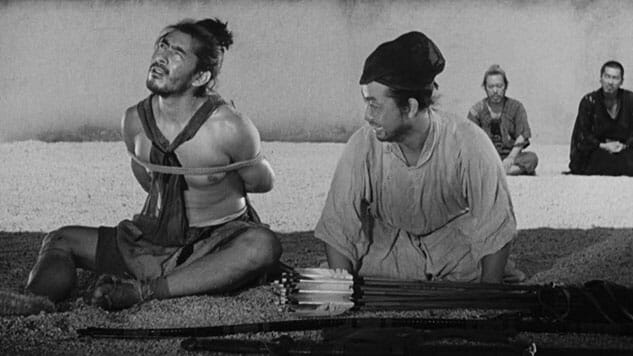 Akira Kurosawa's Rashomon, the 1950 classic film dealing with themes of truth and perspective, and how the latter can determine the former, is being made into a series by Amblin Television.
Amblin Television announced today that it has optioned the rights to RASHOMON, Akira Kurosawa's groundbreaking, iconic film as the basis for a new dramatic mystery thriller series. More facts to come!

— Amblin (@amblin) December 18, 2018
Amblin has optioned the rights to Rashomon with the intention of turning the story into a "dramatic mystery thriller" series, with each 10-episode season examining a singular event through the eyes of each character's perspective—just as Kurosawa did with the bandit, the woodcutter, the wife and the samurai in the original film.
Amblin's co-presidents Darryl Frank and Justin Falvey are executive producing along with Atmosphere's Mark Canton and David Hopwood, and Opus 7's Leigh Ann Burthon.
"We couldn't be more excited to adapt this extraordinary film as the foundation for a new dramatic mystery thriller series," said Frank and Falvey in a statement. "It will explore the boundaries of truth and how different perspectives don't often reveal the same reality. We also couldn't be happier to be in business with Mark, Leigh Ann and David, who are great producers and partners."
"We can't wait to dig in with Justin and Darryl and everyone at Amblin as we adapt this iconic title for television," added Canton. "We feel this storytelling approach and the way it explores truth and reality is especially timely in today's world."
Revisit Paste's ranking of all of Akira Kurosawa's films to find out where Rashomon landed here.