Toon In: Animated TV Highlights for September, from Star Trek: Lower Decks to Krapopolis
TV
Lists
animation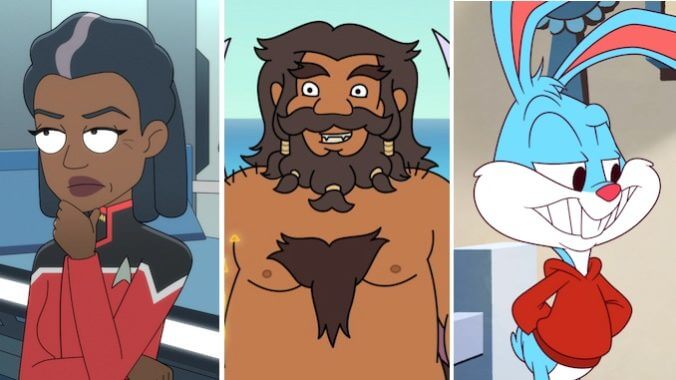 Welcome to the ink, paint, and pixel corner of Paste TV, where we're highlighting some of the best premium animation projects on streaming or direct-to-video aimed for teens and adults. This monthly column not only provides an overview of the new animated series to check out, but we've also collected some of the finest creators and voice talents in the medium to give updates, or introductions, to their series. 
Please note interviews below were done with animation creatives who are not working under WGA contracts. Rather, they are speaking as producers, directors, or their shows are represented by non-striking Animation Guild (IATSE Local 839) contracts. 

Disenchantment (September 1)
Creator Matt Groening's five-season feminist fantasy comedy, Disenchantment, wraps up this month with its final 10 episodes. The arc of Princess Bean (Abbi Jacobson) from selfish nepo baby to more mature leader for the kingdom of Dreamland has been dramatic from start to finish. Featuring magic, prophecy, a wicked sorceress mom (Sharon Horgan), and even some romance, Disenchantment has been a fun departure for Groening as he and his writers dove into satirizing medieval fantasy world-building with a feminist twist. 
---
Star Trek: Lower Decks (September 7)
Coming on the heels of the Star Trek: Strange New Worlds and Star Trek: Lower Decks crossover episode in July, Lower Decks Season 4 returns with 10 new episodes that change-up the format of the series… slightly. After experimenting with an ongoing storyline featuring new character  Admiral Les Buenamigo (Carlos Alazraqui), Lower Decks supervising director Barry Kelly tells Paste that Season 4 will have an even more ambitious season-long storyline that begins at the end of the season premiere, "Twovix."
"Usually, we're pretty episodic," Kelly says. "But here we have a mystery. A mysterious ship shows up and blasts away this favorite Klingon character. It looks different. It's not Starfleet. It's like a pearl in space or something, and it takes them out. In Episode 2, we see the ship again." Kelly says the vessel will make the rounds confronting several familiar Trek species and create a bit of a Federation space panic by the end of the season.
How the U.S.S. Cerritos factors into that story, Kelly says is a fun surprise. In the meantime, episodes will feature standalone missions and homages to other favorite Trek series like Deep Space Nine and in the season premiere, Star Trek: Voyager. 
"We are fans of Voyager on Lower Decks, as are Mariner (Tawny Newsome), Boimler (Jack Quaid), and all of the Cerritos crew," Kelly says. "They know the history." Which is why it's such a big thing for them to be escorting the renovated ship to its forever home.
From an animation perspective, Kelly says they were able to access the original drawings and specs for the ship from the archives to design their CG version. "I liked the look of Voyager," he says with enthusiasm. "It's a very satisfying shape of a ship."
When asked his favorite episode of the season in terms of ambition, Kelly teases Episode 3, "In the Cradle of Exelon." "We're always trying to make the show look better and we're always looking for a new sci-fi backdrop, maybe one that we haven't seen before," he explains. "That always presents a challenge. This is a big orbital world and its weather system goes on the fritz." 
Epic chaos ensues for Boimler's first away-mission crew, which Kelly says pushed the animation team to the limits in terms of how many weather events they could create in one setting. "It's going from snow to rain to lava," he laughs. "It's almost like we're trying to keep up with the quantity of the chaos while always making it just look as best we can so that it feels more real. It'll never look real like live action, but we want it to feel real and sturdy."
He continues, "What I like about Lower Decks is that we can push it to any genre or tone that we need. We'll make it terrific. We'll make it scary. We'll make it fun. We'll make it light-hearted. The beauty of our animation style is that we can push it in all those directions."
---
Tiny Toons Looniversity (September 8)
After the successful revival of Animaniacs on Hulu, another WB series animation classic, Tiny Toon Adventures, is getting a fresh remix / revival with ​​Tiny Toon Looniversity on Cartoon Network and Max. It reimagines the classic cast of the series in slightly different iterations for Generation Alpha (that's today's tweens). 
Nate Cash (Adventure Time), the co-showrunner and co-executive producer for ​​Tiny Toon Looniversity, tells Paste that this take on the premise is more kid-oriented than the original series. "It's more fun and not as cynical or snarky," he says of its '90s predecessors. "It's a little bit more like a classic cartoon, in the way of the old, old Warner Brothers cartoons that still had jokes that might go over kids heads, but they weren't like trying to sneak something in."
As a huge fan of what he terms "bouncy, rubber hose-y, cartoon stuff" in the vein of SpongeBob Squarepants, Cash says they were also inspired by Peter Browngardt's new Looney Tunes cartoons airing on MAX. "I'd seen a bunch of those and that was a huge homage to the way cartoons were made, yet they were adding their own stuff to it. I think this [series] kind of splits the difference, where the [characters] are going to this Looniversity where they're learning from the old toons. And that works perfect for college because there, you're absorbing knowledge from people who've been there before. But you also need to figure out what your place in the world is, not just perpetuating what's already been done."
Not unlike how Tiny Toon Looniversity reframes some characters like Babs and Buster Bunny, who are twin siblings in this series, Cash says that was the brainchild of co-executive producer Erin Gibson (who was not available for the interview as a striking WGA member); she didn't want to carry over their flirty relationship from Tiny Toon Adventures. "Now we have these characters who go back to their roots, but also have to figure out who they are independently of each other," Cash says.
He's also very partial to this show's punk, feminist take on the Sweetie character. "Our version has a ton of personality," he teases. "I liked Sweetie from the old show, but it was kind of a one-note gag. We've really fleshed her out into a full character that really accents the other characters in a way that's super cool. She's loud and boisterous and super funny. Also, Hampton, I'm really excited about too. He's super sweet and has Ted Lasso type vibes."
---
Young Love (September 21)
If you saw Matthew A. Cherry's 2019 animated short film, Hair Love, then you deserve a ceremonial big box of Kleenex for making it through the beautiful tearjerker. In just six minutes, it took audiences through the journey of a young family adapting to their mom's cancer treatment, which has dad learning how to do his daughter's hair. That same family, the Youngs of Chicago, now has its own animated series called Young Love on Max. Mom (Issa Rae) is now in remission, dad (Scott Mescudi) is pursuing his career as a musician, and their spitfire daughter, Zuri (Brooke Monroe Conaway), is finding her own voice in the family. It's a slice of life, family show drawn in vibrantly rendered, 2D style.
---
Krapopolis (September 24)
This long-delayed, latest Dan Harmon (Rick and Morty) animated comedy is set in ancient Greece in the city of Krapopolis, which has humans, gods, and monsters all trying to co-exist without killing one another. It boasts an incredible voice cast of hilarious Brit actors including Hannah Waddingham (Ted Lasso), Richard Ayoade (The IT Crowd), and Matt Berry (What We Do in The Shadows), who alone should be enough to make anyone watch. But Harmon is also going after the absurdities involved in building the cradle of civilization, skewering the excesses and equally fragile egos of man / beast / gods along the way. It is nice to note that Krapopolis also looks very different from Harmon's other animated shows, with the animation being done by Bento Box Entertainment (Bob's Burgers, Koala Man). 
---
Tara Bennett is a Los Angeles-based writer covering film, television and pop culture for publications such as SFX Magazine, Total Film, SYFY Wire and more. She's also written books on Sons of Anarchy, Outlander, Fringe, The Story of Marvel Studios and the upcoming Avatar: The Way of Water. You can follow her on Twitter @TaraDBennett or Instagram @TaraDBen
For all the latest TV news, reviews, lists and features, follow @Paste_TV.