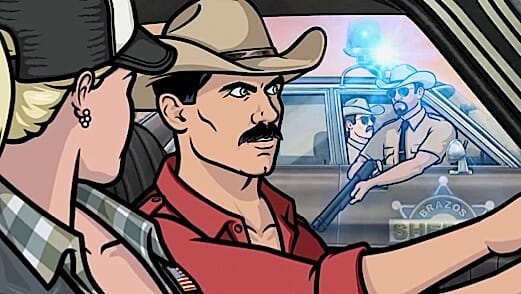 Following a peculiar break for the Olympics, Archer returns with a fun episode full of Smokey and the Bandit references. Archer, Lana, Cyril, Pam, Cherlene and Malory drive to Texas in a bus and a blocker car for Cherlene to sing on Travis County Limits. Oh, and Archer has a bunch of cocaine stashed in the trunk that nobody else knows about.
For the first time since the season premiere, "Southbound and Down" gives us an episode in which the cocaine takes somewhat of a back seat in favor of something bigger. Not only is the episode more about getting Cherlene to her destination, but it also features some of the heaviest character development of the season.
Sterling Archer has spent the first few seasons of the series showing little vulnerability or compassion for others. He was often unable, or at least unwilling, to reveal how he truly felt. Here, we see him caring about Lana's safety, accidentally overhearing his mother tell Lana and Cyril that he's a failure, and telling Pam (a woman!) that he liked her more when she was overweight. Yes, I'm really talking about Archer. Pam follows suit, taking a break from her incessant cocaine addiction to open up to Archer about her reasons for enjoying her current life—namely, being hot "as balls".
There's a lot of Archer/Pam focus this week as they ride in the blocker car, and their characters have palpable chemistry. Archer even spares Pam at the end by taking the blame for everything. Oh, how he has grown.
Similarly, the Krieger/Ray duo have two of the episode's funnier moments, but, unfortunately, those were their only moments, as they stayed back at Tunt mansion with the always incompetent Woodhouse. As the rest of the cast remains on the road, I hope Krieger, Ray and Woodhouse aren't simply relegated to these minor roles all season.
Although I've never seen Smokey and the Bandit, without picking up on all the references, I still found a lot to like and laugh at. It might not have been the funniest episode of the season, or even had the best story. In fact, this didn't feel like a complete story. Rather, this was all about character development and setting up the cast for an inevitable increase in intensity in the coming weeks.
I must say, though I've genuinely enjoyed this season of Archer so far, I'm still waiting for it to explode with one of those instantly classic, perfectly executed episodes. With this season taking on more of a long-term approach, I'd bank on a few of those coming our way soon.
This episode served as a way of getting the former ISIS crew away from Tunt mansion for a while to get Cherlene's singing career going. Now that Malory's been approached by an alleged record executive about Cherlene and they've lost even more cocaine, the stakes are set for a higher level of madness, one we're much more accustomed to seeing.
Carlo Sobral is a Winnipeg-based freelance writer and regular contributor to Paste.