Asia Argento Fired from Judging on X Factor Italy
Photo by Pascal Le Segretain/Getty
TV
News
Asia Argento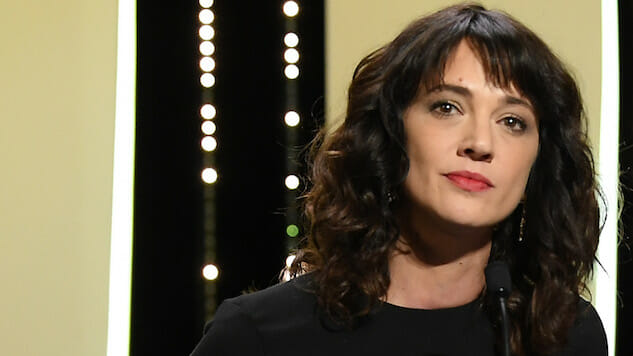 Italian director and actress Asia Argento has been fired from her spot as a judge on X Factor Italy, per Variety, following the recent uncovering of sexual assault allegations against her dating back to 2013.
Argento, one of the first of Harvey Weinstein's accusers and a leader of the #MeToo movement, was accused of assaulting former child actor Jimmy Bennett. The shocking allegation came to light when it was revealed that the actress arranged to pay $380,000 to Bennett in response to the latter's notice of intent to sue.
Bennett alleged that the assault took place in 2013, years after the then-17-year-old actor had co-starred with Argento in The Heart is Deceitful Above All Things. Denying having a sexual relationship with Bennett, Argento admitted to arranging the payment and claimed that the settlement was encouraged by her then-boyfriend, the late Anthony Bourdain, to bring an end to Bennett's "long-standing persecution" of the actress.
The first seven episodes of X Factor Italy, in which auditions were held and the final 12 competitors for the show were selected, cannot be re-shot without recasting the season overall and therefore those episodes will still feature Argento. However, beginning with the live episodes airing on Oct. 25, a new judge will take her place—currently expected to be Argento's ex-husband, Italian pop star Morgan. Though the producers and broadcaster of the show have not issued an official statement, per Variety, they had previously stated that if the allegations were proven true, they would discontinue future work with Argento.
In addition to shaking up the cast of X Factor Italy, these allegations have left many involved with the #MeToo movement reeling. Read a few thoughts from leaders in the movement below.
I've said repeatedly that the #metooMVMT is for all of us, including these brave young men who are now coming forward. It will continue to be jarring when we hear the names of some of our faves connected to sexual violence unless we shift from talking about individuals [+]

— Tarana (@TaranaBurke) August 20, 2018
Having just touched down from several weeks abroad, I am reeling from the recent news. Although hoping against hope that it is not true, here are my current thoughts: pic.twitter.com/8oOF3LmHLQ

— Mira Sorvino (@MiraSorvino) August 22, 2018
I got to know Asia Argento ten months ago. Our commonality is the shared pain of being assaulted by Harvey Weinstein. My heart is broken. I will continue my work on behalf of victims everywhere.

— rose mcgowan (@rosemcgowan) August 20, 2018