Barry Season 4 Takes a Bare-Bones Final Form in the Home Stretch
Photo Courtesy of HBO
TV
Reviews
Barry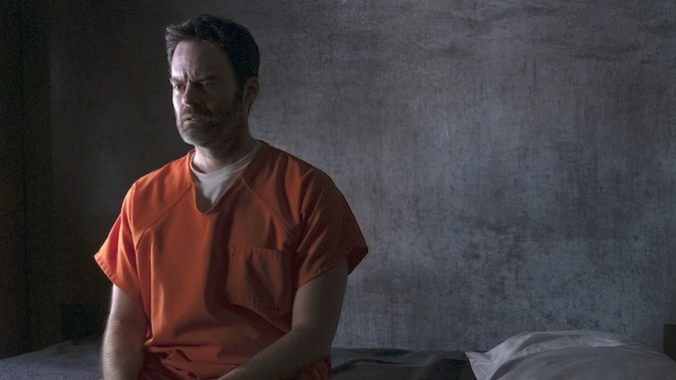 Barry has turned out to be a show of two halves. The first two seasons of Bill Hader and Alec Berg's hitman-cum-actor story felt very in-keeping with HBO's house style of prestige black comedies: Unlikely premises delivered largely straight, with comedy coming from eccentric characters placed in dramatically urgent scenarios. The visual style was clipped and clean, the performers could tap into some thorny emotional nuance, it featured en pointe entertainment industry satire. Barry even had the privilege of having one of those episodes: you know the type, an isolated, high-concept and technically proficient showcase of the creative team's collective storytelling powers, here provided by Season 2's hit-gone-wrong "Ronny/Lily."
But like Succession, Atlanta, or Better Call Saul, the pandemic came hard for Barry. After a lengthy three year hiatus, Season 3 premiered with a starker visual palette—more severely framed wides and close-ups, restrained camera choreography, and a distinctly minimalist style. Scenes felt less crowded and more sparse, characters felt like they were closer to the brink of breakdown, even the satire felt more venomous. In terms of post-COVID bouncebacks, Barry's response to the strict protocol of pandemic production worked well, a natural evolution of the show's look and feel that reflects the worsening condition of our characters.
Now, Season 4 doesn't just close out Barry's story of misplaced talent and unprocessed trauma, it also executes and buries the looser, more vibrant first two seasons of the show. That style is dead, it's not coming back. Filmed shortly after Season 3 and with Bill Hader directing all eight episodes, Barry's final season leans further than ever before into the foundations laid by the one before it: the comedy is tar black; there are no people, only raw nerves in human form; an ego death features on average once or twice per episode. Barry's mean-spirited pastiche on an ugly industry and treatise on performance fuelling or disguising an abjectly traumatised soul ends by laughing at its characters' expense. Ultimately, the show's style mirrors the arcs of those who populate it: A regression into ever-bleaker waters.
After his toxic trauma-bond with acting coach Gene Cousineau (Henry Winkler) took a turn for the worse when Cousineau turned him into the police, Barry (Hader) finds himself behind bars, his reputation preceding him, his former mentor Fuches (the irreplaceable Stephen Root) feels more than a tad vulnerable being locked up with him. Barry is a shell of his former self (not that he ever brimmed with effervescent charisma), inciting violence with bare-teethed provocations and suffering from intrusive out-of-body visions. Fuches seems unsure how to deal with his particularly volatile hitman, cradling his bleeding body one minute and scheming a back-stabbing immunity deal the next. It's in these first episodes that Season 4 stumbles; Barry's spell in prison lacks the focus shown in previous seasons, with a lot of back-and-forth preceding the big-action turning points.
Our other characters fare equally poorly. After learning her boyfriend was a murdering hitman, Sally (Sarah Goldberg) adjourns to her hometown, something that's repealed almost immediately thanks to her parents' inhospitable reception. Cousineau's need for a quiet, meditative, and safe life post-Barry is complicated by an inability to stay out of the spotlight (this happens, no joke, twice in the seven episodes given to critics). Noho Hank (Anthony Carrigan) and Cristobal (Michael Irby) have ended the violent feud between their respective crime families and are about to settle for a life of tranquillity, but the allure of uniting disparate gangs in a new enterprise brings them back into the fray.
Every one of them has the chance to leave the nightmarish turbulence of their Barry Block lives, and every one of them makes the choice to return. It's the glitz and glamour of Los Angeles, where everything—including life-threatening danger—is happening, and these characters fear irrelevance and aimlessness more than anything else. After the show makes a drastic midpoint turn, it's clear that while Barry has ensured every one of them has gone insane, they're fused to him til the bitter end. All roads lead to Barry, and he's standing at the end of them all with a gun.
It feels at several points that the depravity of Season 4's tone means that previously acceptable veins of humour no longer have a place in the show: Noho Hank's chummy positivity and his gangster's digressions into nonchalant banter struggle to raise much laughter. But the grim culmination of Barry's journey is filled with many delights: there are some stellar surprise cameos; Sally's arc feels like a deliberate effort from Hader to snap back at the unfair criticism some fans volleyed at Goldberg's character; excluding some broad-stroked superhero swipes, the industry satire feels as cutting as ever (how many of these are just in-jokes from Hader and Berg's decades in entertainment?)
But if this is Barry's end, it's the beginning for director Bill Hader. His creative stamp is as pervasive as Barry's cruel influence, and even if you're put off by Season 4's stark, pulsating vibe, it's one Hader wields complete control over. With only the series finale to be seen, it's still all to play for, but Barry doesn't seem like the show to let many—if any—of its characters get a Hollywood ending.
Barry Season 4 premieres Sunday, April 16th on HBO (Streaming on HBO Max).
---
Rory Doherty is a screenwriter, playwright and culture writer based in Edinburgh, Scotland. You can follow his thoughts about all things stories @roryhasopinions.
For all the latest TV news, reviews, lists and features, follow @Paste_TV.