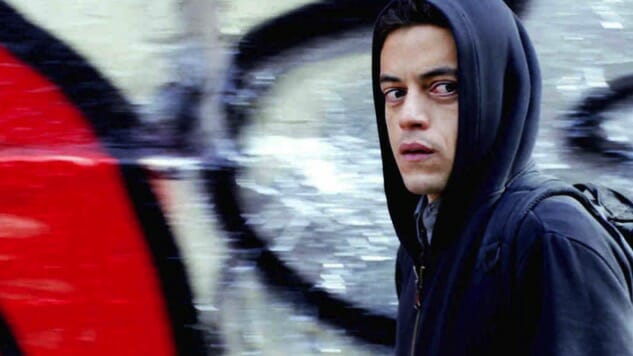 "Hello, friend."
With those two words, an unsuspecting television audience was introduced to Mr. Robot's hacker protagonist Elliot Alderson, and a new cultural obsession was born. Featuring heightened inner monologues reminiscent of Taxi Driver's Travis Bickle and a visual style ripe with off-kilter angles and negative space that feels straight up David Fincher in its construction (Fight Club is a frequent reference point), the show was unlike anything many viewers had seen on TV before. Set primarily in and around New York City, the inaugural year of USA's Mr. Robot tracked the misanthropic Elliot as he found himself drawn into the world of Mr. Robot (Christian Slater), the enigmatic ringleader of fsociety, a cyberterrorist organization. The season focused not only on Elliot and fsociety's burgeoning plans to bring down a corrupt, nefarious conglomerate called "Evil Corp," but also on the gradual degradation of Elliot's psyche as he realizes Mr. Robot may be closer to him than he ever thought possible.
Much of the show's unique feel can be traced back to its initial conception by creator/showrunner Sam Esmail, who modeled the main character partially on a younger version of himself (he dabbled in hacking). He also took inspiration from his family's experience—Esmail is Egyptian-American—with the Arab Spring anti-government protests that spread like wildfire across the Middle East in 2011.
Given Esmail's own tech background, it's no surprise that the series prioritizes a more true-to-life depiction of hacking and its culture than most other programs of its ilk, especially given that the chaotic rigors of television production schedule often makes total accuracy a hindrance rather than a benefit. For the show's technical consultant/writer (and former hacker) Kor Adana, however, this adherence to realism has helped the series distinguish itself.
"[Sam] wanted to do this the right way and a way we hadn't seen before, so it was very empowering for me," he says.
Certainly, in hearing Adana discuss his personal experiences with the hacking community and how the show captures the specifics via Elliot it becomes clear why the character has quickly joined the growing pantheon of television's "difficult men" antiheroes.
"What you see it in hacktivism and in Mr. Robot is this young, anger-driven defiance," he explains. "This notion of 'I know more than you, and I'm not going to be told what to do and I'm not going to be controlled by you.' It's the archetype of the young and angry person who feels there's an injustice in the world and who feels a need to right that wrong."
Mr. Robot returned last night for its much-anticipated second season. Though initially renewed for a second year ahead of its first season premiere as a show of good faith on USA's part, the series' critical acclaim and audience response has afforded the creative team significantly more resources in their second go-around, according to Chad Hamilton, an executive producer on the show and Esmail's manager at Anonymous Content.
"It's nothing irresponsible—we're still making it for a price—but we certainly have more breathing room than we did last year," he says.
Perhaps the most notable fact going into the second season, however, is what's going on behind-the-scenes. Whereas Esmail directed three episodes over the course of the first year (including the dizzying finale) the network announced that, in addition to his regular showrunning duties, he would be directing all 12 episodes of Season Two.
"I think it totally makes sense because [Sam] knows himself really well," Adana explains. "[With Season One] he was on set, I think, every day talking with the directors about what kind of shots he wanted and talking to the actors and giving directions. He was very hands-on in post-[production]. He was very involved in every aspect of the show, so it wasn't surprising to me that he felt it would be more efficient to direct all the episodes. From a sheer bandwidth perspective, I questioned how he would be able to do this, but he has a great support system on hand. [Mr. Robot writer/producer] Kyle Bradstreet is able to help prep the episode and Sam is able to focus on directing and dealing with post. We're getting through it. I don't know how long he can sustain working at this level, but we're almost at the end of Season Two."
Hamilton's assessment similarly lines up with Adana's, although he prefaces this by acknowledging he is more of a neophyte when it comes to television, as Mr. Robot was his first non-feature project.
"I can't understand how a production goes through multiple directors," he says. "I don't know how there's any connective tissue. I guess that's why they have producer-directors, but this has been working for us so far."
Helping streamline the work was the fact that, according to Adana, the cast and crew did not enter production until all the scripts for Season Two were more or less finished.
"From October to March, all the writers were working crazy hours on this very compressed timeline to complete all the scripts and get them to a good place," he explains. "Obviously, when you go into production—just by nature of having locations or changing locations—you will change some story elements, so there is a bit of rewriting going on. Again, Kyle's able to help out with that, and Sam can do that on the weekends sometimes. They're pretty minor though."
Esmail's ascension from relatively obscure writer-director to showrunning celebrity has been well documented in the media. As with any overnight success, however, there was nearly a decade of preparation behind it. In the case of Hamilton, his introduction to the filmmaker came back in 2008 when he was working as a studio exec at Paramount Vantage. One day, he was handed a script by Esmail called Sequels, Remakes and Adaptations, which he loved. Later, when Hamilton became a manager/producer at Anonymous Content (which also produces True Detective and Cinemax's The Knick), he took in Esmail as a client and helped him to produce his directorial debut, the non-linear romance drama, Comet, starring Justin Long and Emmy Rossum (who is now engaged to Esmail).
Shortly after completing work on Comet, Esmail handed Hamilton a pilot for a show called Mr. Robot. Apparently, what had started as yet another feature quickly became unsustainable when Esmail realized he was 90 plus pages into the story and hadn't finished the first act. From here, he decided to reconfigure the story as a multi-season television series.
"When he gave it to me, the pilot was in very good shape and he gave me a very fleshed out show bible after I finished the pilot," Hamilton recalls. "Sam was never interested in being a staff writer on a TV show. He's obviously a creator."
The pilot eventually landed in the hands of USA, who were looking to pivot away from their image as the bastion of fun, yet more traditional blue sky procedurals such as White Collar, Suits and Psych and embrace more prestige cable offerings.
"[USA] promised they would give us a very fast answer on whether they would make the pilot and promised us that we would get very, very few notes on the scripted pilot," Hamilton says. "They really seemed to get [the material]."
True to their word, USA delivered a quick decision, eventually giving the show a season order and putting out a stellar marketing campaign, which crescendoed with releasing the first episode early online to pump up interest (USA continued this tradition earlier this week by "leaking" the Season Two premiere for a few hours). And though even the best of new shows are always susceptible to the unpredictable trends of the marketplace, Hamilton personally felt confident about the series' prospects.
"What I said to people was, 'if we don't fuck this up, we're going to win awards,' he recalls. "One of our writers from the first season didn't come back for the second season but then he ended up returning midway through the second season. He said, 'You know, you said that to me during our first meeting and I thought you were crazy but here we are.' I obviously believed in [the show] and in Sam. And so far, so good—knock on wood."
Naturally, as with any show that explodes onto the scene in its first season, the question remains whether the creative team can keep the momentum going or whether it will fall victim to the dreaded "sophomore slump" syndrome that has recently plagued the likes of True Detective, Homeland or—reaching back a bit further—NBC's Heroes.
"Of course there's pressure, but I think we have really good scripts," Hamilton says. "The actors really know their characters well at this point and, with the new characters, I'm very happy with them and all their performances. The fact that Sam is directing all 12 is scary, but he's handling it insanely well. If Sam was having a tough time there'd be more pressure, but he's delivering, and delivering with confidence."
"I can speak for myself in that I'm definitely feeling the pressure and I hope Season Two is satisfying for our fans," Adana adds. "We worked very hard to create an exciting season of television that would measure up to—if not surpass—what we did in Season One. I know that every aspect of the show is going to be judged and a lot more eyes will be on the show because of the attention we've been receiving. I think everyone's feeling it, but that's normal, and it's exciting and I look forward to seeing how everyone reacts to what we've created."
---
Mark Rozeman is a Los Angeles-based freelance writer and regular contributor to
Paste
. You can follow him on Twitter.