The 5 New Shows You Can't Miss in December
Photo: Fast & Furious: Spy Racers from DreamWorks Animation
TV
Lists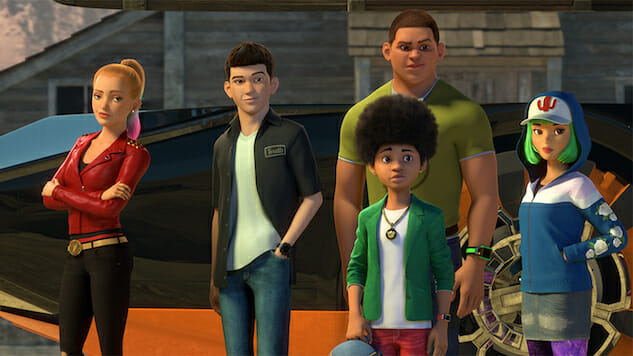 It's beginning to look a lot like Christmas—especially on television where the medium is dominated by holiday movies (thanks to Lifetime, Hallmark and Netflix), Christmas specials, and the airing of beloved classics. TV loves to play these reindeer games (and so do we—we will have a list out soon about the holiday specials you can't miss this month!)
We also know the holiday stress is beginning to settle in. There are presents to buy (as daily emails from retailers remind us with increasing urgency), meals to cook, guests to prepare for and holiday cards to send.
You need TV now more than ever to take you away from it all. Here are the five new shows you can't miss this December:
1. The Moodys
Executive Producers: Bob Fisher, Rob Greenberg, Tad Quill
Stars: Denis Leary, Elizabeth Perkins, Francois Arnaud, Chelsea Frei, Jay Baruchel
Premiere Date: December 4 at 9 p.m. on Fox
To compete in this on-demand streaming world, traditional networks have to start getting a little creative. Enter The Moodys, a three-night holiday comedy (after its premiere, the series will air at 9 p.m. on December 9 and 10). Based on the Australian series A Moody Christmas, Denis Leary stars as Sean Sr., a man who wants his wife Ann (Elizabeth Perkins) and their three grown children Dan (Francois Arnaud), Bridget (Chelsea Frei), and Sean Jr (Jay Baruchel) to enjoy Christmas at home in Chicago … even if it kills them. If the series is a success, look for the Moodys to return to celebrate other family events.
2. Reprisal
Executive Producers: Josh Corbin, Warren Littlefield, Barry Jossen and Jonathan Van Tulleken
Stars: Abigail Spencer, Rodrigo Santoro, Mena Massoud, Rhys Wakefield, Madison Davenport, Gilbert Owuor, David Dastmalchian, W. Earl Brown
Premiere Date: December 6 on Hulu
Abigail Spencer, beloved by many for her roles in Rectify and Timeless, headlines this hyper-noir thriller as Katherine, a woman who was left for dead and seeks revenge on her attackers (can you blame her?) The problem: Her attackers were her brother and his gang, the Banished Brawlers. So years after being presumed dead, Katherine re-emerges as Doris and begins her retaliation plot.
3. Truth Be Told
Executive Producer: Nichelle Tramble Spellman
Stars: Octavia Spencer, Aaron Paul, Lizzy Caplan, Elizabeth Perkins, Michael Beach, Mekhi Phifer, Ron Cephas Jones
Premiere Date: December 6 on AppleTV+
Podcaster Poppy Parnell (Octavia Spencer) became famous via her addictive show about the murder of Chuck Burhman. She's part of the reason Warren Cave (Aaron Paul) has been in prison since 1999, convicted of killing his neighbor on Halloween night. But Poppy now doubts herself and wonders what really happened the night Burhman died. Lizzy Caplan co-stars as Burhman's now grown twin daughters and Elizabeth Perkins, in her second show on this list, is Warren's mother who never gave up on her son's innocence. Not many of the current AppletTV+ shows have seemed to truly resonate with viewers; will Truth Be Told give viewers something to talk about?
4. Work in Progress
Executive Producers: Abby McEnany, Tim Mason, Lilly Wachowski
Stars: Abby McEnany, Karin Anglin, Celeste Pechous, Julia Sweeney, Theo Germaine
Premiere Date: December 8 at 11 p.m. on Showtime
Most of us remember Julia Sweeney's famous "It's Pat" skit on Saturday Night Live. For Abby McEnany, Sweeney's skit ruined her life. The eight-episode series, filmed entirely in Chicago, follows McEnany as she plays a semi-fictionalized version of herself as she tries to jumpstart her career. Things start to change when Abby's sister (Karin Anglin) sets her up with Chris (Theo Germaine). Keep an eye out for Sweeney who guest stars as herself.
5. Fast & Furious: Spy Racers!
Executive Producers: Tim Hedrick and Bret Haaland
Stars: Tyler Posey, Camille Ramsey, Luke Youngblood, Charlet Chung, Jorge Diaz, Manish Dayal
Premiere Date: December 26 on Netflix
The Fast & Furious franchise hits Netflix in this new animated series from Dreamworks aimed at young viewers. Teen driver turned spy racer Tony Toretto (voiced by Tyler Posey) wants to be just like his older cousin Dom (Vin Diesel, who is one of the executive producers on the series). Tony and his friends are recruited by a government agency to infiltrate an evil crime organization intent on taking over the world (of course, is there any other kind of evil crime organization). Keep your ears out for Vin Diesel's daughter Similce who voices the character Sissy and Hamilton star Renee Elise Goldsberry as secret agent liaison Ms. Nowhere.
---
Amy Amatangelo, the TV Gal®, is a Boston-based freelance writer, a member of the Television Critics Association and the Assistant TV Editor for Paste. She wasn't allowed to watch much TV as a child and now her parents have to live with this as her career. You can follow her on Twitter (@AmyTVGal).
For all the latest TV news, reviews, lists and features, follow @Paste_TV.