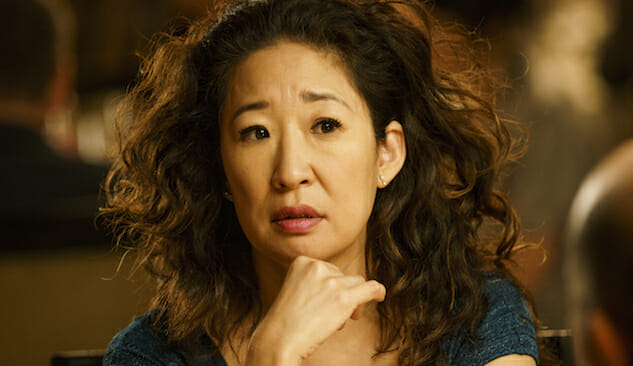 If our list of the 25 best TV shows of 2018 nods at the medium's changing landscape, our ranking of the year's best new shows points squarely toward the future. Of course, it features pioneers, from Killing Eve's Sandra Oh (the first Asian actress to receive an Emmy nomination for Lead Actress in a Drama Series) and Pose's Janet Mock (the first trans woman of color to direct an episode of TV) to the entire Vida writing staff (the first ever all-Latinx writers' room). But the titles here feel fresh in other ways, too: There are novel approaches to "late night" (Patriot Act with Hasan Minaj, Random Acts of Flyness), new spins on old ideas (Queer Eye, Cobra Kai), and more non-linear series (8!) than you can shake a remote at. The last Golden Age of Television may be over, but it appears that the next one has just begun. —Matt Brennan
Here are the 18 best new TV shows of 2018:
18. Cobra Kai
Network: YouTube Premium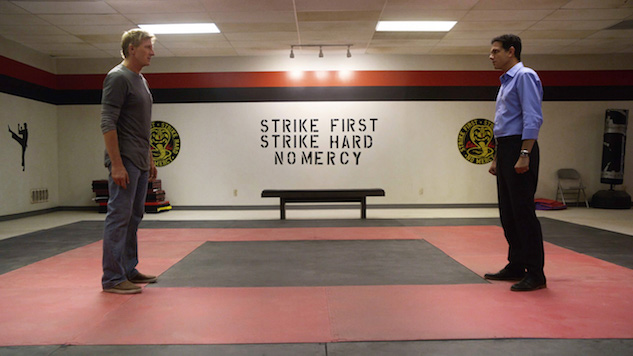 Cobra Kai is a real television show. Maybe this is obvious to some of you, but when YouTube Premium first announced a TV series based on The Karate Kid story, the whole thing sounded like a joke: at best a campy, kitschy paean to 1980s nostalgia, at worst a crass money grab. But the 10-episode series is neither. Instead, it's a rich story that revisits Daniel LaRusso (Ralph Macchio) and Johnny Lawrence (William Zabka) 34 years after Daniel's crane kick won him the karate tournament. But, as suggested by the title—which takes its name from Johnny's dojo—the show has flipped the script, putting Johnny at the center. One of the biggest takeaways is that it's all about perspective: My favorite moment in Cobra Kai finds Johnny re-telling the entire plot of the first movie from his point of view. A casualty of peak TV and the glut of streaming platforms, Cobra Kai didn't receive the buzz it deserves. (Who the heck is paying for YouTube Premium?) But those of us who did tune in witnessed Zabka giving one of the year's best performances as he brings depth and nuance to a character he hasn't played in decades. His Johnny is a study in contradictions, stuck in the past but struggling to do right by his future. The series is the year's most delightful surprise. Wax on Cobra Kai. Wax on. —Amy Amatangelo (Photo: YouTube Premium)
17. Counterpart
Network: Starz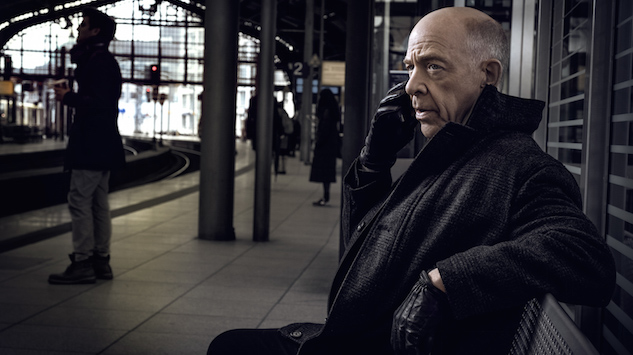 It's so easy to get hung up on Counterpart's gimmicks—who doesn't want to see J.K. Simmons play both a soft-spoken push-over and an acid-tongued killing machine?—but creator Justin Marks' sci-fi spy show offers so much more. In its first season alone, this series walked an Orwell-meets-Le Carré tightrope to cover topics like germ warfare, government surveillance and, well, the double-crossing of spies and assassins. Not dissimilar to the work done to build up Matthew Rhys and Keri Russell's Philip and Elizabeth Jennings on FX's The Americans, the series was also stealthily brilliant in the way it used Nazanin Boniadi's Clare and Sara Serraiocco's Baldwin to explore issues like the toll all of these factors take on the soldiers recruited to enforce them. A new season starts December 9. Please watch it. —Whitney Friedlander (Photo: Starz)
16. Queer Eye
Network: Netflix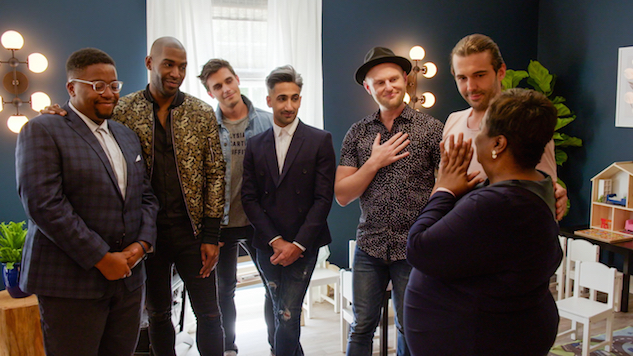 It's a miracle the new Queer Eye worked. It's easy to imagine, in these hyper-divided and reboot-obsessed times, how its central concept—five gay men driving around the South in the Trump years, improving the lives of people from diverse backgrounds—could have not worked. It could have stereotyped or trivialized its subjects, or its format, first deployed in the early 2000s, could have felt stale. But it didn't! Within days of release, it became a comfort TV must-watch for a country exhausted by news—inspiring legions of fans to argue instead over which member of the Fab Five is the best. (The correct answer is a tie between Tan and Bobby.) Queer Eye is clearly well-intentioned and well-made, and underneath its produced sheen, the interactions between the cast and their clients feel incredibly powerful and emotional. If only all reality TV felt this way. —Eric Vilas-Boas (Photo: Courtesy of Netflix)
15. On My Block
Network: Netflix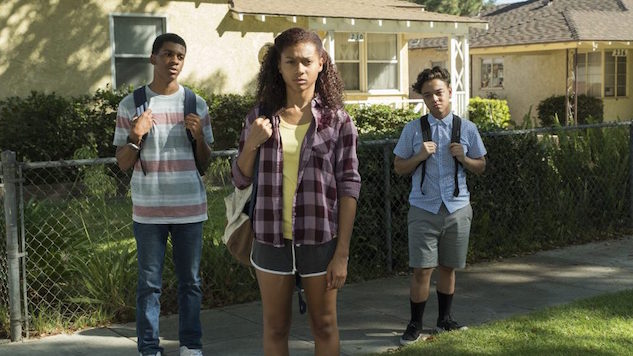 That Netflix is coming out of 2018 with a critical and creative hit like On My Block is not so much a surprise as it was statistically inevitable. That it was the inner city-set, teen-oriented dramedy On My Block that made such a memorable splash? That was less of a given. Unlike the various teen-oriented networks on linear television, with their established brands and storytelling voices, Netflix started the year off with no real standards for new teen shows to live up to or to subvert; from Netflix's "throw spaghetti at the wall" perspective, On My Block could be, well, anything—which is exactly what it ended up being. In one moment, On My Block is a Freaks and Geeks-style growing pains comedy; in the next, it's a gang drama; in the next, a Goonies-style treasure hunt. Sometimes, like when they're arguing about how to flirt or joking about farts, the core crew of friends feels endearingly young; other times, when they're scheming how to extricate one of their number from the gang initiation murder plot he's caught up in, or they're caught in that same plot's literal cross hairs, they seem older than they deserve to be. On My Block isn't anything you expect—what it is, rather, is something completely fun and fresh, starring the types of kids living the type of life that rarely gets to be fun or fresh, and judging from the passionate response the teens in my life have had to it, that's worth all the Netflix-spaghetti in the world. What a gift. —Alexis Gunderson (Photo: John O. Flexor/Netflix)
14. Patriot Act with Hasan Minhaj
Network: Netflix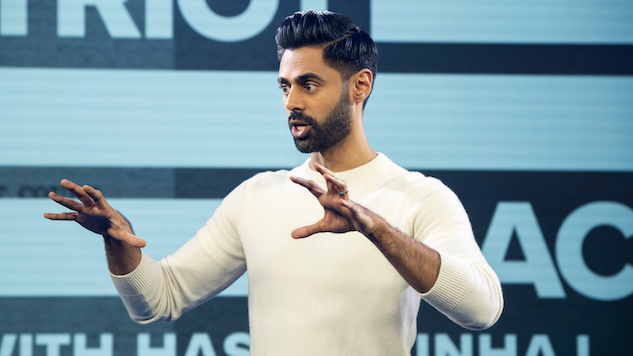 There's a telling line in Hasan Mihaj's standup-comedy-meets-the-news routine in "Supreme," Patriot Act's fifth episode. After making a reference to retired basketball player Antoine Walker that only gets scattered laughter from his studio audience, he quips: "I do my jokes for four people at a time." It's recovery, but it also genuinely speaks to his laser-sharp focus. Minhaj presses on regardless ("Google it!" he says), and it doesn't matter. Because of the format, his charisma, and his commitment to his material, especially when he relates to it as a nerdy Indian-American Muslim millennial man, he makes it all the more compelling. "Supreme" touches on sneaker culture, macroeconomics, and Gandhi's checkered history in South Africa, and then points out some of the hypocrisies of capitalism beyond the screen. Minhaj's contemporaries are all capable of doing that, but his show's fresh, and it's sunk every shot it's taken so far. —Eric Vilas-Boas (Photo: Cara Howe/Netflix)
13. Vida
Network: Starz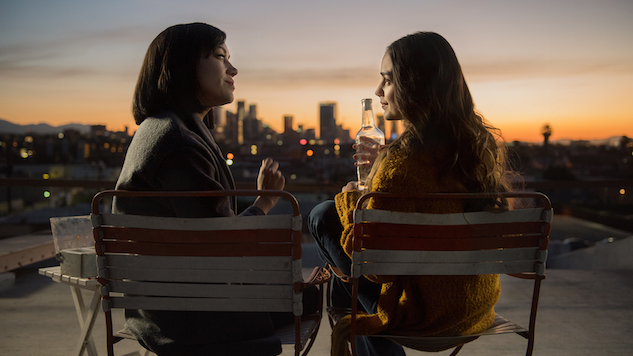 Vida is truly the anti-Roseanne. Premiering a couple weeks before Roseanne Barr fired off the tweet that became the death knell for the (first) modern-day iteration of her pioneering ABC sitcom, creator Tanya Saracho's family dramedy, on Starz, covered so much ground in just six half-hour episodes. Focusing on two sisters (Mishel Prada's cut-throat Emma and Melissa Barrera's beauty-equals-privilege Lyn) who are coming to terms not only with their estranged mother's death, but also with the revelation that she'd married a woman without telling them, Vida manages to cover issues like LGBTQ acceptance in the Latinx community, gentrification, racism and the struggle for cultural identity that so often plagues children of immigrants or those who came to America at a young age. (Plus, it features some of the most queer-positive sex scenes on TV). Behind the scenes, it also broke ground by becoming the first-ever all-Latinx writers' room, and for its push to cast non-binary talent like Ser Anzoategui. —Whitney Friedlander (Photo: Starz)
12. Sally4Ever
Network: HBO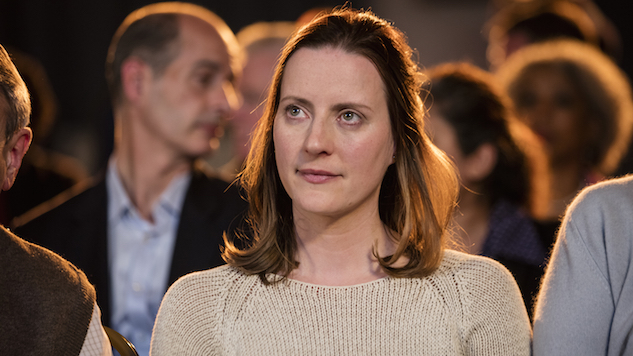 In my pre-air review of Sally4Ever, I wrote that it just "might be the funniest TV series of 2018." It's high praise I stand by and will probably stand by for the last few days of 2018 as well. In my opinion, Julia Davis is an unparalleled comedic mind, something that's absolutely evident in the best ways with Sally4Ever (and not so much in the best ways with Lena Dunham and Jenni Konner's remake of Davis' Camping). The combined power of Davis' natural disaster of a character, Emma, and Catherine Shepherd's always reacting (never big, but still, reacting) Sally is honestly hilarious just to think about. —LaToya Ferguson (Photo: Courtesy of Sky)
Chilling Adventures of Sabrina
Network: Netflix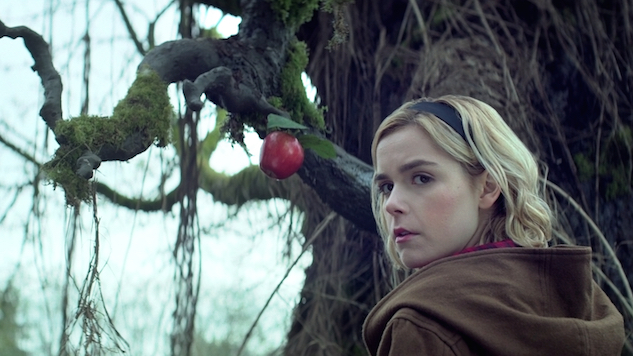 The Chilling Adventures of Sabrina arrived on Netflix with a thousand critics wondering if it could fill the Buffy-sized hole in our hearts. A remake of 1990s sitcom that was itself an adaptation of 1960s comic book, the new series is also a companion to Riverdale, and shares more in tone with that darker and daring version of Archie and the gang than with the original Sabrina. In the first episode, Sabrina's favorite teacher is brutally murdered by a body-possessing witch, played with divine wickedness by former Doctor Who villain Michelle Gomez. Sabrina (Kiernan Shipka—little Sally Draper, now 19) is a half-human, half-witch high-schooler, pure-ish at heart but destined to serve the Dark Lord, Mr. Satan himself. Her would-be Scooby Gang all face their own struggles, from gender identity and parental oppression to issues of a more mystical variety. But Sabrina is a plucky, cauldron-half-full kind of girl, determined to have the best of both of her worlds. Lucy Davis and Miranda Otto are superb as Sabrina's two witch aunts who raised her after the death of her parents. Beautifully shot and imaginatively crafted, the jury's still out on whether it can live up to Buffy Summers' legacy. But its girl-power protagonist is certainly going to try. —Josh Jackson (Photo: Courtesy of Netflix)
10. Corporate
Network: Comedy Central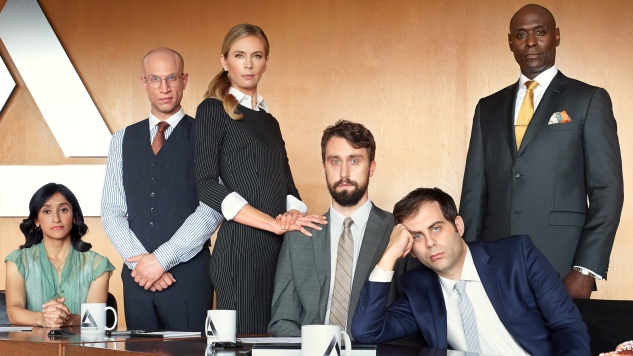 For everyone who's had a soul-crushing job where they can almost feel the walls closing in on them. For those who've sat in the office parking garage on Monday mornings and wondered if this would be the week that their guilt over their company's environmental and/or human safety conditions finally broke them enough to quit their mid-level executive gig. For all the HR people who nod as workers blubber about unfair conditions, but who secretly know their mission is to protect the business at all costs. For the two Yes Men who know only one of them is actually needed on the payroll. For these people and more, creators Pat Bishop, Matt Ingebretson and Jake Weisman's Comedy Central series is for you (and not at all for your human steroid of a CEO). —Whitney Friedlander (Photo: Comedy Central)
9. Homecoming
Network: Amazon Prime Video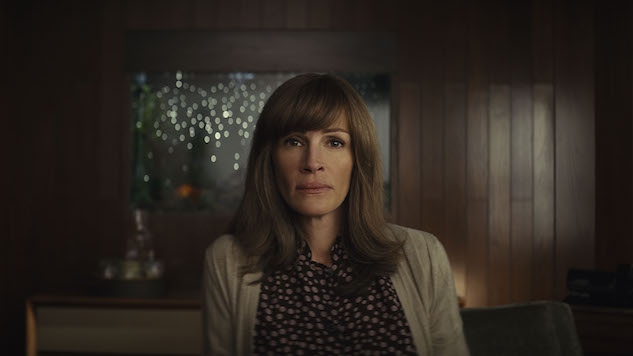 Julia. Fuckin'. Roberts. What more do you want? A mind-bending narrative? Check. Direction by one of the most creative TV helmers working today, contained within tightly written, 30-minute episodes so he doesn't fall prey to his worse impulses? You got it. Great jokes and heartrending pain? Ha-ha and boo-hoo, too. Homecoming has it all and then some. Add to it one of the most visually exciting moments of 2018 TV and some star-making supporting performances from the likes of Shea Whigham and Bobby Cannavale, and it's no guessing game why Homecoming the TV series is even more talked about than Homecoming the podcast. It's just that good. —Jacob Oller (Photo: Amazon Prime Video)
8. Succession
Network: HBO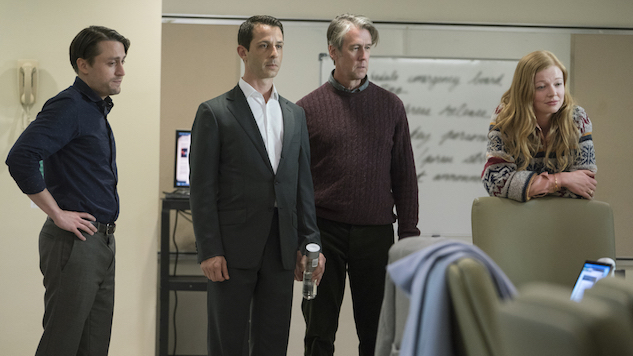 The first three or four episodes are something of a slog, but once Succession clicks the pieces into place, it emerges as one of the year's most entertainingly lacerating glimpses of life atop the pecking order. Pitched as an almost Shakespearean struggle for control of the family media conglomerate, with Brian Cox as Rupert Murdoch-esque patriarch Logan Roy, creator (and The Thick of It scribe) Jesse Armstrong turns Succession, by degrees, into one of the most nauseating, foul-mouthed, mean-spirited, brutally funny debut series this side of Veep, anchored by the jockeying among the four Roy children: Kendall (Jeremy Strong), the heir apparent; Roman (Kieran Culkin), the playboy; Connor (Alan Ruck), the outsider; and Shiv (Sarah Snook), the secret weapon. Add in a collection of unforgettable hangers-on, including Logan's consigliere, Gerri (J. Smith-Cameron), Cousin Greg (Nicholas Braun), and Shiv's debased husband, Tom Wamsgans (the exquisitely slimy Matthew Macfadyen) and a cracking second half, and Succession isn't just one of the best new series of the year, but also one of the most promising. Season Two already has the makings of a classic. —Matt Brennan (Photo: Peter Kramer/HBO)
7. Sorry For Your Loss
Network: Facebook Watch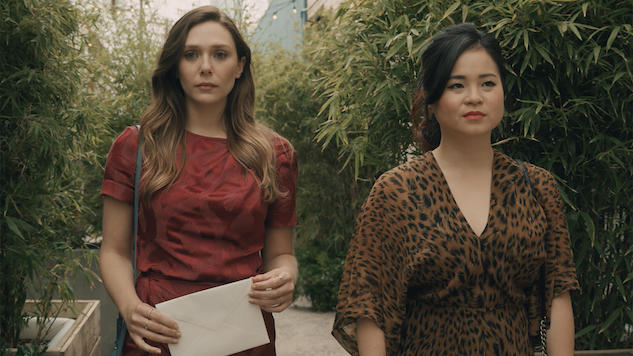 Grief is not usually a central theme in scripted television series, a medium better known as a form of escapism. As backdrop to other issues on HBO's Six Feet Under? Sure. That one time Archie Bunker breaks down after Edith's death, or Ally McBeal barely holding it together when she tells the staff of Cage, Fish & Associates that Billy died on the courtroom floor? Certainly memorable.
But creator Kit Steinkellner's half-hour drama allows survivors a chance to wallow in the pain of a beloved one's unfortunate and surprising demise. Here, it's not just star Elizabeth Olsen's newly widowed Leigh—if ever there were a character in need of a hug, followed by a few stiff drinks and some moments of silent companionship—but everyone working their way through the Kübler-Ross diagram after the death of her husband, Matt (Mamoudou Athie). That this process does not allow for martyrdom is not inconsequential.
Also not to be overlooked: The show's broadening definition of the word "loss" so that it doesn't just concentrate on mortality. If the series gets a second season, I hope it continues to dive into Leigh's adopted sister Jules' (Kelly Marie Tran) issues of abandonment and curiosity about her lineage. I also hope Facebook Watch makes it easier to find this and its other original programs… or that a less scandalous platform picks up Sorry For Your Loss, and does a better job of promoting it. —Whitney Friedlander (Photo: Facebook Watch)
6. Random Acts of Flyness
Network: HBO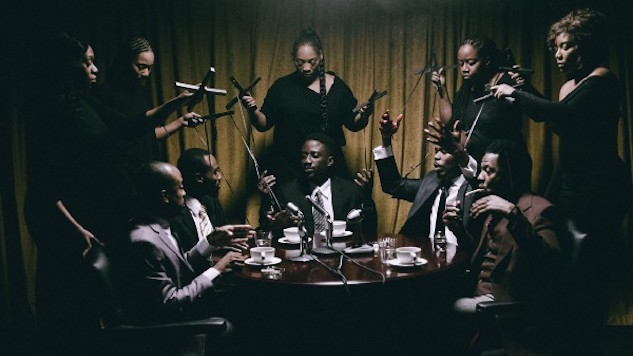 Every episode of Terence Nance's debut series for HBO is dense, thick with imagery, ideas, sociopolitical commentary and diversions that can be wildly funny or intensely unsettling. There are almost no corollaries to what Nance and his team have achieved in a short run of six episodes. Even a shorthand idea like "Atlanta if the showrunners were Tim & Eric" doesn't come close to capturing the essence of this visually thrilling and deeply challenging work of televisual art. The sheer volume of themes that they touch on, from police brutality to trans rights to the trope of the angry white vigilante, is impressive enough, but that they make every point stick and every image sear into the consciousness of the viewer is what has rendered Random Acts of Flyness an instant classic. —Robert Ham (Photo: HBO)
5. Pose
Network: FX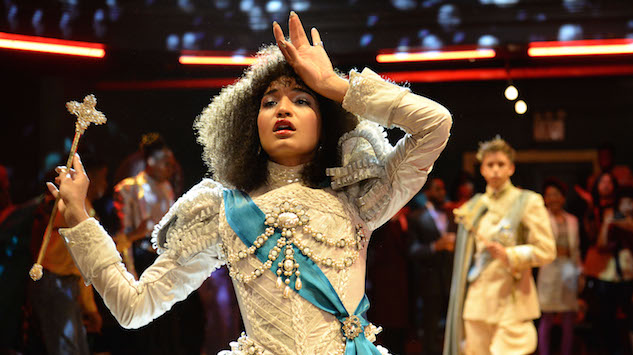 Pose, from Ryan Murphy, Brad Falchuk, and Steven Canals, is an exuberant portrait of ball culture in the 1980s, a sort of soapy, fictionalized, mad hot rendition of Jennie Livingston's classic Paris Is Burning, reinterpreted by trans women creatives Janet Mock and Our Lady J. The ensemble cast—featuring the sensational Billy Porter as the silver-tongued emcee, Pray Tell—is full of shape shifters, fierce queens, underdogs, wits, such that its stories of the AIDS epidemic, transphobia (especially among gay men), racism, and poverty in the decade's gilded New York become an object lesson in the ongoing nature of struggle: a political parable in floral pastels (Mother's Day) and pearl-hued brocade (royalty), or an ecstatic dance musical of Reagan's America. "Pull up. Work harder. Triumph!" Pray says near the start of the season, stating the series' own credo in the process. "If not today, maybe tomorrow." —Matt Brennan (Photo: JoJo Whilden/FX)
4. Lodge 49
Network: AMC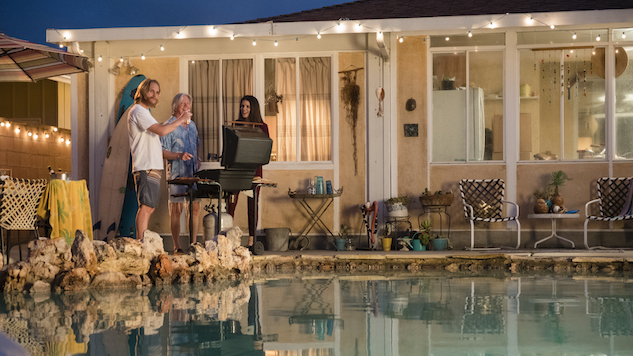 If Jim Gavin and Peter Ocko's quietly extraordinary fable recalls the blissed-out Southern California of the 1970s—shag carpet and stained wood; surf shops and lodges; the rakish disrepair of once-booming Long Beach—that's because its subject is the disappearance of a way of life. Though its plot is set in motion when Dud (Wyatt Russell), a down-and-out beach rat reeling from the death of his father, joins a fraternal order in search of new purpose, Lodge 49 expands its warm, gentle embrace from there until its simple pleasures become almost mystical: An out-of-work newspaper reporter begins having visions; the laid-off employees of an aerospace manufacturer come together for a midnight project; a plumbing salesman chases his holy grail; Dud's sister, Liz (the wickedly funny Sonya Cassidy), abandons ship (literally) when a dalliance with corporate culture becomes too much to handle. Far from uncomplicatedly nostalgic, Lodge 49 is, rather, a humane, tenderhearted examination of the communities that emerge where others have withered, and perhaps the finest treatment of the Great Recession and its aftermath yet to appear on TV. —Matt Brennan (Photo: Jackson Lee Davis/AMC)
3. The Haunting of Hill House
Network: Netflix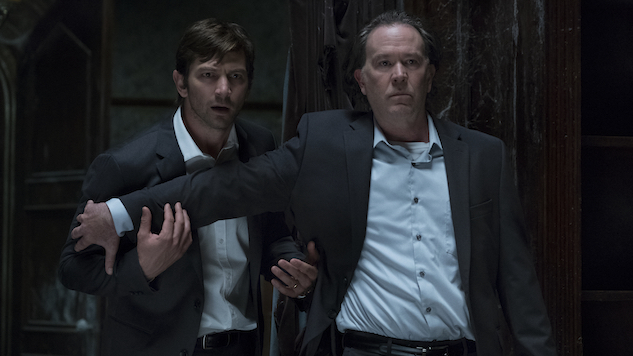 Adapting one of the most treasured horror novels ever written is a task so controversial that it divided this very site down the middle, but what's harder to debate is the quality of the show that Mike Flanagan and Meredith Averill spun from Shirley Jackson's yarn. The Haunting of Hill House is a dramatic gut-punch, a riveting tale of familial trauma and betrayal, and a scary-as-hell ghost story. The sheer craft going into every unsettling episode makes it one of the best Netflix originals, and the zeitgeist's love of trendy horror was augmented by the show's clever connection between ghosts and grief. —Jacob Oller (Photo: Steve Dietl/Netflix)
2. Barry
Network: HBO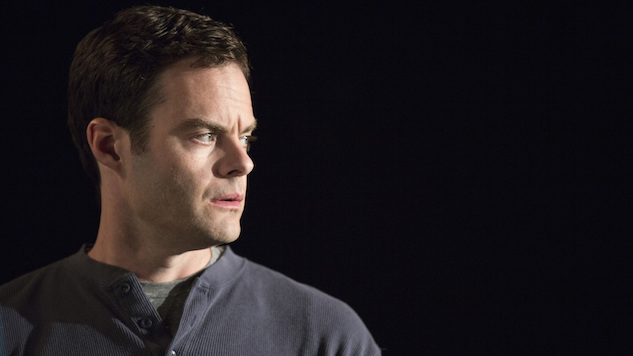 The year in TV was filled with depressing, yearning, half-comedy comedies. But not Barry. Thanks to its nuanced lead performance by Bill Hader, impeccable direction by Hader and Atlanta mainstay Hiro Murai, and constant entertainment provided by Henry Winkler, the hitman-turned-actor comedy actually worked, and then some. It showed a man that was perfectly competent and perfectly depressed, whose escape from that depression was a rocky one filled with loss, violence, and pain—all in the pursuit of one goddamn good thing in this world. And it was hilarious from top to bottom. —Jacob Oller (Photo: Michele K. Short/HBO)
1. Killing Eve
Network: BBC America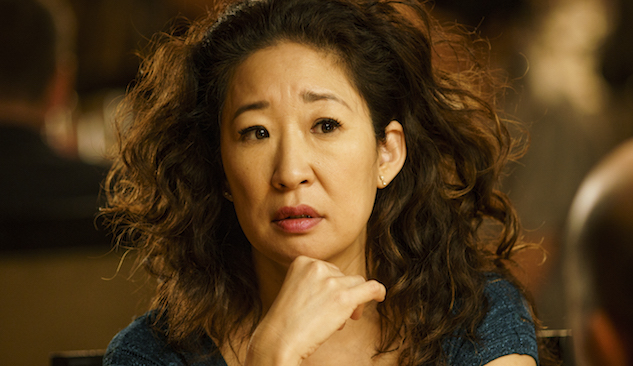 Back in June, I speculated that Killing Eve would still be the most buzzed-about new series of the year when all was said and done, namely because I would never shut up about it. That remains the case: Killing Eve, not only the best new series of the year, but one of the best series, period—made waves because, after all these years, women finally have a character (Jodie Comer's Villanelle) to learn absolutely the wrong lessons from Mad Men's Don Draper and Breaking Bad's Walter White. Equality! The cat-and-mouse game between Villanelle and Sandra Oh's Eve simply had no peers this year, and I'm already ready to start pestering people in 2019 about whether they've seen Killing Eve. —LaToya Ferguson (Photo: Nick Briggs/BBC America)