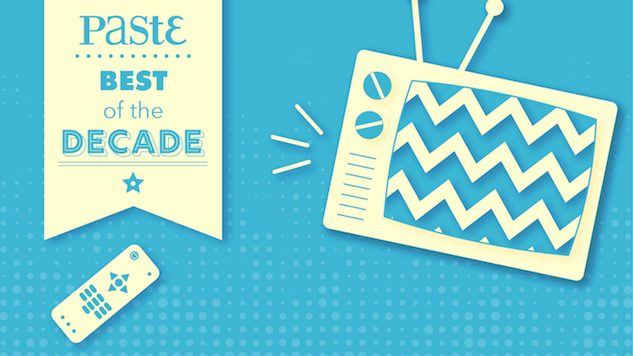 Endings are hard.
And ending a beloved TV show is the hardest.
Some shows overstay their welcome. Some are booted far too soon. Others try to do too much, and fumble under the weight of expectations. Few shows, the lucky ones, get to go out on their terms—their ratings and more importantly their creative and dramatic thrust still intact. It is hard, so hard, to get a series finale right—to leave fans fully satisfied and without any lingering disappointment.
Below we celebrate—in chronological order—those shows that got it just right (and one and a half that didn't, although we didn't talk about Dexter because just never want to think about it again). Note: There are some spoilers, so if you aren't caught up and don't want to know anything, sail on by.
Eligibility: Series finales had to air between January 1, 2010, and August 31, 2019.
"The End," Lost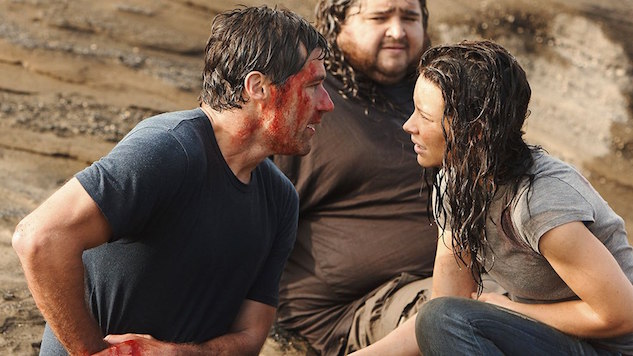 Writers: Damon Lindelof and Carlton Cuse
Director: Jack Bender
Airdate: May 23, 2010
Ah, the Lost finale. One of the most controversial season finales of all time, beloved and defended by some, reviled and scorned by others. The reality is that it exists somewhere in between. "The End" is really emotionally satisfying, and provides plenty of intensely dramatic conclusions for these characters we have come to know so well. I can still vividly remember being moved by some of the storylines and revelations, but then that quickly shifted into confusion and anger over the fact that none of the lore mattered. Defenders of the finale will say the lore was never important, but detractors are right to point out that the show spent an inordinate amount of time on mysteries, time travel, and supernatural plotlines that ultimately went nowhere. Were we owed an ending that spoke to Lost's dual natures? No, but by only serving one side of the show's own storytelling, "The End" would never be considered a wholly great finale. Instead, it exists in infamy as a cautionary tale for introducing puzzle box aspects that you have no idea how to resolve. —Allison Keene
"Always," Friday Night Lights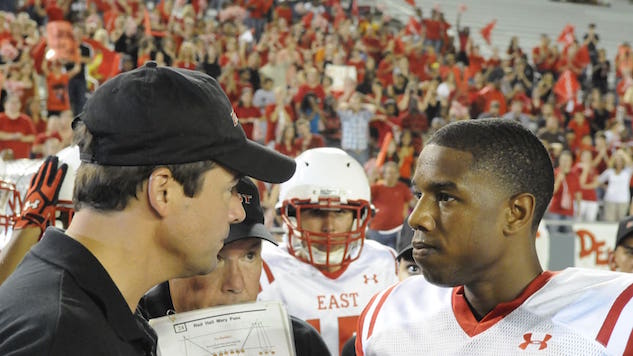 Writers:Peter Berg and Jason Katims
Director:Michael Waxman
Airdate: February 9, 2011
I can remember not watching the series finale of Friday Night Lights for weeks, as if not watching it would somehow prevent the series from actually ending. I wasn't ready to say goodbye Dillon, Tammy (Connie Britton) and Coach Eric Taylor (Kyle Chandler). I especially wasn't ready to say goodbye to Tim Riggins (Taylor Kitsch), one of television's greatest bad boys. But somehow "Always" made it all okay. Wrapping up a few story lines while sending Tammy, Eric, Riggins, Tyra (Adrianne Palicki), Julie (Aimee Teegarden) and Matt (Zach Gilford) on new journeys, the series finale celebrated all that made the drama one of the genre's best. Eric and Tammy's marriage, always one of the most real on TV, weathered difficult career decisions as Tammy finally got to put herself first. Tim realized that Dillon and Texas is where he was supposed to be. Vince (Michael B. Jordan) tells Eric that he changed his life. And the truth is the show changed our lives, too. Texas forever, man.—Amy Amatangelo
"Felina," Breaking Bad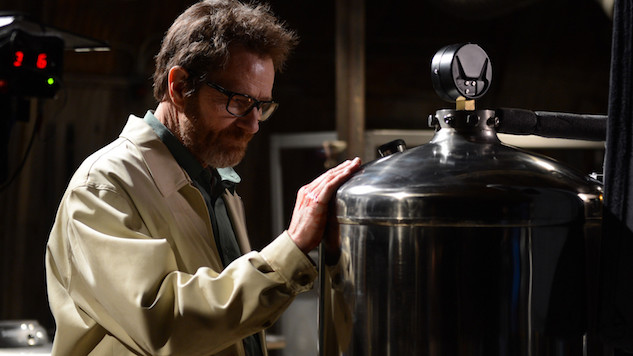 Writer: Vince Gilligan
Director: Vince Gilligan
Airdate: September 29, 2013
The death of Walter White. The escape of Jesse Pinkman. Breaking Bad had some of the biggest stakes on TV and it satisfied them all with a bittersweet moxie that eclipsed all expectations. Because, let's be honest, when must-see TV dramas end, the results are often underwhelming. But handing all the creative reins over to creator Vince Gilligan was just one sign of the show's intense trust in its leader's vision and its team's ability to pull it off. Utter catharsis at giving perennial punching bag Pinkman a happy(ish) ending is balanced perfectly with the callback-drenched violence wrought by White. His end, with a smile on his face, is as complicated as he was, and as beautifully fitting as the finale itself. A show can be great without sticking the landing, but they can't be the best. Breaking Bad is one of the best.—Jacob Oller
"Last Forever," How I Met Your Mother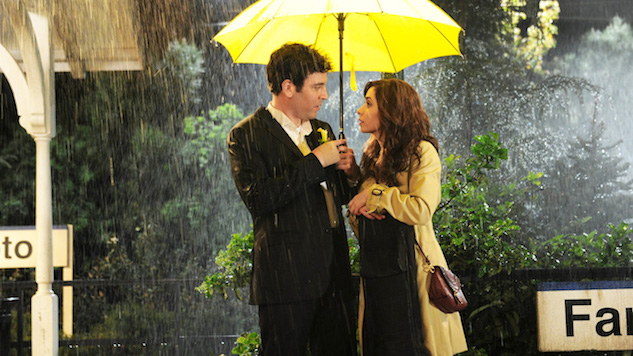 Writers: Carter Bays, Craig Thomas
Director: Pamela Fryman
Airdate: March 31, 2014
Few sitcoms in history have been so badly hamstrung by the consequences of their own success as How I Met Your Mother. What was clearly originally intended to be a story that lasted for three, or four, or even five seasons was dragged out all the way to nine, and in the process, a sad thing happened—continuity went from being the show's most cherished strength, to the biggest anchor around its neck. Living up to everything that had been established through the series' incessant voiceovers (shout-out to Bob Saget, always entertaining) simply became impossible, and Carter Bays and crew were backed into a corner by the many, many certainties they had established over the years—like the fact that Robin unequivocally would not be The Mother. There was no choice but to finally concoct an entirely new Mother character for the final season, and to their credit, the show did the best with Tracy that it could in the limited time she had to be on screen, but it was asking a lot for fans to truly rally behind her. Still: This was the scenario that Bays and Co. had to work with after stretching the series out for far too long, and the right choice would simply have been to say "and that's how I met your mother," leaving the Mosby family to live happily ever after. Would it have been a great conclusion? Not really, after so many dead ends in getting there, but it wouldn't have been an utter mess or betrayal of the viewers, either. Instead, feeling like they couldn't have dumb 'ole Ted end up with a woman who never had time to be satisfactorily brought into the show's complicated timeline and mythology, the writers killed her off so he could return—again, mind you—to Robin, a pairing that the show had gone out of its way over the years to explain simply couldn't work. It wasn't satisfying; it wasn't cathartic; it just felt like we'd all wasted nine years. —Jim Vorel
"The Unknown," Over the Garden Wall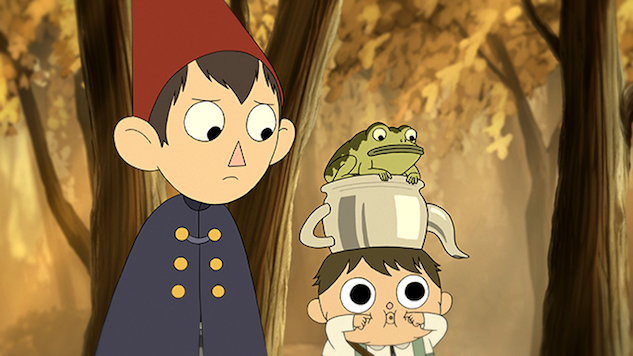 Writers/Directors: Natasha Allegri, Jim Campbell, and Tom Herpich
Airdate: Nov. 7, 2014
Over the Garden Wall makes a strong case for appearances in both our "best premiere" and "best finale" lists, precisely because it was so clearly conceived as a complete, satisfying, one-season story from the very beginning. As the series begins, the nature of protagonists Wirt and Greg is deliberately unclear. Yes, they're brothers lost in the woods, but what are they exactly? Are they human? Some sort of sprites or gnomes, as Wirt seems to be dressed? Where is "home"? What is the nature of the inconsistent, constantly shifting forest in which they find themselves? These answers are slowly suggested and then revealed piecemeal as the series continues, until the revelation of the penultimate episode "Into the Unknown," which gives richness and depth to the reason behind Wirt and Greg's journey. Many writers would have saved this information for the final episode, but Over the Garden Wall instead uses our new knowledge to build additional emotional resonance into the brothers' final, tragically pitched confrontation with their antagonist, The Beast—we finally know what they're fighting for. Likewise, the ultimate conclusion does an excellent job of both bringing the boys back to "reality" while suggesting their experience was far more than some kind of shared delusion—it allows the viewer to both accept the return to less fantastical surroundings but assume that the characters we met along the way were more than the figment of someone's imagination, which would have lessened them considerably. All in all, the conclusion to this story comes off as perfectly fitting and well earned. —Jim Vorel
"One Last Ride," Parks and Recreation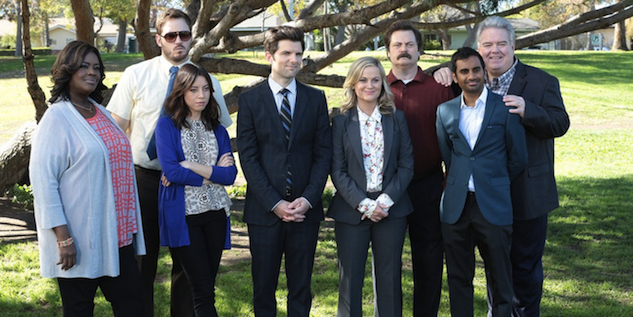 Writers: Amy Poehler and Michael Schur
Director: Michael Schur
Airdate: February 24, 2015
Because Parks and Recreation was always a show about fundamentally good people who wanted the best for themselves and those around them, the series finale is understandably all about their futures, and how fate would take some of them far away from Pawnee City Hall. However, "One Last Ride" goes beyond simply revealing everything that happens next for Leslie (Amy Poehler), Ron (Nick Offerman), Ben (Adam Scott), Tom (Aziz Ansari), April (Aubrey Plaza), Andy (Chris Pratt), Donna (Retta), Jerry (Jim O'Heir) and others — not just because there are a few very important details that don't get fully revealed (though, c'mon, Leslie's definitely President, right?). But by intercutting glimpses of the future with a quiet staff reunion in the present, the gang together for the titular last ride, Parks reminds us that life will always be full of changes, but there are fundamental things that won't, like the friendship which unites this wonderful ensemble. —Liz Shannon Miller
"The Promise," Justified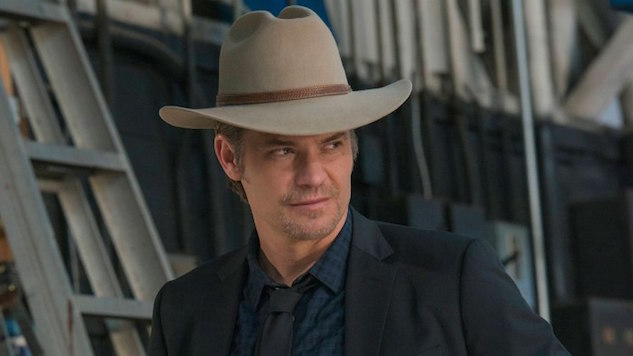 Writers: Graham Yost, Fred Gokan, Dave Andron, Benjamin Cavell
Director: Adam Arkin
Airdate: April 14, 2015
That final phrase, "we dug coal together," is perfect. It serves Justified's laid-back, understated Kentucky vibe and stays true to the show's blue-collar roots while also being a callback to the pilot. But it also is imbued with exceptional meaning for the relationship between our protagonist Marshall Raylan Givens (Timothy Olyphant) and antagonist Boyd Crowder (Walton Goggins), not only two of the greatest TV characters in their own rights, but part of an eternal small-town struggle between choosing to be good or choosing to be bad (and every choice in between). Justified ended on its own terms, which means that it was able to sew up everything it wanted to with its leads before these words are uttered. It did so in bittersweetly satisfying ways, all culminating in this beautiful, layered, incredibly complicated sentiment boiled down to four simple, powerful, and weighty words: "We dug coal together." —Allison Keene
"Person to Person," Mad Men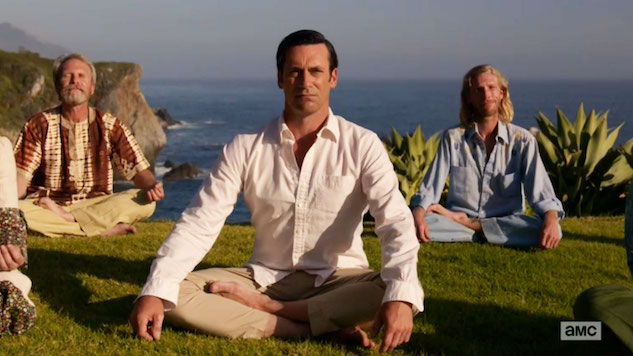 Writer: Matthew Weiner
Director: Matthew Weiner
Airdate: May 17, 2015
The beauty of Matthew Weiner's farewell to the men and women of the Manhattan ad world is that it seems to know just the right amount to say about saying goodbye. The seventh season had already been building up steam for some major catharsis, especially when it came to the ongoing existential quest of Don Draper (Jon Hamm), and the ways in which it delivered on those emotional moments, especially in its final montage, capturing how life will move on for our favorite characters—because after all, in fiction, characters live forever. After a lifetime of pretending to be someone else, Don finally come to terms with who he is, and that, as well as watching everyone else find some approximation of a happy ending (some, of course, happier than others) … Well, it just makes you want to smile. And buy the world a Coke. —Liz Shannon Miller
"Weirdmaggedon, Parts 1-3" Gravity Falls

Writers: Alex Hirsch, Shion Takeuchi, Mark Rizzo, Jeff Rowe, Josh Weinstein
Director: Stephen Sandoval
Airdate: October 26, 2015/November 23, 2015/February 15, 2016
The 2010s have been a TIME for rich, ambitiously weird animated series geared primarily for kids, and all of them that have ended, from Adventure Time to Phineas and Ferb to Star vs. the Forces of Evil to Steven Universe to Voltron: Legendary Defender, have done so with a loudly satisfying bang. But while we could have sat down to write whole theses about the finales of any of these series (and, in many cases, have already done so elsewhere on this site), it is the epic three-part finale of Alex Hirsch's Oregon-set mystery box series, Gravity Falls, that looms largest in our end-of-decade imagination.
As Comedy Editor Garrett Martin wrote in our ranked list of the series' 20 best episodes, "Weirdmaggedon" is a not only a satisfyingly unsettling "psychedelic horror show that ties together pretty much every major and minor storyline from throughout the show's run," it is also a marvel of character arc engineering. Compared to the other animated legends listed above, Gravity Falls lasted just a short two seasons. In that brief run, though, Hirsch and his team set up a town full of characters so multidimensional and emotionally complex that when it came time to put on a bow on the story of their long, weird summer together, they were able to do it in a way that both tore at and patched up your heart every step of the way. Everyone got a send-off in Bill Cypher's apocalyptic Weirdmaggedon, from the misunderstood rich mean girl to the Mystery Shack's good-natured handyman to the two generations of Pines twins the story was about all along. It's perfectly beautiful (and weird) on its own terms, but it's just as perfectly a beautiful (and weird) avatar for all the innovative and satisfying animated kids series the decade gave us. Gravity Falls is dead; long live Gravity Falls — Alexis Gunderson
"The Finale," Downton Abbey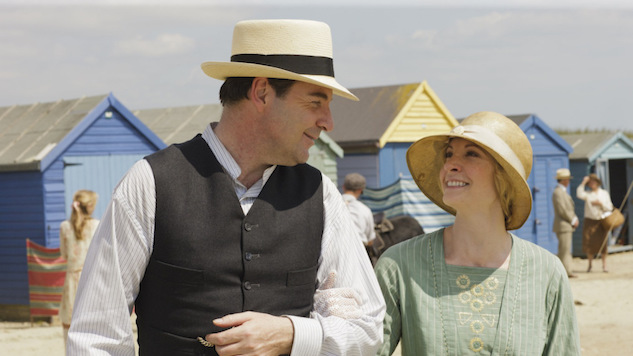 Writer: Julian Fellowes
Director: Michael Engler
Airdate: December 25, 2015
Though it has been supplanted by a second finale of sorts with a recent theatrical release, Downton Abbey's original series finale gave (fittingly!) happy endings to all of its remaining cast members. The show's years of drama and mismanaged plots were but a fuzzy memory in this sweet Christmas episode, which was full of weddings, babies, and pure joy. The film actually retread a lot of these same beats as far as character relationships and dynamics go, but it's all so good we don't mind seeing it twice. Downton was always a soothing show and at its best when it leaned into that coziness, which "The Finale" does in spades. —Allison Keene
"Pure Heroine," Sweet/Vicious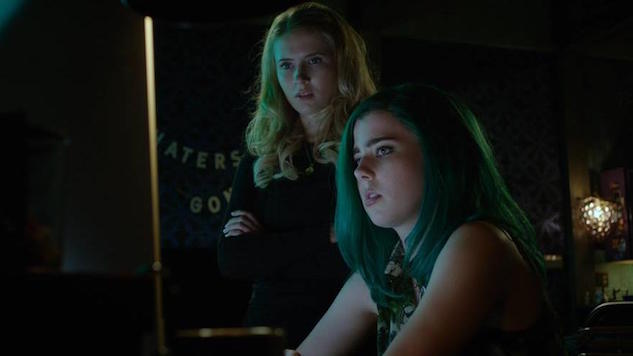 Writers: Jennifer Kaytin Robinson, Celeste Ballard, Jared Frieder
Director: Leslie Libman
Airdate: January 24, 2017
Jennifer Kaytin Robinson's short-lived campus sexual violence vigilante masterpiece, Sweet/Vicious, took its final bow in January of 2017; the #MeToo movement exploded in October, ten months later. The time between the two is short, but the world Sweet/Vicious was canceled in is so astoundingly different from the post-#MeToo world television exists in today that it's almost impossible to credit, and nowhere is the staggering difference between the two cultural realities clearer than in the MTV series' first season—and ultimately series—finale, "Pure Heroine."
At the time, the episode's kicker, which saw Jules (Eliza Bennett) and Ophelia (Taylor Dearden) turn their two-woman vigilante scheme into a hashtag-branded public resource whose central message to Darlington's victims of sexual violence was We believe you (this following their spectacular and decisive ally-aided takedown of Jules' smirking rapist, the school's football golden boy) seemed at best a kind of in-your-dreams catharsis for an audience who knew not to expect better in the real world. At worst, it was so outlandishly deep in that dream realm that it was hard to see how Kaytin could possibly make a second season work and still keep the story grounded. In either case, as what ended up being a series finale, "Pure Heroine" felt like firework show cut-off halfway through: explosively bright and hopeful, but ultimately reminding you that the world is built to disappoint.
With the benefit of hindsight, "Pure Heroine" plays completely differently. Jules and Ophelia's hard-won victories, both as the masked Darlington Vigilante and in their unmasked personal and romantic lives, always felt earned, but now, knowing that their launch of the "Sweet/Vicious" message board was followed so closely by the tidal rise of #MeToo, those victories also feel real—more than that, they feel final, in a way that was impossible to see when "Pure Heroine" first aired. Ultimately, Sweet/Vicious was a show that hit the world at just the wrong moment to become the long-running hit it deserved to be, but in the context of the cultural sea change these last few years have seen, both it and the victory bow it ended on were, it turns out, perfect. —Alexis Gunderson
"Cryogenics; Lightning; Last Review," Review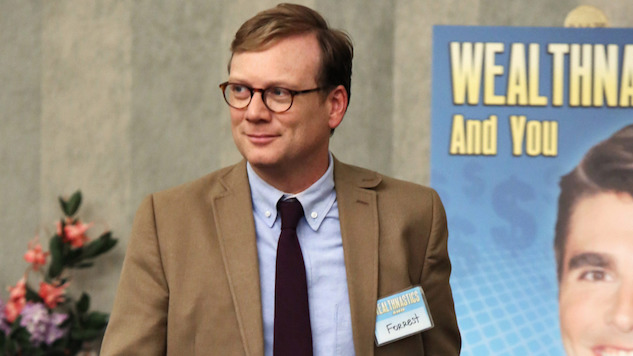 Writer: Andy Daly
Director: Jeffrey Blitz
Airdate: March 30, 2017
Few shows as silly as Review plumb such heartwrenching depths. From the pancake-induced existentialism to the quest for a perfect body, the mockumentary written and starred in by Andy Daly was a bleak and principled descent into Hell. But funny! Really! Its tragic hero's commitment—to work, to art, to reviewing—was such that it foisted dependency onto something that was giving no positive feedback. Forrest MacNeil needed reviewing to live while nobody wanted him to review at all. Review works its own cancellation into its finale, though MacNeil brushes it all off as a prank. It's a perfect cruel joke to end this cautionary tale, and little is funnier to those stuck in the gears of capitalism than seeing its madness laid bare.—Jacob Oller
"Til DeAth Do Us PArt," Pretty Little Liars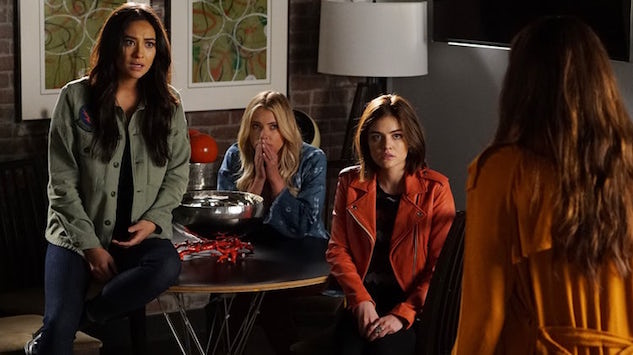 Writers: I. Marlene King, Maya Goldsmith, Kyle Bown, Lijah Barasz
Director: I. Marlene King
Airdate: June 27, 2017
Pretty Little Liars is less a landmark teen mystery series from the 2010s than it is an entire sociocultural and cinematic text, which is why the original recap my co-conspirAtors and I wrote for the series finale runs more than over seven thousand words long, but for the purposes of establishing the legacy left behind by "Til DeAth Do Us PArt" as one of the decade's signature series finales, I think I can safely sum it up by quoting that recap's intro:
They fucking pulled it off. Not perfectly; not with a bow big enough to cover their many, damaging Charlotte-blunders. But in terms of better-than-LiarLogic™ gAme closure? OH MONA DID THEY EVER DO IT. The things we wanted—everybody is twins; Mona is redeemed; the Liars loving each other; two hours to work everything out; a fun and as unproblematic-as-possible psychotic A.D.; WILD wedding fashion—we mostly got! The one thing we wanted least—an Ezria wedding—we ALSO got! The thing we never asked for—an exact Season One reboot with Rosewood's Liars 2.0??—we also somehow got!
After seven long seasons, three(+) killer As and one poorly executed time-jump, there wasn't any way the Pretty Little Liars series finale would be perfect, but while the most frustratingly romance-is-the-only-happy-ending tendencies the show fell deeper and deeper into as it aged loomed menacingly over the Liars' shoulders all the way through to the end, the trickiest parts of the years-long mystery fans were so worried about the team that brought us Charles/Charlotte tackling all turned out mostly fine. This might seem like faint praise, but for such an ambitious show that took so many huge swings in its effort to reframe what it means to tell stories about girls being terrorized by a patriarchal society designed to silence and ignore them, it's anything but. For better and for worse, the 2010s was the Liars' decade. We loved it; we hated it; it made us better at trusting women. That's not nothing. — Alexis Gunderson
"A Heck of a Ride, Parts One and Two,"The Middle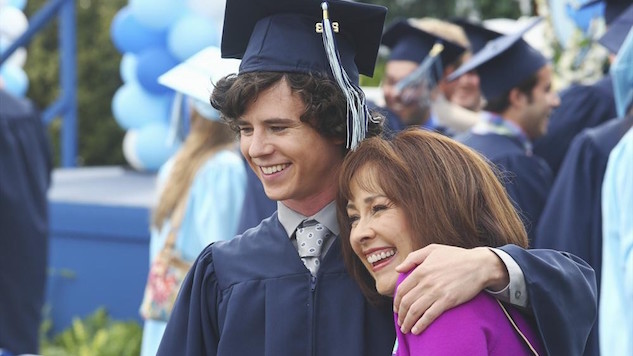 Writer: DeAnn Heline and Eileen Heisler
Director:Lee Shallat Chemel
Airdate: May 22, 2018
One last bite of nightstand cookies. One concluding car ride. One closing ballad from Reverend TimTom. One more trip to the Frugal Hoosier and Bed Bath and Between. One final and absolutely perfect whisper.
After nine seasons, The Middle delivered a delightful finale, homing in on what made the series so great—the natural comic beats of a busy, loving family—while advancing all the characters in positive directions. Axl (Charlie McDermott) agrees to take a job in Denver and Frankie (Patricia Heaton) pretends to put on a brave face. She even celebrates by offering to make Axl a home-cooked breakfast. "I will stick anything in that microwave that you want," she tells him. Sue (Eden Sher) is devastated, and searches for her big moment with her brother while Brick (Atticus Shaffer) makes plans for an in-room library. Axl thinks Brick doesn't care that he's leaving. But Brick does. "I never really had anything that wasn't yours already," he says. "I don't know. You're like my arm or something."
One of the final moments epitomized the series. Frankie is lamenting that things are never going to be the same again. "It's the end of an era," she wails. "That's the way it's supposed to be," Mike tells her. And as parents we know that is so true. Every time the school year ends and the kids move on to the next grade, every time a milestone's hit—whether it's toilet training or learning to drive a car—you rejoice in your children's accomplishments while getting immediately wistful for a moment that will never return. "For all the things we didn't have, we sure did have a lot," Frankie says, as the camera pans over to her tattered house, broken washing machine and fading wallpaper. Yes, they did. And we viewers did, too.
The Middle understood and celebrated the family unit like few shows do. How lucky were we to be stuck in The Middle for nine terrific seasons.—Amy Amatangelo
"START," The Americans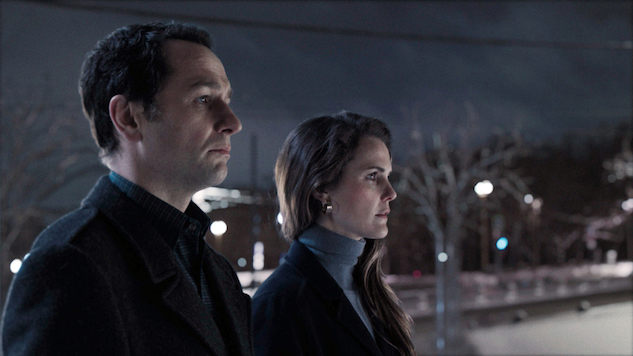 Writers Joseph Weisberg and Joel Fields
Director: Chris Long
Airdate: May 30, 2018
The devastation of the final unforgettable hour of The Americans still haunts us. The episode was eminently satisfying. Finally Stan (Noah Emmerich) figures out what he has probably long known and confronts the Jennings family in a tense parking lot scene that will be remembered as one of television's best. But the losses were a gut punch that resonate to this day. Despite rabid speculation about who would die in the finale of a series known for being ruthless, the only characters The Americans killed off, in its jaw-dropping series finale, were Philip (Matthew Rhys) and Elizabeth (Keri Russell), disguises removed as our protagonists became Mischa and Nadezhda once more. And yet the losses they sustain are calamitous: a best friend, a son, and finally a daughter, to say nothing of the Gregorys and Marthas and Young Hees they've collected and discarded along the way. "We'll get used to it," Elizabeth says, capping off one of the decade's best dramas. But will they? Will we? —Matt Brennan and Amy Amatangelo
"Vichnaya Pamyat," Chernobyl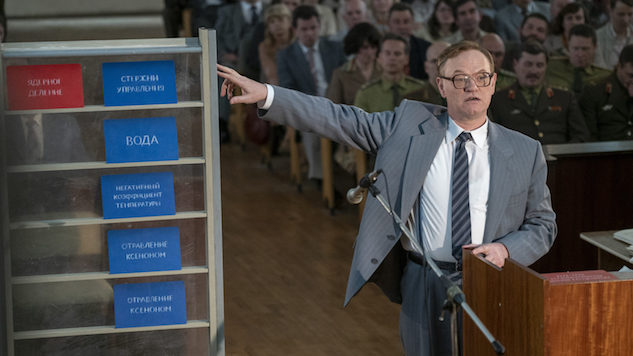 Writer: Craig Mazin
Director: Johan Renck
Airdate: June 3, 2019
There aren't many TV show finales that will teach you how a nuclear reactor works and, more specifically, how and why this particular one melted down. But that's what "Vichnaya Pamyet" does in a surprisingly riveting hearing led by Valery Legasov (Jared Harris), while being given extra emotional oomph from Boris Shcherbina (Stellan Skarsgard). Then again, it's not terribly surprising that the finale landed so well since Chernobyl was an exceptionally crafted series throughout. The weight of the meltdown and the consequences that will continue to reverberate there and around the world settles in during this final hour, although there are also small signs of hope: an inch worm making its way in the fallout, the need for better regulation and protocols, and the belief that the human sacrifices made to stop this horror were not in vain. Although they also would not be the final victims of this colossal calamity, everyone came away changed from the experience, including us. —Allison Keene
---
For all the latest TV news, reviews, lists and features, follow @Paste_TV.