"Choose Your Own Adventure" Trademark Holders Sue Netflix Over Black Mirror: Bandersnatch
Image via Netflix
TV
News
Black Mirror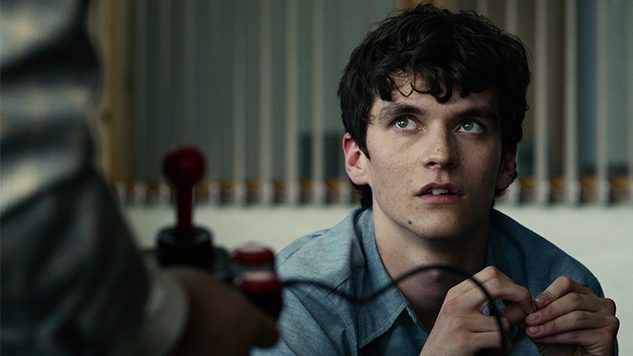 Black Mirror: Bandersnatch certainly divided fans of the dystopian Netflix series. Did the interactive film all amount to just a gimmick, or was it a revolutionary step forward in entertainment?
To one party, at least, it was criminally wrong. Chooseco, LLC, publisher of children's books and owner of the "Choose Your Own Adventure" trademark, is suing Netflix over the film, as per THR. Said trademark has been under the plaintiff's umbrella since the '80s. The company filed a complaint in a Vermont federal court on Friday asking for $25 million in damages or profits, whichever is greater, and injunctive relief, claiming infringement, dilution and unfair competition.
According to Chooseco, 20th Century Fox holds an options contract to create an interactive series based on the "Choose Your Own Adventure" books. They say that Netflix began pursuing a license in 2016.
The complaint states:
Chooseco and Netflix engaged in extensive negotiations that were ongoing for a number of years, but Netflix did not receive a license. On at least one occasion before the release of Bandersnatch, Chooseco sent a written cease and desist request to Netflix asking Netflix to stop using the CHOOSE YOUR OWN ADVENTURE mark in connection with its marketing efforts for another television program.
As well, Chooseco claims that Netflix is reaping the benefits of being associated with their trademark and that Bandersnatch was often described in the media as being "Choose Your Own Adventure"-adjacent. Chooseco claims that Bandersnatch has confused the viewing public by associating itself with the "Choose Your Own Adventure" brand. They also allege that their iconic brand's reputation has been damaged by the link between it and the film's at times disturbingly dark content.
One particular Black Mirror: Bandersnatch scene was singled out in the complaint, in which Stefan Butler tells his dad about the videogame he's about to pitch. He says it's based on a book, one his father remarks must be interesting since he's always "flicking backwards and forwards" in the novel. Stefan curtly replies, "No, it's a 'Choose Your Own Adventure' book."
While Netflix has not responded to the lawsuit yet, THR reports they will likely cite allowances for descriptive fair use in their defense.
This isn't the first time Netflix has found itself in legal hot water. In autumn of 2018, the Satanic Temple brought a copyright lawsuit against the streaming giant for their use of the allegedly misleading use of a Baphomet statue in Chilling Adventures of Sabrina. The case was settled in late November, though the financial terms of the settlement were not disclosed, as per Reuters.