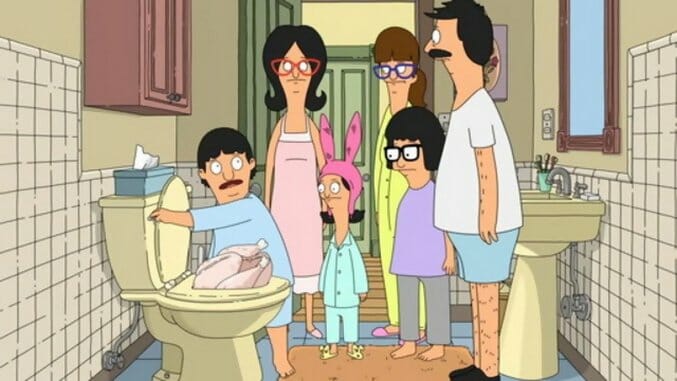 Like any good holiday-themed episode of a TV show should, last night's Bob's Burgers aimed to give viewers' heartstrings a good, firm tug. It sure did just that by the end, but first a mystery had to be solved: who keeps putting the Thanksgiving turkeys in the toilet?
It's an absolutely silly conceit for any show, but one that fits in with its aesthetic of narrowly avoiding straight-up gross-out humor. The show does get its knocks in though courtesy of the ever-hilarious Gene, who upon seeing the first toilet turkey announces: "Who pooped that, and may I apprentice with you?"
While Bob worries over who is behind the dastardly act, the rest of the family busies themselves with other concerns. Tina is trying on lipstick and heels to prove herself capable of sitting at the adult's table this Thanksgiving ("I already have Tina's Talking Points worked out. Ahem. In this economy?"), while Gene and his mom work on a holiday-themed carol that turns out to be a weird and hilarious ode to gravy featuring the line "Sailors in your mouth/that's what Thanksgiving is all about."
The continuing turkey dunk also opens up some of the funniest moments in the episode between Bob and the butcher at his local market who thinks Bob keeps returning to buy more birds because he has a crush. When the final turkey is bought, the butcher is ready to throw caution to the wind, sending Bob into a sexually confused muddle. ("I'm straight … I'm mostly straight … who am I kidding … you're out of my league … I'll see you tomorrow … maybe not … I'll call you!")
The heartwarming side of this episode comes when it is finally revealed how the turkeys wind up in the toilet. On Thanksgiving, Bob falls asleep at the table after a few exhausting days of trying to suss out the perpetrator. Sleepwalking, he immediately picks up his cooked bird and heads to the bathroom, thinking it is baby Tina and he's potty-training her. Part of his unconscious logic is stirred up by the allergy medication he's been taking but the rest is to do with his fears of Tina growing up too fast on him. Cue the declarations of love and a nice family hug.
This episode is as close to a perfect as this show has come up this season. The family gets plenty of time to play off of one another, the jokes are quick and sharp, and it all wraps up not with some boring lesson being imparted by one character to another, but in some simple human truth about parents and their young kids. As well, it is evidence that strengthens the case that Bob's Burgers is the best sitcom on TV right now.