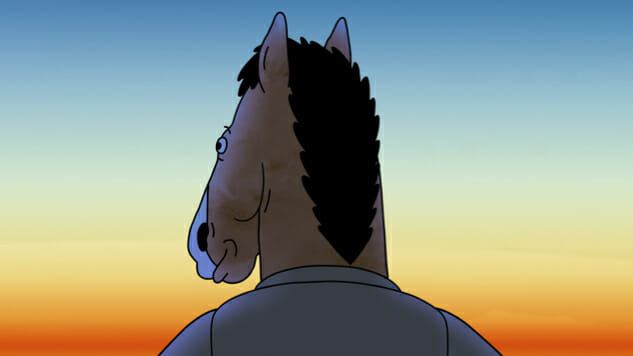 BoJack Horseman is riding off into the sunset: Netflix announced Friday that the acclaimed animated series' forthcoming, two-part sixth season will be its last. The final season's two installments—we've reached out to Netflix to clarify how many episodes are in each—will stream on Oct. 25 and Jan. 31, 2020. BoJack's conclusion was the creative choice of Raphael Bob-Waksberg, according to THR, as opposed to a cancellation at Netflix's behest.
Update, 11:50 a.m. ET: Netflix confirms that both parts of BoJack Season Six will comprise eight episodes, for a total of 16.
"It's safe to say Horsin' Around won't be BoJack Horseman's only lasting legacy," Netflix's press release teases—that and today's new Season Six trailer seem to presage a brighter future for BoJack (Will Arnett), whom we find in a Mad Men-esque rehab retreat by the sea. But even though BoJack's life is looking up, his friends—including new mother Princess Carolyn (Amy Sedaris), lonely divorcee Diane Nguyen (Alison Brie), the dangerously happy Mr. Peanutbutter (Paul F. Tompkins) and, uh … Todd (Aaron Paul)—are still out there struggling through the world.
Created by Bob-Waksberg, BoJack Horseman owes its distinctive design to artist Lisa Hanawalt (whose Tuca & Bertie deserved at least six seasons), and its animation to ShadowMachine. Bob-Waksberg, meanwhile, has moved on to Undone, the ambitious new Amazon animated series he co-created with BoJack collaborator Kate Purdy.
What else can we say about BoJack? It's Netflix's best original series.
See the final season's new trailer and key art below.