Brave New World Adaptation Ordered to Series at USA Network
Image via HarperCollins
TV
News
Brave New World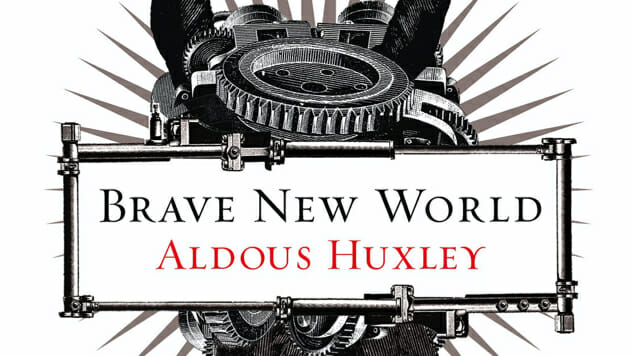 The observation that we are currently living in a something of a dystopia is both old hat and a major bummer, so we'll spare you. Suffice to say one of the best dystopian books of all time is finally making its way to the small screen, as USA Network has given a 10-episode, straight-to-series order to an adaptation of Aldous Huxley's seminal 1932 sci-fi novel, Brave New World, with David Wiener (Homecoming) serving as showrunner in addition to taking up writing duties alongside Grant Morrison (Happy!) and Brian Taylor (Gamer), as per THR.
The Brave New World series has traveled a winding road to reach this point, as the adaptation was first commissioned by Syfy and Amblin Television, and put into development back in 2015, with Leslie Bohem—an Emmy winner for his work on 2002 Syfy (then known as Sci-Fi) miniseries Taken—onboard to write the script. Morrison and Taylor signed on to replace Bohem in 2016, but it was only in 2018 that Wiener got involved, with a "mini writers' room" setting up shop in August.
Brave New World "imagines a utopian society that has achieved peace and stability through the prohibition of monogamy, privacy, money, family and history itself," as THR summarizes. The project's formal logline reads:
As citizens of New London, Bernard Marx and Lenina Crowne have only ever known a rigid social order, a perfect pharmaceutical called Soma, and a culture of instant gratification and ubiquitous sex. Curious to explore life beyond the strictures of their society, the two New Worlders embark on a vacation to the Savage Lands, where they become embroiled in a harrowing and violent rebellion. Bernard and Lenina are rescued by John the Savage, who escapes with them back to New London. John's arrival in the New World soon threatens to disrupt its utopian harmony, leaving Bernard and Lenina to grapple with the repercussions. The three become entwined in a fraught relationship that awakens them to the dangers of their own conditioning.
Amblin TV co-presidents Darryl Frank and Justin Falvey executive produce the Universal Content Productions series alongside Wiener, Morrison and Black Mirror's "San Junipero" helmer Owen Harris, who will direct the first episode (which Taylor will also executive produce, serving as a consultant on the series thereafter).
USA's Brave New World shoots in the U.K. The series' premiere is not yet scheduled.