Brooklyn Nine-Nine Garners Its Highest Ratings in Two Years in NBC Debut
Photo by Scott Schafer/FOX
TV
News
brooklyn nine-nine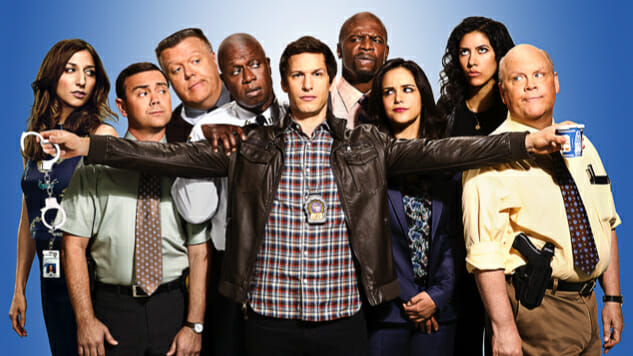 Isn't it nice when good things happen to good shows?
On Thursday night, Brooklyn Nine-Nine's season six premiere earned the show its biggest ratings in two years, according to Entertainment Weekly. Who knows what upped its audience—perhaps its new home on NBC, or Andy Samberg's stint hosting the Golden Globes—but let's hope these numbers are here to stay.
The episode garnered 3.6 million viewers, up 71 percent from the sitcom's fifth season premiere last year on Fox. The show also had a 1.2 rating among adults 18-49.
While we're crossing our fingers that this means NBC will keep Brooklyn Nine-Nine around for good (though the impending departure of Chelsea Peretti as a series regular breaks our hearts), these figures aren't that amazing in the grand scheme of things. The show's ratings still hovered below most of the sitcoms on NBC rival CBS' Thursday lineup.