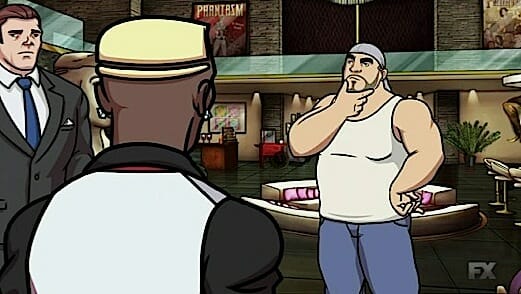 After screwing around last week—both figuratively and literally—Chozen gets back to its main conceit with "Beef," and is much better for it. When Chozen sticks to the basic goal of the show set up in the pilot, it seems like maybe, just maybe, Chozen could be an okay show.
By far, "Beef" is the best episode of Chozen yet, and that's due to its focus on the battle between Chozen and Phantasm (as opposed to, say, date rape parties or attacking a house in KKK masks). At this point, Phantasm might very well be Chozen's most interesting character since he actually has layers. Phantasm is proud and willing to show it off, living the life of the world's greatest rapper, with models of his own head decorating his living room, and pet tigers. He's basically everything that Lorde warned us about. But there's also the side of Phantasm that misses his old friends, the insecure rap star who scrolls through YouTube videos to find out who is making fun of him and crying himself to sleep. At this point, Phantasm is a mystery. Is he truly our villain, or is he a misunderstood rapper who regrets his past?
On the other hand, Chozen wears himself on his sleeve. That is, if he wore sleeves. He goes to a meeting at the LGBT Student Association to try to pick up guys and befriends the transexual Bobbi when that doesn't work out. For the first time, we also meet Chozen's parole officer, a sassy woman who clearly wants Chozen but doesn't realize she's barking up the wrong tree.
Besides introducing us to these new characters who have promise, "Beef" is stronger than past episodes just for the fact that it makes Chozen legitimately funny. Chozen being gay and slightly dumb isn't the punchline as much any more. Rather, it's a way for fun premises to arise where humor comes naturally, such as when Chozen confuses getting a J-O-B with picking up a Jack Off Boy, or his constant need to tell people to "respect yourself" that only gets funnier every time he does it. Bobby Moynihan's delivery is also getting much stronger.
There's even a fun side story with Crisco at Ricky's home, where Ricky is babysitting when a strange man with a facial scar waits outside for them. As Ricky points out, no one has ever gotten a facial scar for a good reason, so they hide from him, assuming he's working with Phantasm over their new beef. But it turns out the threatening guy is just a repo man since Ricky can't pay for his TV. It's an amusing side bit that shows that maybe these characters can work without Chozen being around.
Already it's looking like Chozen doesn't have what it takes to be the next hit FX show that could follow in the footsteps of Archer, but it is starting to find its groove and finely tune some problems. An episode like this suggests that as long as the show focuses on Chozen vs. Phantasm, it might actually be fine.