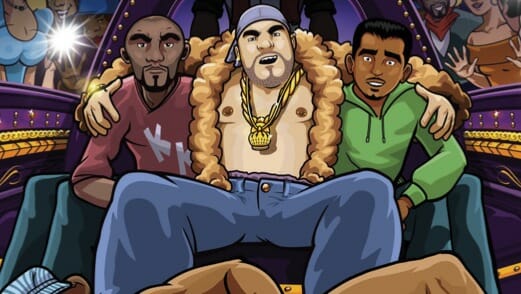 Everyone, we are living in the post-Kenny Powers world. Our heroes can be crass, rude, disgusting, yet still be inspirational and thoughtful. So who better to introduce us to the next potential Kenny Powers than the network that brought us Sterling Archer and Charlie Kelly? FX's newest comedy. Chozen, attempts to be the answer to the Kenny Powers-shaped hole missing in all of our hearts—it doesn't succeed in the slightest.
FX usually does a good job of defying expectations. Archer looked like it might just be a James Bond parody and became so much more quite quickly. Then there's Unsupervised, which Chozen bears the most similarity to, which came off as a heartwarming show about friends in the end, instead of being about two kids destined for failure in life. But after the first episode, it's hard to tell if there's more to Chozen than meets the eye.
At this point, Chozen (Bobby Moynihan) is a white gay rapper who used to rap in a group called Phresh Phriends. When Chozen stepped all over his other member Phantasm's verse, Phantasm (Method Man) frames Chozen with his own vices of prostitutes, drugs, farm animals and lots of cash in a hotel room. Chozen goes to jail for a decade, comes out and moves into his sister Tracy's dorm room, ready to rise to the top again and take down Phantasm.
Chozen comes off as a more open version of Powers, and the story also reflects that, probably because Danny McBride is not only a producer, but also voices one of Chozen's new friends, Jimmy, who takes pictures of cheerleaders from under the bleachers. On his way to the top, he also enlists the help of Troy (Nick Swardson), a nerdy guy who writes college papers for jocks and subsequently gets picked on by them, and his other two former Phresh Phriends members, Ricky (Michael Peña) and Crisco (Hannibal Buress). 
The biggest problem with Chozen is the choice to make the character gay, which seems to just be a way for the writers to throw gay jokes around. We see that Chozen got raped in prison (and then did his fair share of raping), he shows interest in hearing about Nikki Sixx's penis and continuously orders G.I. Joe: The Rise of Cobra on her sister's TV to watch Channing Tatum. There's never really a point to it, other than finding another way to make fun of Chozen with jokes that never work anyway.
But at least having Moynihan voice Chozen does make him inherently more likable. Moynihan might easily be one of the best actors currently on Saturday Night Live, and his work on the Comedy Bang Bang podcast has proven his skill with voices. Nonetheless, Chozen might be one of the weakest characters he has voiced.
There's not much to Chozen yet, as we're just seeing the beginning of his journey, or at least attempt, to regain stardom. Unfortunately, this introduction to that quest is filled with gay, fart and boner jokes, with not much comedy landing. However FX shows have always been about the larger picture than episode to episode. A show like The Bridge and American Horror Story can be only okay at times, yet viewed in the larger picture of the entire season, can work out quite well. I don't know if that'll be the case with FX's latest animated venture, but hopefully the journey will end up better than the beginning.