TNT's Surprisingly Dark Claws Only Scratches the Surface of Its Potential
Image courtesy of TNT
TV
Reviews
Claws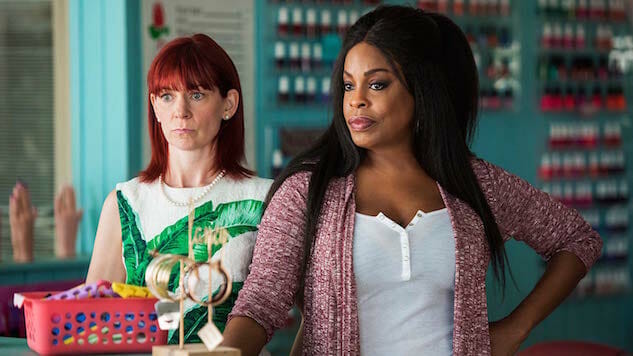 Maybe it's because I've always found Niecy Nash to be an incredibly joyful TV presence.
Maybe it's because Carrie Preston's brilliant performance as Elsbeth Tascioni on The Good Wife (and now The Good Fight) always cracked me up.
Perhaps it's because Rashida Jones, so hilarious on Parks and Recreation and Angie Tribeca, is an executive producer, or because the ad campaign has highlighted the show's outrageousness.
But I expected Claws to be funny—not The Big Bang Theory funny, but a darkly comic take on the world of criminal activity and money laundering in Florida (maybe like the first season of Orange is the New Black). Instead, the series is depressing and sad in so many ways that its attempts at comedy are too outrageous for the tone of the show as a whole and fall flat.
Desna (Nash) is the proprietor of Nail Artisans of Manatee County, where her colleagues include her best friend, Jennifer (Jenn Lyon), the just-out-of-prison Polly (Preston), the taciturn Quiet Ann (Judy Reyes) and the pretty young thing Virginia (Karrueche Tran). When Desna isn't creating beautiful nail art, she's laundering money for her boyfriend, Roller (Jack Kesy), and caring for her autistic brother, Dean (Harold Perrineau). Desna wants money to buy a new salon in a better part of town. "I want to live the dream," she says. Roller promises her $20,000, but her New Year's Eve bonus is only $3,000. Desna's dialogue during the three episodes available for review is full of variations on "I want my money."
Roller works for Uncle Daddy (Dean Norris), a man who hasn't met an excess he didn't like. He's raised Roller and his brother, Bryce (Kevin Rankin), since their father died. It's here that Claws makes it biggest misstep. Norris is a fantastic actor. Anyone who's seen him in Breaking Bad and his numerous other roles knows this is an indisputable fact. But something about Uncle Daddy doesn't quite work. He's evil and offensive—snorting drugs and verbally and physically abusing everyone from his wife to his employees. He's dangerously volatile. So, when the show tries to play him for laughs, it feels off; there's really not that much funny about a strung-out man with a gun. We're not laughing with or at the show, we're cringing. Norris appears to be having a great time, but there's simply too much of Uncle Daddy.
Uncle Daddy's biggest business is a pain clinic run by Dr. Ken Brickman (Jason Antoon), where very little (cash only) will get you a prescription. When Roller is no longer able to run the clinic, Uncle Daddy tries to pull Bryce in, something his wife Jennifer doesn't want. "It's like quicksand. The more you struggle, the more they pull you in," she says of the Dixie Mafia.
I'd like to pause here to say I'm all set with criminal activity on TV taking place in strip clubs. I'll admit I don't have firsthand knowledge of where mafia action goes down, and perhaps it is always in strip clubs, but I've had it with scantily clad women gyrating in the background as action and conversations take place. It's a degrading cliché that needs to stop. Now, back to my review—let's talk about the positives.
First of all, Nash is fantastic. She's been in this business a long time and it's great to see her have a juicy role she can relish. Unlike the series itself, she bounces effortlessly from serious situations to comic ones and adds levity to scenes. Nash is such a force of personality that she makes every scene she's in worth watching. And it's great to have a woman headlining as a messy character who's made some very questionable decisions in her life: Female characters should get to be as troubled and dysfunctional as male ones. Perrineau is equally great as Dean, bringing a nuanced performance to a diagnosis few understand. As a woman prone to hyperbole — "I wore this to Reagan's second inauguration. It still fits." — Preston's "who-me?" delivery is spot on.
Still, the leaps in logic are hard to parse. After Desna and Virginia get caught up in a serious illegal activity and Virginia goes missing, Desna constantly calls her. Anyone who's ever watched an episode of Law & Order knows you shouldn't do that. The police always subpoena your phone records. And, speaking of police, the only person investigating a murder is a detective on Uncle Daddy's payroll. A murder investigation should involve more than one cop, right?
Claws continues TNT's foray into edgier fare—less Major Crimes and The Librarians, more Animal Kingdom and Good Behavior. But something about the show seems so redundant. How many depressing series do we need about characters living fractured, dysfunctional, tragic lives? The show might want to be exploring the circumstances that lead Desna to go down the wrong path, but it does so clumsily. There's no new ground explored here. Perhaps because of its repetitiveness, I was easily distracted while watching—I actually wrote down is my notes "How does Desna text with those nails?" I'm sure that's not what the show wanted me to be focusing on.
Claws merely scratches the surface (sorry, couldn't resist) of its potential.
Claws premieres Sunday, June 11 at 10 p.m. on TNT.
---
Amy Amatangelo, the TV Gal®, is a Boston-based freelance writer, a member of the Television Critics Association and the Assistant TV Editor for
Paste
. She wasn't allowed to watch much TV as a child and now her parents have to live with this as her career. You can follow her on Twitter (@AmyTVGal) or her blog .