Comedy Bang! Bang!: "Lil Jon"
(Episode 4.14) "Lil Jon Wears a Baseball Cap and Sunglasses"
TV
Reviews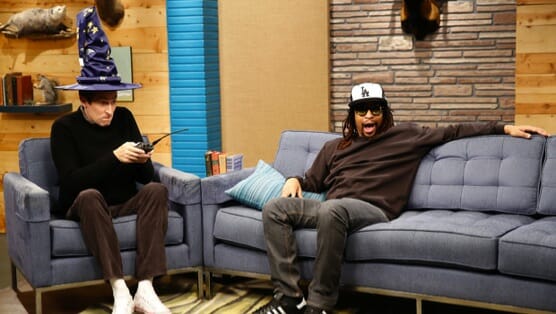 This season of Comedy Bang! Bang! has been the first to get rappers on the couch and so far, the ratio of good vs. bad guests has been 50-50. Schoolboy Q set the bar incredibly low for what a guest can do, but on the other hand, Kid Cudi was so fantastic that he'll be taking over as cohost once Reggie Watts leaves in a few weeks. With this week's guest Lil Jon, it becomes very clear that Schoolboy Q was only a fluke—the more rappers, the better.
To be fair, Lil Jon himself feels like he could just be a strange Comedy Bang! Bang! character. I could easily imagine Paul F. Tompkins' Ice-T meeting Nick Kroll as Lil Jon in the weird CBB universe. In "Lil Jon Wears a Baseball Cap and Sunglasses," Lil Jon is not only a fantastically hilarious guest, but also makes up for a lackluster character guest as well.
As it has the last few weeks, Comedy Bang! Bang! wisely stuck with keeping a very loose gimmick for the episode, this time with The Quizzler (Tom Green) popping up occasionally to quiz Reggie and Scott. The episode starts off as a 60s Batman homage, but as Scott so eloquently states, he "doesn't really give a shit about that." I think that's the key to an episode's theme: don't treat it too preciously, and only really worry about it if you have to. Or, simply put, don't give too much of a shit about it.
Tom Green as The Quizzler is a fun play on The Riddler, except The Quizzler gives too many clues for his quizzles and the more we learn about him, the sadder his life is. By the end of the episode, we learn he's little more than a guy who does his own non-sanctioned trivia night at the Sizzler for his grandfather and his friends.
Lil Jon is just incredible. Everything the man says is a phenomenal punchline, such as when he announces that his retirement plan is to open up a turtle farm, or when he says he was disappointed by being on the Celebrity Apprentice because he thought they would teach him how to get brooms to do chores.
Lil Jon just feels so natural here, when he makes fun of his usual exclamations like "Yeah!" and "Okay!" by saying his next phrase will be "Maybe!" But he also can deliver clearly written lines of his own. When The Quizzler shows up, he suggests someone call Jonathan Davis, cause his freak is off his leash. If Comedy Bang! Bang! ever needs a guest host, I'd like to recommend Lil Jon does the honors.
The Bad Grads segment starts off like one of Jay Leno's old people on the street segments, asking people obvious questions, then joking about the dumb answers. Here though, the grads' answers become increasingly weird, until several people say that the president is a meatball sub (among other equally strange responses). It turns out that Scott has gone through a Stargate, which thoroughly explains everything, but it is a perfect CBB twist on a segment that otherwise would seem sort of obvious.
Claudia O'Doherty shows up as Shandy Williams, who has created her own business called Crocodile Locks. This Australian hair extensions business takes kangaroo and wombat fur, and glue made from killing dozens of crocodiles to make really awful hair that makes Scott look like a proud French king. O'Doherty's characters usually take a lot of intervention to make them interesting, which doesn't quite happens here. But, once again, Lil Jon steps up to the plate with some great reactions to the guest and Scott.
Without Lil Jon, I'm not sure that this week's episode would have been that special, but with him, the show is able to knock every segment out of the park. I mean, this is an episode that gets Vince Gilligan to do little more than eat a hot dog, and yet Lil Jon outshines even that! I was expecting Lil Jon to be one of the more out-of-place guests; I had no idea he would fit into this weird world as perfectly as he does.
---
Ross Bonaime is a D.C.-based freelance writer and regular contributor to Paste. You can follow him on Twitter.