Watch the Horror-Infused Trailer for DC Universe's Swamp Thing
Images via DC Universe
TV
News
DC Universe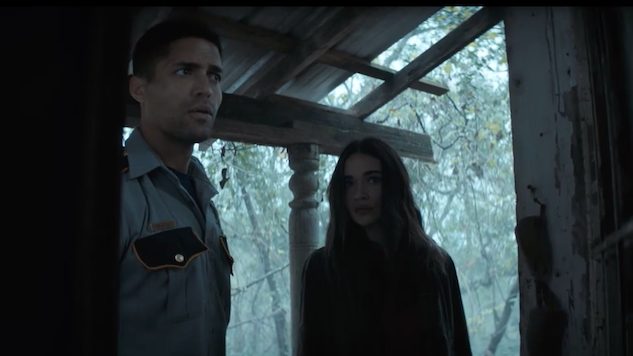 Featuring monsters, gore and plenty of scares, the newest trailer for DC Universe's Swamp Thing is setting the series up to be filled with lots of horror.
Swamp Thing follows Abby Arcane (played by Teen Wolf's Crystal Reed) as a CDC investigator tackling a mysterious, swamp-born illness, and its creature of origin, in her Louisiana hometown. The series is taking its own route in the DC Universe, and taking place in a different world than other DC originals.
In the two-and-a-half-minute trailer, audiences not only get a feel for the plot, but also see snippets of the horror that ensues because of the illness and the swamp-based monster. Whether it's the deadly illness, bodily horror or overall creepiness of swamps, the trailer makes the James Wan-produced series all the more scary-looking.
Wan is most notable for his work on horror films such as The Conjuring, Saw and Insidious. The series isn't Wan's first venture into the DC sandbox, either. His 2018 adaptation of Aquaman boomed at the box office and received generally positive reviews.
Wan is assisted in executive producing by Mark Verheiden, Gary Dauberman, Michael Clear and Len Wiseman. Wiseman will also act as director on the series, with Verheiden and Dauberman behind the script. The series will be exclusively available on May 31 through the DC Universe streaming service.
The series pulls from writer Len Wein's and the late, great artist Bernie Wrightson's character from DC's 1971 House of Mystery horror anthology. The forthcoming series also isn't the first adaptation of the character.
Wes Craven took a turn with the character in the 1982 film Swamp Thing and Jim Wynorski followed that up with The Return of the Swamp Thing in 1989. There were also some short-lived series adaptations in the '90s. Despite the many tries at getting Swamp Thing, it seems nothing has quite caught the horror element that's apparent in the trailer for Wan's adaptation.
Watch the trailer for DC Universe's Swamp Thing below.