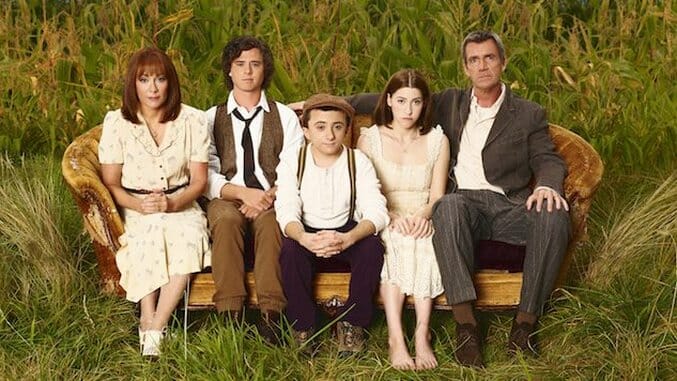 When I first started writing about TV, I would go to cocktail parties. (OK, they were parties with a keg in somebody's kitchen, but "cocktail parties" sounds so much more elegant. Work with me here.) Anyway, when I was at these cocktail parties, talk would inevitably turn to our careers. There was always one person who would say, "Oh, I don't watch TV" when I said what I did for a living. If they really wanted to double down, they would say, "Oh, I don't even own a TV" (this was before the age of streaming, when you actually had to own a TV to watch TV). They would always say it with an air of smugness and superiority—a badge of honor to be worn with pride. My usual response would be to deadpan, "Oh, I'm so sorry to hear that." Because, as we all know, TV is awesome. Like any other artistic medium, there's change-your-life TV, great TV, good TV, okay TV, bad TV and in-the-name-of-all-things-right-and-holy-how-did-that-get-made TV.
You would think that the era of Peak TV would have done away with most of these naysayers. But from my vantage, the disdain for TV in general has been replaced with a disdain for network TV in particular. These days, when I go to those same cocktail parties—Who am I kidding? I have two small kids. I never go out.— it seems that the same people who said they didn't own a TV now say they only watch HBO, or Netflix, or AMC… you get the idea.
The Emmys now equally favor TV of the non-network variety. Network TV isn't necessarily the ugly stepchild, so much as the child everyone forgets about. Cable TV and streaming platforms dominated the nominations last year: HBO received 94 to NBC's 41 and CBS's 35. The year before, HBO nabbed 126 to ABC's 42. Last year, Downton Abbey was nominated for Outstanding Drama Series, and the other six nominees were on cable. Ditto for 2014 and 2015. And there are truly fantastic shows on cable right now, from The Americans to The Leftovers to Better Call Saul.
I'm here, however, to speak for the network shows. The comedies that might just be straight-up funny without being sardonic. The dramas that don't feature an anti-hero with a tragic backstory. Network TV, by virtue of being free, casts a wider net, trying to appeal to more of the viewers most of the time. We also know they produce, on average, more episodes per season and have less time between seasons. So I'm here to defend network TV and talk about the series that deserve to have their names called when the Emmy nominations are announced July 13.
The recently cancelled American Crime has received Emmy recognition in the past and should again for its searing, unwavering look at human trafficking this season. ABC also has, without a doubt, some of the strongest comedies on air. But except for black-ish—which received nominations last year for Outstanding Comedy Series and its leads, Anthony Anderson and Tracee Ellis Ross—and Modern Family—which has outstayed its welcome in the Emmy ranks—the network's comedies are ignored. What about Wendi McLendon-Covey's uproariously smothering mother on The Goldbergs? Then there's Fresh Off the Boat, which regularly explores cultural identity and '90s nostalgia with hilarity. Constance Wu is pitch-perfect as the mom whose sky high expectations of her children is only exceeded by her love for them.
This season, ABC added Speechless to its lineup. When I wrote about the show as one of the best comedies of 2016, I noted that the series thrives because it refuses to treat JJ (Micah Fowler) as anything less than a fully realized character. As JJ's fiercely protective mom, Minnie Driver should receive a nomination. There's something about letting her go full-on British that's led Driver to a career-best performance.
And I know this is the biggest of pipe dreams, but I can't believe that The Middle has gone eight seasons and the only Emmy nomination it's ever received has been for makeup. There simply isn't a show that captures the hilarity of family and raising children better. The fact that the show has maintained its comic edge and grown with the three Heck children is rare and remarkable. Eden Sher, who plays the plucky, ever-optimistic Sue Heck, is brilliant. The last time I was this mad about an actor not getting recognized by the Academy was when they snubbed Sarah Michelle Gellar and Buffy the Vampire Slayer. (As the kids say today, come at me!)
Over at NBC, the network began to reclaim a little bit of its "Must-See TV" luster by having the best new drama and one of the best new comedies of the season. This Is Us, about three siblings with lots of issues and the parents who raised them, employs the trick conceit of jumping back in time to show how the past informs the future of The Big Three. And yes, the show is utterly emotionally manipulative. If you ever feel like you need a cathartic cry, just watch "Memphis," in which Randall (Sterling K. Brown) takes a road trip with his birth father, William (Ron Cephas Jones). But dramas don't have to be dark and depressing. Not everything has to be about a lovable rogue fighting his or her own personal demons. There's something to be said for a show just being entertaining. Just making viewers happy. Because oh, how we laugh through our tears on This is Us. There's a lot of buzz about the show, but will it translate to nominations? At the very least, Brown, who won last year for American Crime Story: The People vs. O. J. Simpson, should hear his name again this year.
The brilliant The Good Place, about a woman (Kristen Bell) who gets sent to The Good Place when she should have been sent to The Bad Place, pulled a terrific bait-and-switch on viewers without alienating them. That's no easy feat, and Ted Danson and Kristen Bell are delightful. But the show wrapped up its first season way back in January. Will the Academy remember it?
Nobody does quirky shows like The CW, which has Jane the Virgin and Crazy Ex-Girlfriend. Rachel Bloom, who headlines the latter, last week released a hilarious video about how much she doesn't care about winning an Emmy. Bloom may not care, but I still do. Here's hoping some of the stellar network shows break through this year.
Read our (unofficial) Emmy nominations ballot here.
---
Amy Amatangelo, the TV Gal®, is a Boston-based freelance writer, a member of the Television Critics Association and the Assistant TV Editor for
Paste
. She wasn't allowed to watch much TV as a child and now her parents have to live with this as her career. You can follow her on Twitter (@AmyTVGal) or her blog .