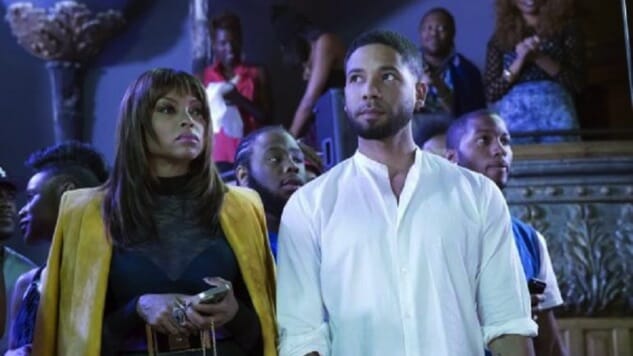 Why can't all episodes of Empire be as perfectly balanced and entertaining as this week's? Maybe it has something to do with the work of writer Malcolm Spellman, the gent behind one of Season One's highlight installments, "Dangerous Bonds." As with that episode, he and director Sanaa Hamri know how to pitch the action and drama just right, while also providing the right kind of energy to the musical elements of the show. There has been no moment in the whole of Season One and all of this current run that could match the thrills of the rap battle that went down between Freda Gatz and Hakeem (just Hakeem, thankyouverymuch). Not even Bryshere Gray's weak tea rhymes could ruin the moment. Sorry, but in the real world, Freda would have walked away with the championship belt.
The smartest decision Spellman made was to put the focus back on the interdynamics of the Lyon family, with the three sons stuck in the middle of the artistic power struggle between Cookie and Lucious. That's where the show shines, not in the trumped up boardroom nonsense going on with Empire purchasing a streaming service. Nor is it in the silly (but still kind of fun) revelation that Anika is knocked up with Hakeem's child and is going to… well, who knows what she's up to by getting between her baby daddy and his new girlfriend. This show has always been about the music, so why not pitch the matriarch and patriarch of the Lyon clan against one another as they try to help Jamal create the perfect song for a Pepsi campaign (you almost have to admire how egregious the product placement was for this).
They each come up with a pretty great song, but it's up to Jamal to put them together into something even better. Here you have to applaud Ne-Yo again for his creative impact on the show has been massive this season, especially with the jams he's been giving Jussie Smollett to sing. By the end of the track in tonight's episode, I was ready to go out and raid a Pepsi bottling plant.
Eventually, Lucious and Cookie are going to realize that they work better together than apart. But we're going to get dragged through an 18-round bare knuckle brawl to get to that point. I, for one, can't wait to see the carnage that comes out of this battle, because watching Terrence Howard and Taraji P. Henson go toe-to-toe on Empire is one of the few joys of the fall TV season. You can tell they're enjoying it, too, with Cookie sticking her high heels right in Lucious's face to punctuate the bet they made on Hakeem's rap battle. That can't have been in the script, as Howard's reaction to it was too natural in its visible annoyance at his co-star.
As the show keeps reminding us, Empire is really all about family, and the lengths that people will go to protect and support their loved ones. Why else would Cookie slap her boyfriend after he shoves Hakeem? And why else would she decide to go off on an impromptu trip to Philadelphia to help save her sister Carol after her other sibling shows up unannounced (Vivica A. Fox!)? That same spirit is why Lucious was begrudgingly willing to work with his ex-wife on Jamal's album. With family, you've often gotta put your ego aside, hold your nose and do stuff you just don't want to do.
Where that falls apart here is, of course, with Lucious's anger at Hakeem for turning his back on his dad. The tossing aside of the family name by the young rapper only served to put a cap on an episode where the elder Lyon signed off on some nasty verses spit by his protégé. Though I couldn't help but laugh when I thought about how weirdly similar it was to the beef going on between the rappers on You're The Worst, the Empire version further exemplifies the dumb, male egos involved in all of the Lyon boys' decisions. That's why Cookie is so important to the energy of the family: without some tough female attitude, this sausage fest would get quickly overcooked.
Robert Ham is a Portland-based freelance writer and regular contributor to Paste, and the author of Empire: The Unauthorized Untold Story, available in bookstores now. You can follow him on Twitter.