Theatrical Version of Fleabag Begins Streaming to Provide Coronavirus Relief
Fleabag is the salve for our troubled times
Photo via Amazon Prime Video
TV
News
Fleabag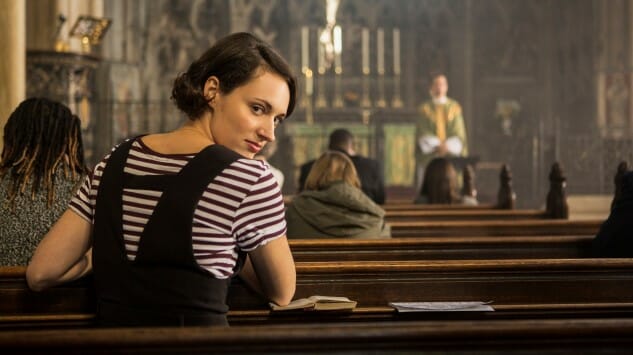 Before Fleabag became an Emmy Award-winning TV series, its home was on the stage, as Phoebe Waller-Bridge's one-woman play of the same name. As of Monday, April 6, the theatrical version is available to watch online, in an effort to raise funds for charities amid the coronavirus pandemic.
It's been announced that the play, written by Waller-Bridge, directed by Vicky Jones, and performed at Wyndham's Theatre in London and Off Broadway in New York in September 2019, starts streaming on Soho Theatre's On Demand site on April 6. Shortly thereafter, it will begin streaming on Amazon Prime Video, in addition to Soho Theatre On Demand in New Zealand, Australia and Canada.
The "ticket" price is $5 for a 48-hour download, and proceeds will benefit charities including the NHS Charities Together, Acting For Others, The National Emergencies Trust, the new Fleabag Support Fund will distribute grants of around $3,000 to freelancers working in theatre, plus an American charity that will be named this week.
Phoebe Waller-Bridge said in a press release, "I hope this filmed performance of Fleabag can help raise money while providing a little theatrical entertainment in these isolated times. Thank you to all our partners and to the creative team who have waived their royalties from this production to raise money for such vital causes in this unbelievably challenging situation."
Waller-Bridge added, "all money raised will support the people throughout our society who are fighting for us on the frontlines and those financially devastated by the crisis, including those in the theatre community. Now go get into bed with Fleabag! It's for charity!"
The production has kickstarted $438,175 thus far (as per a Google conversion from pounds to dollars), including a donation from Waller-Bridge. The funds have already been donated to NHS Charities Together, Fleabag Support Fund, and the National Emergencies Trust.
John Herriman, CEO of National Emergencies Trust, added, "we are facing an unprecedented national emergency that is causing suffering to people in so many different ways." He added, "we are delighted to be receiving donations from this initiative. These funds will help the NET provide vital support to those who need it most as quickly and efficiently as possible."
---
For all the latest TV news, reviews, lists and features, follow @Paste_TV.