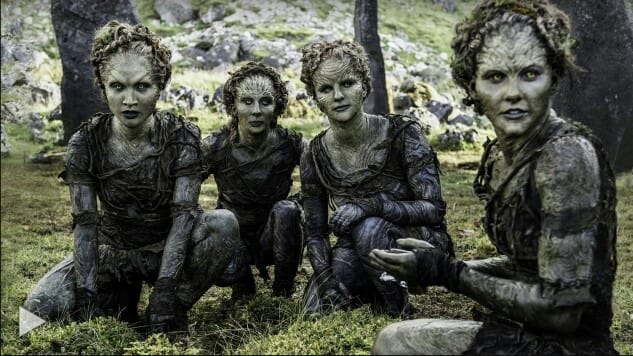 The time has come to eulogize HBO's Game of Thrones, but its future is even more important than its past—partially because it's looking backwards. As Game of Thrones and its unnamed The Lord of the Rings-based Amazon competitor/bandwagon-hopper both aim their sights long before popular audiences cared about their swords-n-sorcery, they follow the trail blazed by superhero IP: pushing fans into ever deeper, nerdier lore.
As the hunt for the Iron Throne is settled, Game of Thrones will first live on through its prequel series from showrunner Jane Goldman. Taking place thousands of years before the events that even book-readers know, this idea is based on little more than "a line or two" from source author George R.R. Martin's history The World of Ice and Fire. Although The Lord of the Rings' upcoming series has more fictional source material to pull from with its Second Age antics, its marketing strategy (dropping hyper-detailed clues as to its time period via map) makes the case for an esoteric experience. Any nerdier and they'd have us translating Quenya.
All this is in service of IP. Intellectual property is the single most valuable commodity in the entertainment industry, especially as companies have realized that shared universes and huge genre shows offer opportunities to get audiences on the hook for decades. But those opportunities always have a buy-in for the audience—a buy-in that could crash and burn. Remember that Universal Dark Universe?
But big marketing budgets and good storytelling have helped the general population, for the most part, learn to tolerate (and even love) the geekiest stuff out there. Time travel, tights, and trolls are now all accepted as A-list elements. As exciting as that is for geeks who were bullied for their eccentric proclivities, this corners creatives to dig deeper than ever to somehow connect franchise follow-ups. Keeping IP alive at all costs means the niche needle is still being moved and that the hardcore (be they book readers, history geeks, or D&D diehards) will always be several steps ahead of TV—just like comic nerds have found themselves with new cultural cachet thanks to superhero cinema.
Those well-versed in Game of Thrones have been killing it on social media and at the water cooler, but even obsessives will find it hard to bring their backgrounds to the prequel. The new show is barely based in anything from the just-ended TV series—which itself has a … let's call it "flexible" connection to the original A Song of Ice and Fire. It means the Naomi Watts-led series might find itself in the unenviable position of being both too much and too little Game of Thrones to succeed.
Not only are fans and writers going to have to stretch these connections, but also avoid Game of Thrones burnout, because HBO programming chief Casey Bloys says it might only be a year between the finale and the prequel series. A year could give hungry fans more time to adjust to the 8,000-year time difference, or it could feel like shoving more fantasy content down the throats of fans that haven't exactly been loving GoT's final season. How deeply does HBO think fans want to see the Battle for the Dawn? The construction of the Wall? Sure, there are some that would follow GRRM into The Long Night, but probably not enough to justify the soaring budgets of Thrones' later seasons.
These same questions are also being raised for The Lord of the Rings. At least J.R.R. Tolkien already had eons of history planned out and written down in the prog rock bible of The Silmarillion, giving a prequel some authenticity. That direct link to the fantasy world's author is presumably more of a draw for fans of the LotR movies—hell, audiences made three Hobbit movies into box office successes on Peter Jackson and Tolkien's name alone. The Silmarillion has about two more hours of content jammed into its pages than The Hobbit, so maybe it could make it as a piece of in-universe lore rather than an IP cash-grab.
But the upcoming series, even if it's not simply banking on IP, has already demonstrated that its barrier to entry is Stephen Colbert caliber. After releasing a few maps of Middle-earth, the show's Twitter account left it up to fans to unpack the implications of things like why those towers were named Minas Ithil and Minas Anor instead of Minas Morgul and Minas Tirith. It's minutiae stuffed with implication, like if a Marvel Easter egg showed its film universe took place 2,000 years in the future. The Fellowship of the Ring had to be nearly perfect to make its audience take elves, hobbits, and the Ring seriously, so the bar is high for a show angling to give fans a look at the Atlantis-like island of Númenor.
The First and Second Ages are long before the setting of The Lord of the Rings and their source materials are far less of a narrative. The Silmarillion is a history book, like The World of Ice and Fire, which means we've graduated from telling stories from our own fake books to those from the fake books inside of our fake books. Burrowing deeper into the ink is simply good business, because you get to keep a recognizable brand name, but it also comes with a cost. New, unique stories can be found inside these properties, but the deeper into them you go, the bigger the justification must be. And as that justification takes up more and more storytelling time (be it meeting someone's great-great-grandfather or hearing a line prophesying future events that fans already know will happen), it'll start to become all the story is.
As Game of Thrones takes us back to the building of The Wall, TV writers are heading towards a wall of their own. This barrier, where audiences refuse to hop onboard a show simply because of its connection to another property, is closer than ever. These aren't just spin-offs, but ever-increasing tests of geekiness. There are certainly Star Trek fans that would watch a Klingon-language streaming show. There are those so well-versed in Tolkien history that their heart rates increase at the mere mention of the name Finrod Felagund. But without the monopolistic money machine of Disney behind you, leeching IP into smaller and smaller corners of the fictional world will only ever produce diminishing returns.