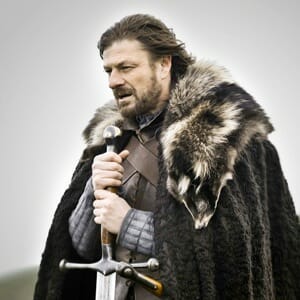 A lot of ink has been spilled on who the audience is for the new fantasy drama Game of Thrones. HBO is hoping to reach beyond the Dungeons & Dragons set, and co-creator David Benioff even called it "The Sopranos in Middle Earth."
But the show seems more Tudors than Lord of the Rings, despite the welcome presence of Sean Bean as head of one of the many houses introduced in the one-hour pilot last night. While Battlestar Galactica was sci-fi for people who don't like sci-fi, Game of Thrones is fantasy for people who really like medieval period dramas.
Based on George R. R. Martin's A Song of Ice and Fire series, the pilot's more fantastical elements are mostly limited to the opening scene on the Northern Wall, where the Night Guard is tracking wildlings, uncivilized humans who live in the snowy forests beyond the Seven Kingdoms. They find instead White Walkers, a horrific magical race with glowing blue eyes that slaughter the scouts in the first of many brutal scenes.
The political intrigue back in the kingdom extends to who murdered whom, who's sleeping with whom, and who's getting married off to which barbaric warlord. The answer to that last one is the daughter of the deposed king (Emilia Clark) to the head of the Dothraki tribe (future Conan Jason Momoa) in a ceremony that's part orgy, part impromptu gladiator match (a Dothraki wedding is considered a failure if there are less than three deaths). Plus, this is HBO, after all, and it always has to remind you what the networks can't show.
But the sheer scope of the story can barely be addressed in an hour. The first episode shows off the beauty and intricacy of the sets, including an impressive opening sequence and introduces an enormous and talented cast, including Peter Dinklage (The Station Agent) as the queen's whoring, drinking, good-hearted brother. Thanks to Screen Rant for giving us a nice little infographic below to help keep track of the many players on screen.
There's great potential here, and even if it fails to draw more than the fantasy contingent, Martin has sold more than 15 million copies of the books, and it's a rabid fanbase. That may just be enough to support this epic undertaking.

Via: Screen Rant