HBO Releases Game of Thrones Season Eight Teaser, Announces Premiere Date
Image via HBO
TV
News
Game of Thrones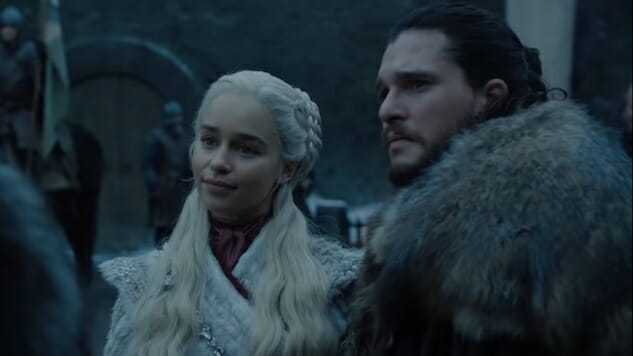 Winter has come, and with it a teaser trailer for the eighth and final season of HBO's hit drama Game of Thrones. The teaser announces Sunday, April 14 as the premiere date for the six-episode finale, which will air on HBO at 9 p.m. EST.
The teaser was directed by David Nutter, who received an Emmy in 2015 for his direction of the season five finale "Mother's Mercy." The video also features an original score by Ramin Djawadi, the show's composer, who won an Emmy in 2018 for his work on the season seven finale "The Dragon and the Wolf."
The trailer shows Jon Snow, Sansa Stark and Arya Stark prowling the crypts of Winterfell while the words of their family members play overhead. They reach the end of the hall and find their own memorial statues waiting there before turning around to face the cold, mysterious evil coming for them. See for yourself down below.
Meanwhile, hardcore Thrones fans across the Internet have already sunk their teeth into this new bit of footage, speculating on everything from Bran Stark's absence to the relative age of Jon Snow's statue compared to those of the other Starks.
While it's unclear whether the scene in the teaser will actually appear in the show, HBO already released a small scene from season eight in a preview for its 2019 programming. The scene shows Jon Snow returning to Winterfell with Daenerys Targaryen, and Sansa Stark greeting her with "Winterfell is yours, your grace." Check it out here.