Game of Thrones Left Another Anachronistic Object in Its Series Finale
Photos by Macall B. Polay/HBO
TV
News
Game of Thrones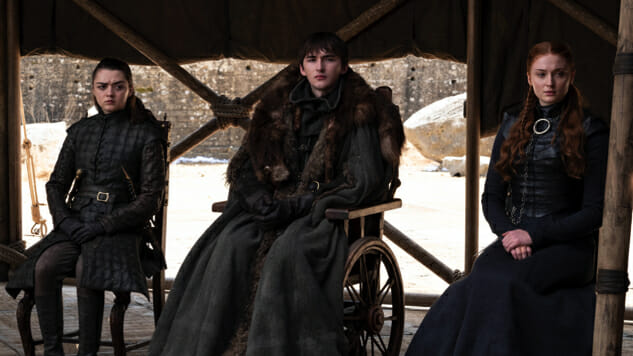 Game of Thrones may have ended, but the show isn't going out without one last goof.
During Sunday night's series finale, a more than slightly out-of-place water bottle made a sly cameo. With its shiny plastic and traffic cone-orange wrapper, the bottle is anything but medieval.
Nearing the end of the episode, the bottle makes its appearance while all the lords and ladies of Westeros are gathered to discuss crowning a new king. Located next to Samwell Tarly's left foot, the bottle seems to peek out just enough to make Twitter explode and some lowly HBO editor pray they keep their job.
a water bottle in King's Landing!! #got#gameofthronespic.twitter.com/mwGQlsLwnh

— Beth (@bethisloco) May 20, 2019
This isn't the first time Game of Thrones has made a mistake like this in the final season of the show, either. Before the water bottle debacle, it seemed Daenerys was a big fan of Starbucks with the presence of a coffee cup in Winterfell. The cup has since been edited out of the episode, but it doesn't seem like HBO has tackled the water bottle yet, as of this writing.
If viewers didn't catch the plastic bottle during the premiere of the episode, it's still available to see on HBO Go at the 46:19 mark.
In a finale that seems to be getting some mixed reviews from fans, it's nice to see another miscue is uniting them like Dany apparently planned to unite the seven kingdoms of Westeros (and if you watched last night, you know how that plan turned out).
In the grand scheme of things, HBO will most likely edit the bottle out and move on, as they did the coffee cup. Whether the poor soul who overlooked it gets punished by the dragon fire of Drogon or they're afforded the mercy Tyrion yearned for Dany to grant King's Landing, all that's apparent is that even Samwell Tarly gets thirsty sometimes.
Review our review of "The Iron Throne" here.