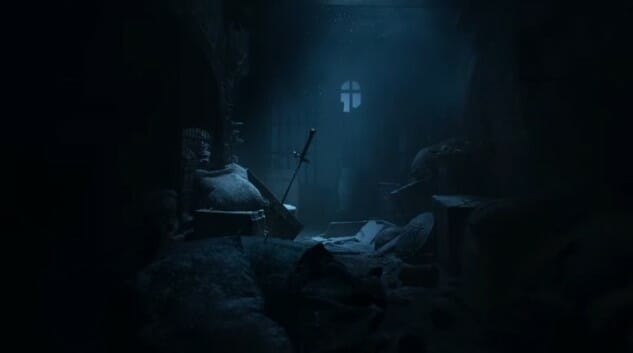 Winter is here, and not even a great city with "winter" in its very name is going to be safe, this time around.
The premiere of Game of Thrones' final, eighth season is closing in on us fast, and HBO has kept a steady stream of teaser videos coming. The latest shows us a frozen vision of Winterfell in ruins—a preview of what is coming, or a vision of one possible future? Perhaps this is the sort of thing that Bran sees all the time, as he sits next to his Weirwood tree.
There are plenty of individual images here of portent. We see various tokens lying around Winterfell that are seemingly abandoned, each connected to one of the surviving Starks. There's a small sword in the photo above, which obviously looks quite a bit like Arya's Needle. There are feathers falling to the ground, implying the presence of Bran, the Three-Eyed Raven. And of course, there's Jon Snow's iconic blade Longclaw, seemingly abandoned in a snow bank. Could it be that all our principal Starks have been slaughtered, and risen once again with blue eyes?
… probably not, no. If we had to guess, we would think this is simply imagery to evoke a certain mood, rather than footage of the upcoming series proper. It also seems a bit strange that the Night King's forces would sack Winterfell in a manner similar to an earthly army. If anything, we'd expect him to somehow raze the city's foundations to the ground, if he's successful—not just knock down some doors.
Game of Thrones' season 8 premieres Sunday, April 14 on HBO. You can bet we'll be bringing you plenty of coverage, when it does.