Watch a Preview of Game of Thrones' Epic "Battle of the Bastards"
Images via HBO/YouTube
TV
Video
Game of Thrones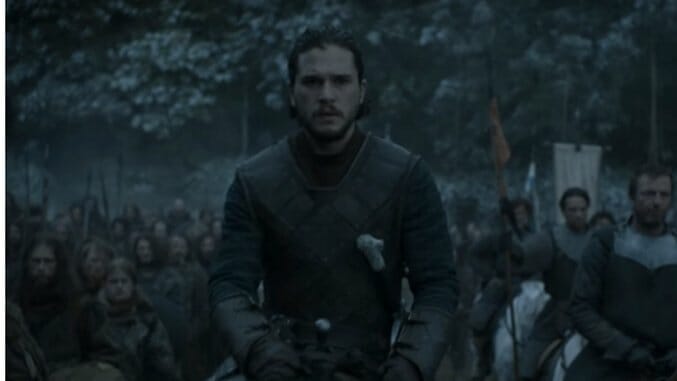 Remember in the first season of Game of Thrones, when Tyrion Lannister was gearing up to lead his army of hill tribesmen into the Battle of the Green Fork, but got knocked out cold by one of his own men and missed the entire fight, thereby disappointing viewers and saving HBO the mountain of money it would have cost to show that kind of carnage and warfare on-screen? This is not that.
Game of Thrones' current sixth season finds the epic fantasy series at the height of its powers, and judging by the preview above, viewers everywhere are about to be treated to the all-out war that this show has owed us since the Imp took his accidental nap in the grass. Game of Thrones is well known for delivering show-stopping penultimate episodes, especially season two's "Blackwater," season three's "The Rains of Castamere" (The Red Wedding!) and season four's "The Watchers on the Wall." Next week's "The Battle of the Bastards," directed by Miguel Sapochnik, is sure to be no exception.
The preview video itself confirms what we suspected last week: that the episode's titular fight between the armies of Jon Snow and Ramsay Bolton will be the "biggest battle in the show's history." We see Sansa imploring Jon not to underestimate Ramsay; Jon asking Melisandre to, if need be, let him stay dead this time; Jon (futilely) attempting to reason with Ramsay, flouting Game of Thrones logic by arguing, "Thousands of men don't need to die"; and finally, Davos Seaworth, Wun-Wun the giant and Tormund Giantsbane the wildling all getting in on the action when the fight finally breaks out. Sorry, Jon—we say bring on the Bastard Bowl. Ramsay needs killin'.
"The Battle of the Bastards" airs this Sunday, June 19 (Father's Day!) at 9 p.m. EST on HBO. Read Paste's review of last night's episode of Game of Thrones here.