Controversial Ghost Ship Warehouse Fire CBS Series Has Been Shelved
Photo by Elijah Nouvelage/Getty
TV
News
Ghost Ship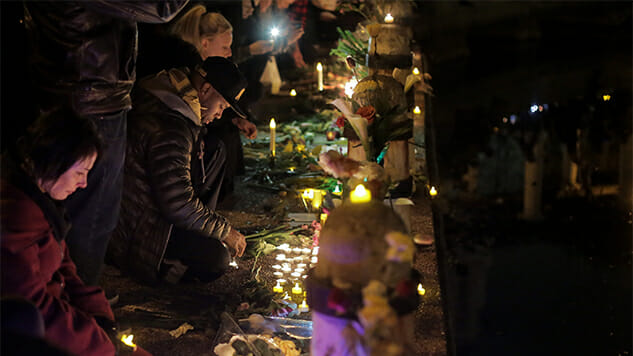 A proposed CBS TV show about the Ghost Ship warehouse fire in Oakland has since been shelved due to backlash from the Oakland artistic community, per Pitchfork.
Married writers Michael Chabon and Ayelet Waldman signed an overall production agreement with CBS Television Studios last week under which CBS has exclusive rights to produce television content created by the duo. Chabon and Waldman just came off of producing and co-writing Netflix's acclaimed Unbelievable along with Susannah Grant, and Chabon serves as showrunner for the forthcoming Star Trek: Picard. Among other projects the couple were scheduled to create was Ghost Ship, which was described as "the tragic story of the Oakland, Calif. art collective that caught fire, with 36 fatalities."
The Ghost Ship warehouse tragically caught ablaze during an EDM party on Dec. 2, 2016, with hundreds of people inside. The warehouse was a haven for artists who hosted concerts and parties, and at least 25 people were secretly living there. Large quantities of flammable materials were apparently stored in the facility, the labyrinth-like design of which made escape difficult once the fire began. 36 people perished in the warehouse, which, according to CNN, "had not been inspected in 30 years."
When news of the prospective TV show was released on Dec. 10, many victims' friends and family reacted in anger, for the trauma of loss and shockwaves in the art community are still fully felt.
"If you're even thinking of making some type of TV show or something to profit off of this, before the words even come out of your mouth, you should have backing by the families in some capacity," Oakland resident Mark Dias told KQED. His friends and coworkers Em Bohlka and Donna Kellogg were among those who perished in the fire.
Others took to Twitter to express anger over the series:
Hey @michaelchabon — what makes you think you can earn money selling the Ghost Ship story to CBS? No one on the scene knows you. Please do not do this. https://t.co/C9WzCabcIv

— Marke B. (@supermarke) December 11, 2019
Chabon responded by tweeting that the Ghost Ship project was to be adapted by journalist Elizabeth Weil based on the story she did for New York Times Magazine. This information didn't help the matter, as many affected by the fire were upset with Weil's coverage, feeling that it painted Max Harris, the "creative director of the warehouse," in a sympathetic light, and ignored the victims and survivors of the tragedy. Harris was acquitted on all 36 counts of manslaughter in a criminal trial, while Derick Almena, the master tenant of the warehouse, is set to be retried.
As the disapproval of the series continued to grow across social media, Waldman tweeted about canceling the project:
(2/6) Over the past few days, however, we've heard from parents of the victims, from friends and survivors, and from conscientious members of the community, appealing to us to reconsider telling the story of the Ghost Ship—

— Ayelet Waldman (@ayeletw) December 14, 2019
(4/6) We believe that there is a conversation to be had about the propriety of telling the story of the Ghost Ship, and about the identity and moral responsibility of those who tell it, but …

— Ayelet Waldman (@ayeletw) December 14, 2019
(6/6) At this time, therefore, we will not be proceeding, and will do our part to leave the families and survivors to their grief and their loss, in the fervent hope that someday they find not just comfort but also a measure of justice.

— Ayelet Waldman (@ayeletw) December 14, 2019
Many who took issue with the TV show cited their concern that CBS, one of the nation's largest television networks, would profit from pains that are not theirs and are not healed, legally or otherwise. San Francisco musician Chris Zaldua, who was friends with many of the fire victims, also commented to KQED, saying, "What makes it especially tricky is this kind of underground arts and music culture has always existed on the fringe … because it has never been about commercial success," it's ironic and unfit that "there have been attempts to tell the story of underground culture in a commercial way." Another Oakland resident, Michael Ferrari, commented that "TV is not the right medium … A documentary would be the first thing I would think of."
Amidst the scramble to craft the most alluring streaming service, networks still have to balance responsibility as artists to tell faithful and true stories that, first and foremost, the communities they touch want to be told. If survivors and loved ones alike felt that the article Weil wrote about Ghost Ship was out of touch, then a TV adaptation would likely inflate the insensitivity of that piece tenfold. The victims and survivors of the Ghost Ship warehouse fire deserve respect, as Waldman stated, and respect means that their story is not told at this time and in this way.