Our Flag Means Death Becomes the Rom-Com It Was Always Meant to Be in Glorious Second Season
Photo Courtesy of Max
TV
Reviews
HBO Max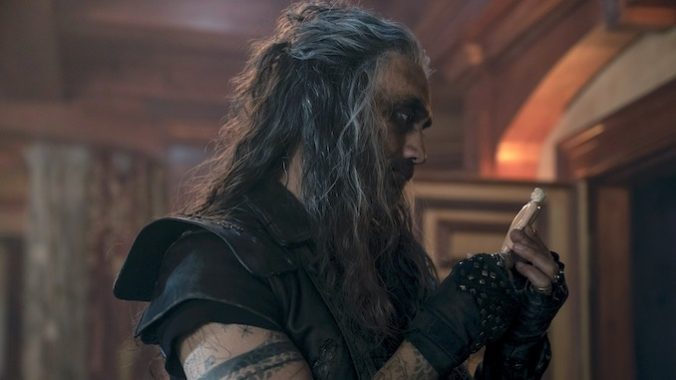 Breakups are hard. If we're all being honest with each other, who hasn't stranded their ex's best friends on an island and left them to die? Maybe throwing one of them off the ship was a bit much, but waiting for the sunrise alone on the docks can cause someone to lash out. In the lovingly cutthroat pirate realm of Our Flag Means Death, nothing is more important (or difficult) than talking about your feelings. 
That's the predicament the sales rack of pirates from last season are continuing to reckon with, as the romantic fallout between Stede Bonnet (Rhys Darby) and Edward Teach (Taika Waititi) has spared no one heading into an 8-episode Season 2 from Max. The Gentleman Pirate had a fancy ship and a seemingly endless supply of inherited wealth at his beck and call in Season 1, but a freshly impoverished Bonnet may have to join the working class to keep his remaining crew from having a breakdown of their own. 
As for The Legendary Blackbeard, he's going through it. And by it, I mean every single ship he lays eyes on. While the crew are nestling nicely into some new looks, a retreat from confronting his pain at the end of Season 1 is giving Edward Teach a breakup era for the ages. First mate Izzy Hands (Con O'Neill) now has to reckon with having poured jet fuel on an emotional bonfire, and the result is an Emmy-worthy performance taking Hands on a turbulent and transformative journey few could have seen coming last season. 
The memory of life on The Revenge lingers for Blackbeard's crew even as they swashbuckle through each new raid, but Madeleine Sami brings their wise-cracking wit displayed in Amazon Prime's Deadloch to try and keep things light. And after spending much of the first season peeling back a disguise, Jim (Vico Ortiz) now finally gets to embody their truest queer self in 2023's most powerful example of non-binary representation. There's an ever-increasing comfort and chemistry between everyone in Our Flag Means Death, even when quipping their way through a bit of trauma. 
Finding a path back to Blackbeard after the breakup, or just "break" as Bonnet protests, leaves him (and his crew) finding their land legs in The Republic of Pirates. Spanish Jackie (Leslie Jones) remains the unyielding cornerstone not to be trifled with, but this returning location was given new life and scale by Oscar-nominated production designer Ra Vincent with a set that stood throughout several months of filming in New Zealand. Vincent was also pivotal in the evolution of The Revenge and creation of a new pirate vessel viewers will meet in Episode 2. While the show has never aimed for perfect historical accuracy, an acute attention to detail by each department helps make every background prop, hair and makeup decision, and costume variation feel purposeful. 
As twists and turns bring The Gentleman Pirate closer to the man he loves, we meet Season 2's new secret weapon. The quietly powerful Ruibo Qian, accompanied by an ever-relatable Anapela Polataivao, who has little patience for anyone's incompetence, are glimpsed only a few times in the (intentionally a bit misleading) pre-release trailer, but become an integral anchor-point to livening the pirates' atmosphere. In a feat that could have easily become a stumbling block, Our Flag Means Death Season 2 manages to massively expand its expansive world without losing the intimacy of small "day in the life" moments, or losing sight of the show's existing identity. 
From the quiet romance of Gnossienne No. 5 to the pounding beat of Fleetwood Mac's "The Chain," the selections of music supervisor Maggie Phillips were woven into the very fabric of Our Flag Means Death in Season 1. There's no shortage of unforgettable needle drops from Phillips in Season 2, but running an emotional thread all the way through Episode 2 with "Run From Me" by Timber Timbre may be some of her best work to date. Without spoiling the surprises that are in store, it would do the show a disservice not to mention that the rousing lyrical weight on deck in Episode 6 got the tears flowing (even on rewatch) at an emotional pitch television rarely reaches.
For as many deeply moving moments as the show will deliver in Season 2, this is still a slapstick rom-com at heart. Keeping the vaguely-inspired-by-real-history feel going, we meet Anne Bonny (Minnie Driver) and Mary Read (Rachel House) in an episode that isn't afraid to pull from classic rom-com tropes while giving them a queer twist. Our Flag Means Death once again tackles issues of toxic masculinity in Season 2 as well through a delightful guest appearance from Maaka Pohatu, who fans of Kiwi comedies may recognize from Wellington Paranormal. However, the real show-stealing cameo will go to Taika Waititi's daughters, credited as TK Waititi and Matewa Waititi, who have an adorable appearance late in the season. 
Our Flag Means Death retains a modern queer dynamic in Season 2 as characters yearn for a safe space to embody their most authentic selves. Even while new antagonists played by Erroll Shand, Mark Mitchinson, and Bronson Pinchot each deliver unique challenges to the lovable crew, Our Flag Means Death has an uncanny knack for whispering "be calm, wise demon" before kindly dispelling our most bothersome insecurities and anxieties. Though not every boat-mance from last season will have the same luck, any concerns about the show shying away from explicit queer relationships is hastily dispelled from the first three episodes. 
David Jenkins returns as the creative powerhouse behind Our Flag Means Death as showrunner, writer, and multi-episode director in Season 2. We saw the writer-director pairing of Zayre Ferrer and Fernando Frias deliver magic last season with "This is Happening," and they are back together for an unforgettable Episode 6 viewers must see to believe. Ultimately, the entire writers' room comes together to deliver a tightly written Season 2 reminiscent of Hot Fuzz in its ability to bounce seamlessly between moving the plot forward and laugh-out-loud mundanity. 
Our Flag Means Death will once again leave you wondering how it got so much done with just 30-minute episodes, and that's thanks in part to the return of editor Gina Sansom alongside new editor Jochen FitzHerbert. The pair continue to keep each episode rolling while knowing when to deliver montages and callbacks that accentuate some of the season's most soul-stirring moments. While some criticized the pacing of the show's debut season, Our Flag Means Death found a winning formula, with each block of episodes dropping weekly throughout October feeling perfectly balanced to provide both emotional impact and comedic catharsis. That includes a post-credits stinger for every single episode. 
Critics haven't seen the Season 2 finale yet, so even we don't know where David Jenkins and company are taking things at the end. Despite that uncertainty and the cliffhanger of Episode 7 looming, it's hard not to feel like Season 2 is the Empire Strikes Back of Our Flag Means Death. It brings emotional, romantic, and comedic depth that never would have been possible without the foundation of Season 1, and it uses that advantage to reach heights both die-hard fans and skeptical viewers won't see coming.
Our Flag Means Death Season 2 premieres Thursday, October 5th on Max. 
---
Patches Chance is a freelance writer for Paste Magazine covering tech and entertainment. Her work has also been featured at Heavy, Fanbyte, The Loadout, Daily DDT, and Ginx. You can follow him @patcheschance on Twitter and Instagram.
For all the latest TV news, reviews, lists and features, follow @Paste_TV.