New on HBO Now: All the Movies and TV Coming in February
Photos by Macall B. Polay/HBO, Mark Schafer/HBO
TV
Features
HBO Now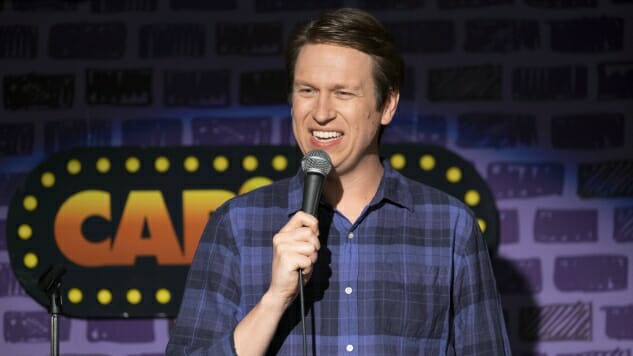 As February fast approaches, we hurtle toward having to say goodbye to a whole lot of streaming titles leaving HBO Now next month. Wish Seventh Son a fond farewell, you die-hard Jeff Bridges-heads. Meanwhile, the rest of us will mourn the loss of modern classics like Children of Men, Michael Clayton and I Love You, Man.
But fret not, HBO fans, as the network's streaming service will debut a host of fresh content with the coming month. First up, we've got a promising lineup of new and returning comedy shows, including the premiere of the final season of Girls, the season four premiere of Last Week Tonight with John Oliver, and the new semi-autobiographical comedy series, Crashing, starring jolly giant stand-up Pete Holmes. We'll also see the premiere of Big Little Lies, the limited drama series starring Shailene Woodley, Reese Witherspoon and Nicole Kidman. The Young Pope will also be wrapping up next month, so be sure to catch the remaining episodes when they air.
On the documentary front, you'll be able to check out Eagles of Death Metal: Nos Amis (Our Friends), which details events before and after the terrorist attack that was carried out at their Paris concert in 2015, which claimed 89 lives. You'll also be able to check out Tickled, the surreal and surprisingly intense documentary that follows journalist David Farrier as he digs into the bizarre "competitive endurance tickling" scene.
New to HBO's theatrical slate comes The Legend of Tarzan, starring HBO mainstay and yet another star of Big Little Lies, Alexander Skarsgård. Accompanying the jungle flick is a quartet of Spike Lee joints, Clockers, Crooklyn, Do the Right Thing and Mo' Better Blues, along with two John Hughes-directed '80s classics, Sixteen Candles and The Breakfast Club.
Check out the full list of what's coming and going from HBO Now below.
New Original Programming:
Solitary: Inside Red Onion State Prison (2/6)
Girls, Season 6 Premiere (2/12)
Last Week Tonight With John Oliver, Season 4 Premiere (2/13)*
Eagles of Death Metal: Nos Amis (Our Friends) (2/13)
Big Little Lies, Limited Series Premiere (2/19)
Crashing, Series Premiere (2/19)
Chumel con Chumel, 2017 Premiere (2/20)
Unlocking the Cage (2/20)
Vice, Season 5 Premiere (2/24)
Tickled (2/27)
*Debuts on HBO NOW/HBO GO morning after linear airing.
Limited Series Finale:
The Young Pope, Series Finale (2/13)
Theatrical Premieres:
A Bigger Splash, 2015 (2/1)
The Huntsman: Winter's War, 2016 (Extended Cut) (2/4)
Crimson Peak, 2015 (2/5)
Sinister 2, 2015 (2/9)
Central Intelligence, 2016 (Extended Cut) (2/11)
The Legend of Tarzan, 2016 (2/18)
Mike and Dave Need Wedding Dates, 2016 (2/25)
Estrenos:
El Hueco (AKA The Hole), 2015 (2/1)
Brillantes (AKA Brilliants), 2014 (2/3)
Permitidos (AKA That's Not Cheating), 2016 (2/10)
Landfill Harmonic, 2015 (2/17)
Starting Feb. 1:
42, 2013
A Bigger Splash, 2016
The Breakfast Club, 1985
Bridget Jones: The Edge of Reason, 2004
Broadcast News, 1987
Clockers, 1995
Crooklyn, 1994
Crossroads, 2002
December Boys, 2007
Do The Right Thing, 1989
Earth Girls Are Easy, 1989
Hard To Kill, 1990
Interview With The Vampire, 1994
Journey to the Center of the Earth, 2008
Just Married, 2003
Men in Black II, 2002
Mo' Better Blues, 1990
Mystic River, 2003
Out For Justice, 1991
The Princess Diaries 2 Royal Engagement, 2004
Raging Bull, 1980
Rain Man, 1988
Rendition, 2007
Road to Perdition, 2002
Rosewood, 1997
Sixteen Candles, 1984
Snow Dogs, 2002
Unfaithful, 2002
The World According to Garp, 1982
Ending Feb. 28:
300, 2007
Charlotte's Web, 1973
Children of Men, 2006
Definitely, Maybe, 2008
The Divergent Series: Insurgent, 2015
Ghost World, 2001
Hardball, 2001
Home Alone, 1990
I Love You, Man, 2009
I Now Pronounce You Chuck and Larry, 2007
In the Heart of the Sea, 2015
Independence Day, 1996
Jackie Brown, 1997
Jem and the Holograms, 2015
Michael Clayton, 2007
Money Talks, 1997
Nighthawks, 1981
One Hour Photo, 2002
Our Brand Is Crisis, 2015
Running Scared, 1986
Seventh Son, 2015
Summer Catch, 2001