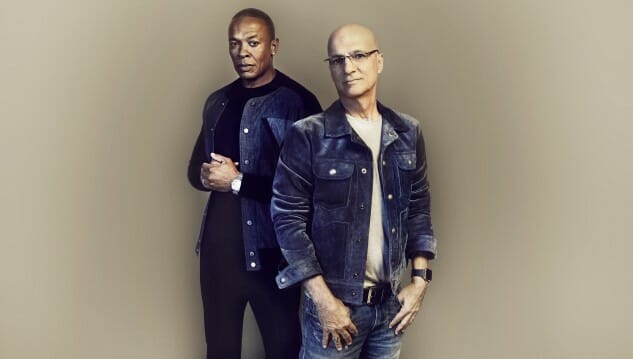 You don't watch documentary series like The Defiant Ones, premiering Sunday at 9 p.m. on HBO, expecting to hear new revelations from its subjects or for some shocking moment that changes your perception of these people. No, we come to this four-part series to see famous people interacting with other famous people, especially in glamorous locales.
That simple stroking of our pleasure center and those quick pangs of envy are exactly what director Allen Hughes (Dead Presidents, From Hell) provides in his tribute to Dr. Dre and Jimmy Iovine, the music impresarios best known these days for the creation of a headphone empire. The only potential drama comes in the opening segment that asks us to worry that a drunken Facebook video was going to scotch Apple's multi-billion dollar purchase of Beats by Dre.
Otherwise, this is almost entirely a hagiography with Gwen Stefani, Bono, Trent Reznor, Bruce Springsteen, Dre's old N.W.A. cohorts, Eminem and a lot of old white men all singing the praises of their collaborators and benefactors. We are made to bask in their glory, shake our heads at their moral failings and thrill at their return to cultural fame and untold wealth through smart business practices and feats of capitalist derring-do.
What The Defiant Ones actually represents is one of the last big spooges of joy over the peak of the music industry, those glory days of the '90s when CDs cost pennies to make and sold for upwards of $20. It was in that time that Dr. Dre helped hip-hop sink deeper into popular culture with his 1992 album The Chronic and Iovine rode the wave churned up by the mega-success of the artists on his label Interscope (there was a point in 1996 when the top four spots on the Billboard Album Chart were taken up by releases from the label).
Everyone involved courted controversy or stirred up some publicity-grabbing shit, knowing that it would only result in better album sales and better tour receipts. Once the concept of file sharing is introduced into the story, the tone turns dire and terrified. But only as it affected Iovine, Dre and the many department heads and lawyers who saw the control they had of this industry quickly be wrested away from them.
As the title of this series reminds you, though, this a story about guys who defied the odds. In their case, creating a glitchy streaming service (Beats Music) and bass-heavy, high-priced headphones endorsed by celebrities from all corners of the cultural world. They did it. They became billionaires. Maybe you could too! That's really the note that Hughes keeps ringing throughout: this undercurrent of inspiration to be found in the story of the son of a longshoreman (Iovine) and the son of a single parent (Dre) and how through their sheer dedication and unwavering hard work they became icons. It's boilerplate Great American Dream-type stuff, but it works.
Hughes does a remarkable job letting us follow the parallel trajectories of Dre and Iovine's lives and careers, fluidly cutting between the two (editors Doug Pray and Lasse Jarvi deserve awards for finding a throughline in this mass of footage). But it's Iovine's story that winds up weighing it all down. The energy is in following Dre from his days as a party DJ to his legitimizing gangsta rap as a member of N.W.A. and as a solo artist. It's a story that was already partially told in the equally rhapsodic biopic Straight Outta Compton; Hughes and his team pull together some great archival footage and conduct fresh, fairly insightful interviews with the people involved. They also do a fantastic job recounting the inflaming of a West Coast/East Coast rap war—including a look at the infamous 1995 Source Awards—that played a huge part in the murder of Tupac Shakur.
Most importantly, they right the wrong of the fictionalized version by directly addressing Dre's 1991 assault on reporter Dee Barnes. Incredibly, Barnes agreed to go on camera to talk about the incident, still showing small flickers of PTSD behind her eyes as she discusses being beaten by Dre at a Hollywood party. Dre responds apologetically and looks like he's still carrying some measure of regret for what he did. Even if it was just for the sake of the film, or for the sake of his daughter, it's much more than Dre has said on record about the assault in some time.
What is also never called into question is the tireless work that Dre puts into his music. The thrill of artistic creation is a key component to The Defiant Ones and your enjoyment of the series rather depends on if you get knocked asunder by someone creating magic using a mixing board or if you'd rather marvel at Iovine's ability to work the phones. Or you'll be spending too much time giddily welcoming the appearance of another multi-platinum selling recording artist on your screen to even worry about such matters. There's plenty for everybody. It just turns out to be a lot of empty calories and sound and fury signifying very little beyond the genius of the two men at its center.
The Defiant Ones airs July 9-12 on HBO.