Winning Time Season 2 Turns Rivalry and Drama Into Television Gold Once Again
Photo Courtesy of HBO
TV
Reviews
Winning Time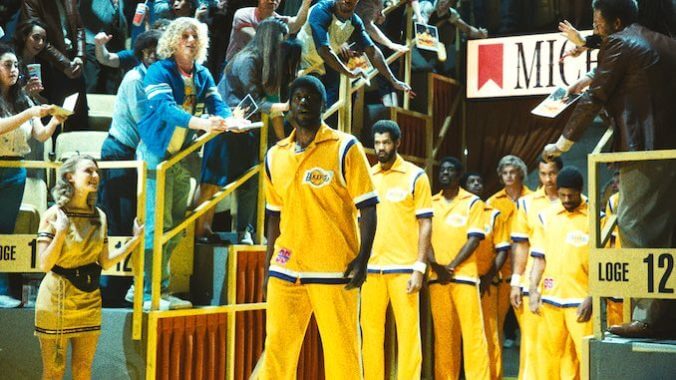 Last year, HBO's sports drama Winning Time: The Rise of the Lakers Dynasty exploded onto the television landscape with a huge roar of passion and style, followed by some heated controversy. If anything, former Lakers stars Jerry West and Earvin "Magic" Johnson's slamming of the series for its crooked accuracy in portraying them actually helped the show become even bigger. With its Season 2 return, creators Max Borenstein and Jim Hecht succeed in bringing us another dose of the supreme, intense, and somewhat fictitious drama of high quality.

This time around, in the course of seven episodes (all of which were available for review), we speed through NBA history with well-timed stops that focus on personal and professional hardships the members of the Lakers dynasty went through during the early 1980s. After opening with a brief flashforward to '84, where the team beats their biggest rival, the Boston Celtics, in the first round of the playoff finals, we're transported back to 1980, to pick up the slack one year after where Season 1 ended.

Although the opener is overlong, it deftly opts to establish private struggles like Magic Johnson's (Quincy Isaiah) dealing with the unwanted pregnancy of one of his lovers, and Jerry Buss' (John C. Reilly) unprocessed grief towards his late, beloved mother. Meanwhile, head coach Paul Westhead (Jason Segel), his assistant Pat Riley (Adrien Brody), and Jerry West (Jason Clarke) are working tirelessly to figure out how to defend their title as the season's start approaches. Under an extreme amount of pressure and expectations, they have to fight their own battles with their personal demons (and each other) before admitting they might have more on their plate than they can handle.

Though the first episode is a little slower-paced than the rest, the writers do a great job of planting the seed of the mounting tension and the rapidly approaching drama. While grappling with his ego and vanity, Westhead tries to apply a new game strategy (The System) to his team, with moderate success. As Riley and West watch the players having a hard time adapting to this fresh game plan, they stew in anger and frustration, feeling utterly helpless and unable to convince Westhead that his system might not be the way to go. As the pressure increases bit by bit between them and the players—the disputes become harsher and the arguments louder—things begin to shift for the worse. But I'll let everyone find out what else unfolds during the fairly busy seven episodes without spoiling any more plot points. In short: Season 2 covers a four-year rollercoaster ride of winning and losing both on and off the court.

Perhaps more so than in its debut season, Winning Time revels in creating suspense through character-driven drama. Instead of solely focusing on crucial victories and defeats (avoiding simply recounting NBA history from a Wikipedia page), the writers invest a lot of time in the characters. Crafting potent motivation, emotional highs and lows, and life-altering realizations for legendary athletes like Magic and Larry Bird (Sean Patrick Small), the series concocts a perfect cocktail of history and fiction. As we watch them wrestle with their own insecurities and fears, we're drawn to relate to their frustration and anger as well as to their joy and success, regardless of what side they play for (yes, now Bird gets his own poignant and compelling origin story, too).

Capitalizing on this approach also means that Season 2 doesn't need to lean on visual gimmickry as hard as the show did before. Not to worry, though: the nostalgic '80s vibe with its glory of close-ups, desaturated colors, grainy filters, and giant white texts slapped on the screen still dominates the HBO show's look victoriously. But this time, it doesn't feel as much "style over substance" because the writing provides more genuine and powerful moments to pull from. All the visual confetti sprinkled on top is just another layer of delicious dressing.

The biggest difference in Season 2, however, may be that there isn't as much "winning" as we are used to. NBA historians and basketball fans are well aware that the Lakers faced quite a few setbacks during those rivalrous years against the Celtics that accounted for some thrilling and memorable junctures between the teams. Besides recreating that exhilarating and fierce competitiveness, the writers project all that stress and anxiety that comes from it onto the dynasty's two major central figures, too.

Magic and Buss struggle to find a balance between life and business. While the former desperately fights for a perpetual place in the franchise and for the love of his life, Cookie (Tamer Tomakili), the latter relentlessly seeks ways to reunite his family through business, and find a queen to join his kingdom. But despite their best efforts, they can't quite work out how to align those two things—which inevitably has a draining effect on the rest of the team—that only makes the series more emotionally profound and accessible. Bringing legends like them so explicitly close to us is no small feat, especially having to follow such a banger season the series had last year.

The superb cast (joined by a vivacious Ari Graynor in a recurring role, playing Buss's new love interest, Honey) delivers in spades once again. With Isaiah being a goofier and more vibrant Magic than the real one ever was, he remains a fan-favorite alongside an endearing John C. Reilly, who's still effortlessly charismatic as the team's owner. But the ensemble at large—with Jason Clarke and Adrien Brody frequently delivering hilarious and inspiring moments—also continues to be a dynamic team with no bad apples.

Overall, Winning Time: The Rise of the Lakers Dynasty returns with a solid and, in some ways, even more captivating follow-up that comprehensively sums up a large chunk of basketball history. And in a TV landscape where the amount of sports dramas and documentaries is ever-growing, that's an impressive accomplishment.

Winning Time Season 2 premieres Sunday, August 6th on HBO, streaming on Max. 
---
Akos Peterbencze is an entertainment writer based in London. He covers film and TV regularly on Looper, and his work has also been published in Humungus, Slant Magazine, and Certified Forgotten. Akos is a Rustin Cohle aficionado and believes that the first season of True Detective is a masterpiece. You can find him talk about all-things pop culture on Twitter (@akospeterbencze) and Substack (@akospeterbencze).
For all the latest TV news, reviews, lists and features, follow @Paste_TV.