James McAvoy, Lin-Manuel Miranda Star in Splashy, Fantastical New Trailer for HBO's His Dark Materials
Photos courtesy of HBO
TV
News
His Dark Materials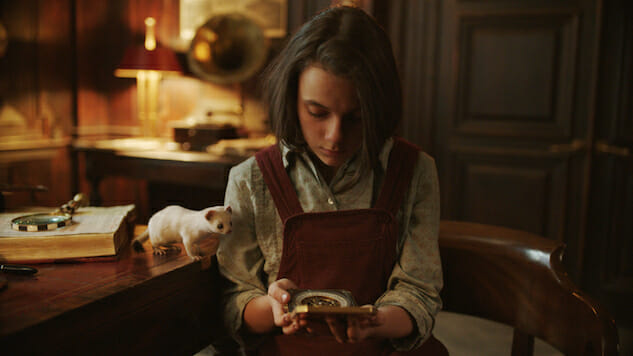 A war is brewing in the splashy new trailer for the forthcoming series His Dark Materials, starring James McAvoy, Dafne Keen (Logan) and Lin-Manuel Miranda, and set to premiere this fall.
Unveiled at San Diego Comic-Con Thursday, the action-packed trailer introduces us to a fantastical world where war is bubbling under the surface between an authoritarian Church and those brave enough to resist it.
The HBO and BBC collaboration is based on the book series of the same name penned by Philip Pullman, who's also approached the topic of religion in his fictionalized biography of Jesus.
The storyline follows the journey of a young orphan girl named Lyra (Keen) as she realizes children, including her best friend Roger, have started to vanish. Setting off on a quest into the Arctic to find him, she finds herself entangled in a web of lies as she discovers a conspiracy involving her world's authoritarian leader, the Church.
The grand and gorgeous trailer hints at a great battle for freedom and power, and shows us the stakes of the battle between the Church and its opponents, especially for the inquisitive young tomboy Lyra, who finds herself caught in the middle. Her uncle, Lord Asriel (McAvoy), is a fierce opponent of the Church, but a Church agent named Mrs. Coulter (Ruth Wilson, Luther) is grooming Lyra for nefarious purposes and for some very twisted experiments on children.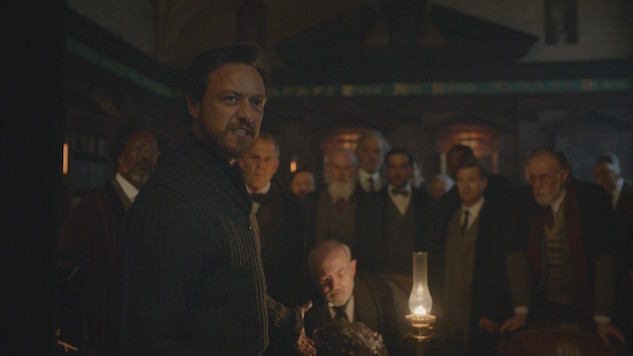 We also get to see Miranda as Lee Scoresby, an aeronaut (or hot air balloon pilot) who packs a mean punch. Lee gifts Lyra an oracular device called an aletheometer that's sure to be important in the series. Powered by a mysterious, universe-bending particle called "Dust," the device allows Lyra to ask any question and be given an answer. We wish we could have borrowed this magical doohickey for final exams.
Together, Lee, Lyra and a polar bear team up to free the children caught in the Church's grasp and halt the organization's wicked plans.
The series no doubt has Miranda geeking out, as he told the crowd at the show's San Diego Comic-Con panel that he and his wife read the original books together when they first started dating.
"They said, His Dark Materials, and I said, 'Yes.' I didn't even know what the part was," he said at the panel, per Page Six. "I would have sharpened pencils for this. I am a huge fan of the books."
He also promised we'd get to hear his vocal chops in the series in the form of a duet with his Daemon.
In the book series, people's souls are manifested in the form of shapeshifting animal companions called Daemons. We get a preview of some of these Daemons in the trailer, including an adorable yet vicious (but in its defense, the little dude's being abused by an evil child trafficker), scrunchy-faced red monkey and a squeaking little white mouse. While we haven't seen them yet, the series is also sure to show us Asriel's snow leopard and Scoresby's hare.
But those aren't the only animals we see. There's also a hulking armored polar bear that reminds us of Korra's beloved polar bear dog from Legend of Korra. However, this polar bear can talk. Part of a prominent race of sentient, Viking-esque warrior bears called panserbjørn, this bear can speak human languages and forge armor from meteoric iron. A talented bear, indeed.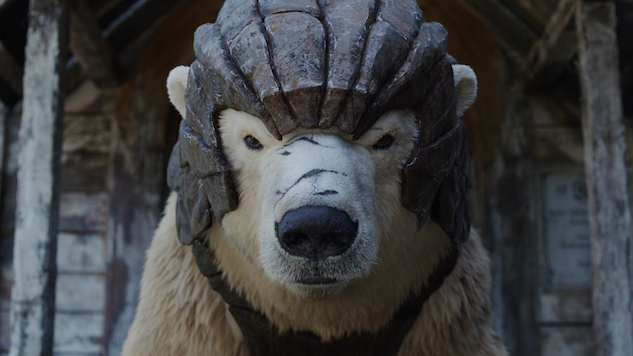 It isn't the first time the dark trilogy (plus a recent prequel called The Book of Dust) has been adapted to screens. The series' first attempt at a film adaptation, 2007's flop The Golden Compass, disappointed both box-office and fan expectations, leading filmmakers to scrap any plans to adapt the other two books.
Thankfully, the cast of His Dark Materials assured fans at Comic-Con that the new series would be nothing like the failed film adaptation.
This new series, supported by a fantastic cast, a plot with some very relevant political allegory, and plenty of action with world-ending, threatening the fabric of the universe-level stakes, it seems we may be getting our next big fantasy fix (and just in time for a post-Game of Thrones HBO). Now we just have to wait for a release date, but thankfully, we've been assured we'll get at least two seasons of the series.
For now, check out the action-packed new trailer below.