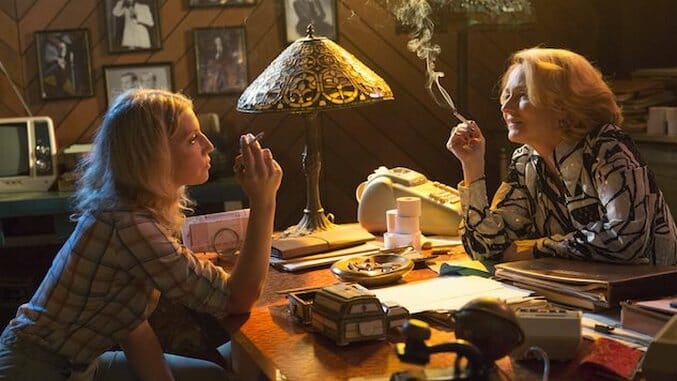 Note: This piece is the TV Essential in Paste Quarterly #2, which you can purchase here, along with its accompanying vinyl Paste sampler.
One of the most impactful moments in the history of American comedy was when NBC and Johnny Carson decided to move the production of The Tonight Show from New York to California. At the time, the late-night host was the kingmaker for stand-ups. A five-minute showcase on his program was enough to catapult a comedian into stardom.
So, when Carson winged it to the West Coast, a wave of hopeful funny people followed. Or, as a cab driver tells Ron and Eddie, two Boston comics (played by The Office's Clark Duke and Michael Angarano, a.k.a Bertie The Wise from The Knick) who just landed in L.A. for a shot at the big time, in the series premiere of I'm Dying Up Here, "Ever since Carson moved his outfit from New York to here, every asshole who thinks he can tell a joke has been circling Burbank like a vulture."
It's a rather quaint notion in our modern era, where the insatiable hunger for content to fill up the vast empty space on every TV and podcast network or streaming service has opened up opportunities for nearly anyone with a tight five and a singular viewpoint. But 40 years ago, the gatekeepers were far stingier, and big breaks were harder to come by.
This is the world that Dying, the wonderful new Showtime series co-created by actor/comedian Jim Carrey and TV vet David Flebotte (Boardwalk Empire, Will & Grace), returns us to: the dingy, dangerous L.A. that countless stand-ups braved in hopes of getting a nod of approval from Carson and, if they were particularly great, a spot on the couch next to Ed McMahon.
In the pilot episode, that's just what happens to Clay Appuzzo (Sebastian Stan, best known for playing The Winter Soldier in the Marvel Cinematic Universe). After rising up through the ranks at Goldie's, a comedy club overseen by its namesake (a brassy, perfect Melissa Leo), he gets his moment in the NBC spotlight. His fellow comics crowd around a TV in the club's kitchen, reeling with excitement and envy while Clay basks in the glow of his triumph in a lush hotel room nearby, celebrating with steak and beer. Later, he takes to the Sunset Strip and promptly walks into the path of a city bus. Killing off a major cast member is not the most original place for a TV series to start (see Six Feet Under and Fringe), but it is the perfect point of entry into the universe that orbits around Goldie's.
There have been plenty of recent series revealing the same truths about the backstage and after-hours doings of stand-ups (Louie, Crashing), but there's an added ring of truth that suffuses Dying thanks to Carrey and Flebotte's source material. While the series is fictionalized, it's based on William Knoedelseder's nonfiction book of the same name, which examines the L.A. comedy scene of the '70s that nurtured the careers of Richard Lewis, Elayne Boosler and Jay Leno, among others.
The writers make some clear connections between the real world and their made-up version. Goldie's is based on The Comedy Store, a breeding ground for stand-ups with a small room for up-and-comers (called The Cellar in the show) and a bigger stage for out-of-town headliners and the best of the local bunch.
Goldie is based on a similarly brash woman named Mitzi Shore, who ran The Comedy Store after taking it over from her now ex-husband in 1972. Both she and her onscreen counterpart are hard-nosed yet liberal (she booked a number of female and minority comics when other big clubs refused), supportive yet stingy (Shore was incredibly helpful trying to move comics on to bigger and better things, but was unwilling to pay them for their work).
It's much harder to equate any of the other characters in the show with comics of the time. The closest corollary is the freewheeling Sully (Stephen Guarino), who riffs and rambles with the manic energy of Comedy Store vet Robin Williams. The rest—a mixture of real-life stand-ups (Andrew Santino and Al Madrigal) and actors (Jake Lacy, also of later seasons of The Office, and Ari Graynor)—are archetypes, but ones recognizable to any stand-up fan.
Even beyond the polyester-heavy wardrobe and finely sculpted wigs, Dying gets the details of this life right. Most of the characters in the show are scraping by, taking odd (sometimes very odd) jobs or, in the case of Ron and Eddie, sharing a walk-in closet as a bedroom. When they get together, they express equal parts warmth and contempt for their fellow comics. They enjoy hanging out and riffing, but they still eye one another suspiciously lest someone get a better time slot or land a funnier joke. And they all seem to subsist on a diet of repartee, nicotine, fried food and whatever mind-altering substances they can get their hands on.
But what comes truly alive in Dying is that, for all the backstabbing, gamesmanship and the occasional prank involving paying a bum to shit in another comic's car, they know that, in times of trouble, they've got each other's backs. Just watch as their guards come down and the snarky commentary is set aside while they pay tribute to Clay in Goldie's. At moments like that, they're more than just colleagues with an unusual night job. For most, this is the closest thing to a family they've got.
I'm Dying Up Here premieres Sunday, June 4 at 10 p.m. on Showtime.
---
Robert Ham is an arts and culture journalist based in Portland, OR. Read more of his work here and follow him on Twitter.