Charli XCX's I'm With The Band on Netflix Is Heartwarming Despite Its Relative Fakeness
Charli XCX puts together an all-female rock band in this Netflix docuseries
Image via Netflix
TV
Features
I'm With the Band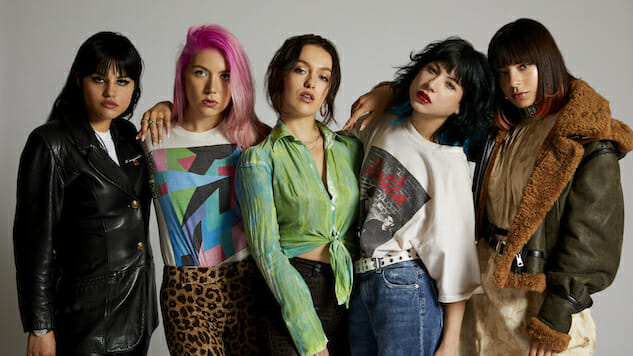 We have decades' worth of rock 'n' roll documentaries—be them fly-on-the-wall flicks, concert films or talking head-centric retrospectives. We also have hundreds—if not thousands—of TV shows in which strangers live together in a house full of cameras—often marked by backstabbing antics à la Big Brother or The Real World. But merging these two concepts around an all-female rock band is likely a first. Pop megastar Charli XCX spearheaded Netflix's recent six-episode docuseries I'm With the Band, and it follows a group of four women in Los Angeles, who Charli supposedly handpicked to form a band called Nasty Cherry. Essentially, Charli manufactures a band from nothing and rushes them up the industry ladder much faster than they would've been able to on their own.
"I picked four incredible women to launch a band in a whole new way in an era of the music industry where there's absolutely no roadmap to success," Charli says in the first episode. But apparently no one found this statement a bit ironic: Having a big wallet and relationships with the industry's biggest movers and shakers makes success a hell of a lot easier, albeit still not guaranteed.
"Everyone could hate the show. Everyone could hate the band," Charli says, and she's not wrong. In this era, every piece of art or culture—no matter how well-funded or carefully focus-grouped—must traverse the choppy waters of social media, and praise is never unanimous.
Nasty Cherry's members have never met prior to the show, but they each have an unteachable X-factor: Lead singer Gabi Bechtel is a model and ex-ballerina who's never sung before, guitarist Chloe Chaidez is also the frontwoman of L.A. rock outfit Kitten, bassist Georgia Somary "can literally do anything," according to Charli and drummer Debbie Knox-Hewson has toured with Charli. Despite their lack of natural formation around a long-held common goal, it's hard not to root for the band and their manager/Charli's best friend Emmie Lichtenberg, who helps pull the strings. We see the band burning their breakfast, missing their families, skating at a roller rink and hyping each other up when they're lacking in confidence. Lichtenberg realizes the difficulty of quickly launching a band of strangers, but she reminds viewers that L.A. is a "fake it till you make it town," and, later, she cries tears of joy in the front row at the band's first ever show.
Two members of Nasty Cherry, Somary and Knox-Hewson, moved from London for this project, so while there's an element of fakeness to the show, the stakes seem relatively high, even though the whole process appears strangely hurried. For example, it's never explained why their meeting with big-name producer Justin Raisen is presented as a do-or-die situation, given that there's no shortage of experienced music producers who would be itching to work with a new Charli XCX-endorsed band.
Where the show tends to draw eye rolls is its interaction with the industry. There's talk of "hype before product" versus "product before hype," and in this case, it's definitely the former. Lichtenberg tells the band they're putting out their first single in January, even before they've written any music or played any shows, and they're photographed together at a red carpet premiere before they've even picked up their instruments. There's something exciting about building social media hype for something you have no idea how you're going to pull off, but as Fyre Fest attendees can attest, sometimes that approach can lead to disaster.
This all leads to the inevitable industry plant questions. If an artist is dubbed an "industry plant" these days, it's almost never a compliment. Fans are wary of artists' quick rise to stardom, especially in the age of streaming. And when listeners sense foul play via calculated boardroom meetings or corporate-funded smoke and mirrors, they often give musicians this tag. If this conspiratorial phenomenon truly exists and if this is the roughly agreed upon definition, it seems like Nasty Cherry would be a top contender. That being said, this question doesn't really have anything to do with their abilities as musicians, and Nasty Cherry appear competent—even Bechtel who's new to singing, but is giddy with excitement when she hears her voice through recording studio speakers for the first time.
The show's two most explosive moments stem from Chaidez's headstrong will power. The band members are finally gelling during an early writing session and producing their own material, but then they're abruptly whisked away to work with another male producer. Chaidez is understandably upset when their moment of all-female artistry has been interrupted by a dude they've never met before, and when they call their manager Lichtenberg to possibly cancel the session, she's sympathetic, but tells them to go through with it anyway. Lictenberg inevitably tells Charli about the band's hesitancy, and Charli takes offense to the implication that working with male producers somehow compromises female artistry. Charli vigorously confronts the band about it, and none of the other members backs up Chaidez's good intentions when she initially voiced concern.
Although there are other moments of tension, this is the most visible crack in the relationship between Chaidez and the other members, and it leads to her eventual teary-eyed departure from Nasty Cherry as she insists on not answering any questions about it. The band members are all shocked that Chaidez was even considering leaving, and they're left trying to process the bombshell that was just dropped. After a long meeting with Charli, her team and the whole band, Chaidez eventually agrees to rejoin Nasty Cherry. Fans of the show might speculate that the departure was pre-planned to heighten the drama, but their emotions appear far too genuine for the spat to have been manufactured. The show ends on a high note: they release their first single (which now boasts over 2 million Spotify streams) and sell out their first official show.
What's confusing about I'm With the Band's concept is why it was necessary to start a project from the ground up in a relatively fabricated fashion, rather than championing an existing all-female project that was formed organically. Despite its light display of music industry slime ("The acceleration of the band is unnatural," Chaidez tells her Kitten bandmate Blu at one point), the show manages to overcome that barrier with four likeable band members who throw whimsical house parties, drive each other crazy and struggle to open bottles of wine before erupting into fits of laughter. This isn't the catty mayhem in the vein of Real Housewives or Jersey Shore—these women rally around each other, and sadly that still feels like a radical concept for a female-starring reality show.
Some of the show's most humanizing moments come from the brief appearances of Bechtel's mother, Chayo, who's first seen asking Gabi whether the other girls are nice—as if she's calling her daughter at college for the first time—and later filmed dying Knox-Hewson's hair, cracking jokes with them and singing expletive-filled lyrics at their show. Another flash of grounded humor arrives after their shaky first band practice where Lichtenberg reports to Charli that "they were above rock bottom."
Los Angeles may be a cesspool of plastic industry types, and these women are in an extremely privileged situation (which they acknowledge), but there's still an underlying purity to the show because they don't seem conniving or self-absorbed. Even though their formation has been somewhat cynically concocted, your instincts will lead you into their corner, whether you wanted to end up there or not.
I'm With the Band is a net positive show because many of the young women and music fans who are likely to watch it will see how powerful it is to make music with people you love. Though current and future creators don't have access to the same resources that Charli or Nasty Cherry have, the premises at the heart of the show—that we're capable of more than we think, that music is transcendent and that camaraderie should be protected and celebrated at all costs—still ring true.
I'm With the Band: Nasty Cherry is streaming now on Netflix. Listen to Charli XCX's 2012 Daytrotter session below.