The Top 5 Moments from Jane the Virgin's Strife-Filled "Chapter Forty-Nine"
(Episode 3.05)
The CW
TV
Lists
Jane the Virgin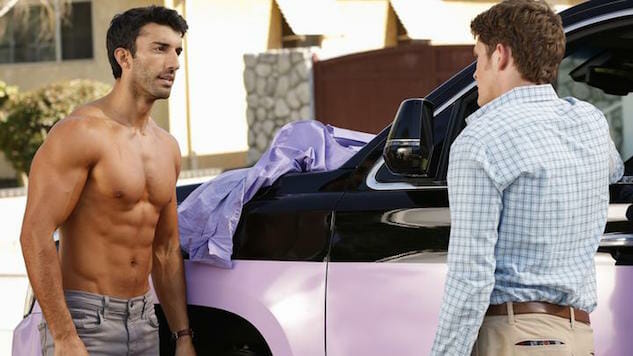 In Jane the Virgin's "Chapter Forty-Nine," there's strife among the Villanueva women, as Jane does the one thing her grandmother's forbidden—contacted her Venezuelan family members. The men of the show try their damndest to get along, until baby Matteo scares them into submission.
5. Alba's Woes
After three seasons of watching the relationships among the Villanueva women strain and strengthen repeatedly, the cord between Jane and her grandmother, Alba, is more tense than ever before. We're used to the fights between Xiomara and Alba being tough to handle, but with Ivonne Coll's grand performance Alba's now reached a point of heartbreak and disappointment with Jane, too.
Coll doesn't play it safe it in "Chapter Forty-Nine," and despite the telenovela tropes, she ably shows Alba's distress: As Cecilia revealed on that fateful wedding day, Alba's mother passed away without talking to her estranged daughter. Frustrated that Jane did not respect her wishes—by donating to a GoFundMe account—Alba rides a wave of anger that's long been suppressed. How long will the relationship remain fractured, as Jane continues to reach out to her other family members? When it comes to Alba's forgiveness, it could be a long wait.
4. Bromance and Man Dates
It almost goes without saying that the fighting between Michael and Rafael should have run its course, like, last season. Thankfully, the writers heard our cries, because "Chapter Forty-Nine" forces the men to reach a place of understanding. Michael's insecurities are what helped foster the relationship between Rafael and Jane during the first season, and Rafael has never let anything get in the way of his wants. Until now. Like Jane, it's exciting to see the two try to connect with each other, but Michael has to go and slut-shame Rafael. Not to fret, Rogelio and Matteo find a way to make the pair talk out their issues. Bromance is alive and well on Jane the Virgin.
3. Rogelio's Nudity Clause
In my favorite Rogelio scene thus far, he gathers Michael, Jane and Xiomara to talk about the role of his life. Everyone is excited, but there's a catch: Rogelio wants to make sure Jane approves of his full-frontal nude scene. The other two should be fine, since, you know, they have been acquainted with Rogelio's penis in previous seasons.
I have questions. How many takes had to happen to to film this scene, because it looks like Brett Dier, who plays Michael, could barely contain his laughter? How will Jane recover, since Rogelio wants to make sure she doesn't miss a moment of his big, on-screen part? I have others, but I think those are the only two suitable for this list.
2. Rogelio Saves Another Dream
Anything that parodies Grease's "Beauty School Dropout" and bests the original has a place in my heart. In a sweet surprise, Xiomara decides on her new career while standing on stage with her students: a dancing school. It'll be hard work, but she's in it for the long haul after she dreams that Rogelio, Alba and Jane are directing her to this goal. The musical moment is so much fun, it's a wonder why we don't have more of these daydream setups. Oh right, the CW already has the hilarious Crazy Ex-Girlfriend filling that spot. May I suggest a crossover episode in the future?
1. "Chapter Forty-Eight" Shout Out
There's a been a recent surge of TV series tackling finances and class issues, and Jane the Virgin has contributed to the trend from the beginning. Here, Michael and Jane's issues with budgeting—and possibly losing their dream home due to unpaid rent (Petra was paying half, unbeknownst to the couple)—is just another way to speak up about the struggles of the working and middle classes. We know Jane is safe from being homeless due to Rogelio and Rafael, but the show remains close to its roots, and it's nice to see that represented.
---
Iris A. Barreto is a writer for
Fangirlish
, freelance writer for
Paste
and social media intern for
Pink is the New Blog
. Heavily caffeinated. Forever lost in Westchester, NY & NYC; all GPS apps hate her. You can follow on Twitter.