Killing Eve Gives Up and Hits the Reset Button in "The Hungry Caterpillar"
(Episode 2.03)
Photo: Gareth Gatrell/BBCAmerica
TV
Reviews
Killing Eve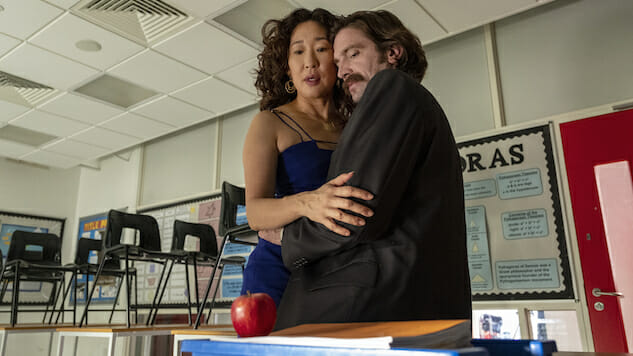 Ever since Villanelle (Jodie Comer) escaped Eve's (Sandra Oh) clutches in the Season One finale, Killing Eve has held its driving question at arm's length. After failing to commit to the co-leads' fateful confrontation, how will the series' cat-and-mouse game evolve? In "The Hungry Caterpillar," we get our answer: It won't.
For fans of the series, this may not be much of a disappointment, and "The Hungry Caterpillar" has its share of small pleasures. There's the return of the series' rococo assassinations, this time involving an elevator and a fake Hermès tie. There's Villanelle's squeal of delight at a pair of silver lamé slacks, and the powerful queer energy of the episode's pantsuits. There's Eve's husband, Niko (Owen McDonnell) offering a domestic spin on Call Me by Your Name with the line, ""I'll just masturbate onto this omelet then, I guess." There's Carolyn (Fiona Shaw) stifling a yawn after tearing Eve a new one, because anger makes her sleepy and betrayal wastes her time. ("I have hobbies.") And there's the episode's entire final act, which gives me hope that reprising the terms of the first season—Villanelle and Konstantin (Kim Bodnia) together, Eve in pursuit, Carolyn's motives unclear—is the right choice for Phoebe Waller-Bridge's devilishly entertaining espionage drama, if not the most ambitious one. Still, it must be said: Killing Eve is in full retreat in "The Hungry Caterpillar," unable to find new ground on which to play its old tricks.
It's not that the terms are exactly the same. After playing Eve for a fool, Konstantin offers Villanelle a chance to operate independent from The Twelve, which presumably means we'll be seeing more of Raymond (Adrian Scarborough) and, one hopes, the Ghost. And it seems clear that Eve will go off-book to chase Villanelle while helping Carolyn track down the Ghost and close the Peel case. (Another reason for optimism are the frissons of something bigger at work here: The fact that the Peel Company is selling "basically everything you've ever looked at and done online," as Nina Sosanya's Jess explains, or that when it comes to recruits, Carolyn appears to have a type. But it's hard to know at this point whether these are tossed-off remarks or the germs of a fresh twist.) Fundamentally, though, "The Hungry Caterpillar" is old hat for Killing Eve, down to Villanelle slipping Eve a fashionable clue/gift—a tube of lipstick—and acting bratty in Konstantin's car. Even the return to Eve and Niko's flailing marriage, though the subject of sustained attention, doesn't add much to our understanding of their relationship. "His wife barely even notices him," an admirer of Niko's says to a disguised Villanelle at one point. Uh, yeah, we gathered that.
And yet, for all the frustration of seeing Killing Eve return to the first season's status quo, there's something comforting in the knowledge that its essentials are strong enough to support an almost procedural bent, with an assassination-of-the-week putting three cunning women on the tail of two other cunning women, who in turn might reasonably be expected to start gunning for each other, not to mention Operation Manderlay itself. It's great material for a TV series! Especially one with as shrewd a sense of humor as this one. In order for the premise to retain its distinctiveness, though, Killing Eve will have to lean harder into elements of character that run deeper than the protagonists' mutual obsession—a turn for which the beginning and the end of "The Hungry Caterpillar" seem to lay the groundwork.
Fast on the heels of Konstantin's description of Villanelle as a parasite, for instance—the Hungry Caterpillar munching on Eve's brain—he adds that she understands hate, not love, because the former is "manageable," squaring space for the series to investigate further how she came to be. Similarly, with Villanelle set to target (or at least threaten) Niko and her marriage on the rocks, it's significant that Eve can't answer Kenny's (Sean Delaney) question about who she's doing this all for, if not for herself. By the time Villanelle's clue/gift turns out to be a weapon in disguise, Killing Eve has already found a potential solution to its evolution problem—though whether it'll stick remains to be seen. Plumbing the characters' motivations more deeply may allow Killing Eve to change even as its essential structure stays the same, advice that's best stated by Villanelle (via Roxette): Listen to your heart.
---
Matt Brennan is the TV editor of
Paste Magazine
. He tweets about what he's watching @thefilmgoer.