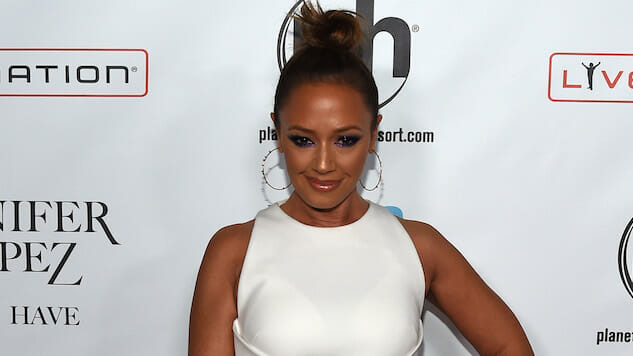 Everyone has that one friend that tries to get you to do weird shit. They want you to accompany them to hot yoga, stay in a hostel on your trip to Thailand or join a soul-sucking cult based on the writings of a man who most likely suffered from some varying degree of psychosis. You know, normal pushy friend stuff.
Former Scientologist and newfound muckraker Leah Remini admitted to her longtime friend Chelsea Handler on her Netflix show Chelsea that she was prompted by members of the church to try to convert Handler to the religion—Remini says the church was pushing her to "work on Chelsea." She was also asked to persuade Handler to stop making fun of Scientology, to which Handler told her to go fuck herself.
For those of you who are unaware of the intricacies of Scientology, it essentially functions as a get-rich-quick scheme for its leaders, siphoning hundreds of thousands of dollars out of people during "auditing"—a process by which people are supposedly elevated to higher levels of enlightenment— which people undergo so they can cross the "bridge"—the stepping-stones to the ultimate form of enlightenment. One must be audited to cross the bridge; an auditing session costs thousands of dollars. As Remini says of lower-income Scientologists, "They're being defrauded out of their life savings. It costs a quarter of a million dollars easy to be in Scientology … They live below their means to pay for their religion."
There is a full list of people who know that this is going on, yet still participate in it. That list includes Laura Prepon, Kirstie Alley, Elisabeth Moss and the voice of Bart Simpson, Nancy Cartwright. That '70s Show's Prepon gave a sufficiently insane interview with Celebrity magazine, in which she used the phrases "purification rundown," "the tone scale," "the MEST universe does not control you" and "you really cognate that you are a thetan." There are no drugs that we know of good enough to make you feel this far removed from reality.
Kudos to Remini for taking steps to combat the religion. Her show Leah Remini: Scientology and the Aftermath airs on A&E. You can watch her interview with Chelsea Handler below.