Back in April Parks and Recreation ended its sixth season on a high note with a celebration of celebrity cameos and a sudden leap forward in career momentum for Leslie Knope. Time jumps aside, the show has always been about tackling big ideas in small-town context, whether those ideas are bureaucratic, political, or personal. Season Six did more than unite Pawnee and Eagleton: it fundamentally shifted the primary storyline of the show, and it bid farewell to Ann, essentially closing the book on one of the show's most important relationships.
There's no denying that Ann and Leslie's friendship has been a strong cornerstone of Parks and Rec's continued momentum, but just because Ann's moved to Michigan to have perfect babies with Chris Traeger, it doesn't mean their beautiful friendship has to be forgotten. As we saw with Leslie's attempts to replace Ann at her most recent Galentine's Day, nobody has quite the nobility, beauty or strange ability to take a compliment involving a comparison to a musk ox as Ann does.
While biding time until the next season, we've decided to cultivate some of the best and most unusual compliments that Leslie has tossed Ann's way. The Internet likes to call these "Ann-jectives," but we'd like to think they're useful to anyone who has a friend that is beautiful and whose ambiguous ethnic blend perfectly represents the dream of the American melting pot. Or not. (As a bonus, we found this website —generate more compliments for your Ann.)
8. "Ann you (tricky/devious/coy) bastard."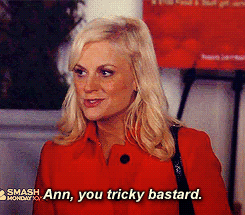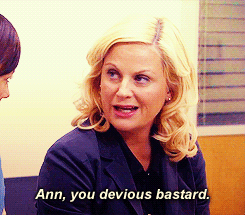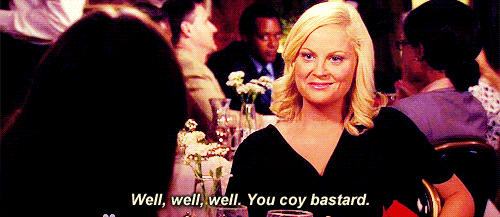 When said lovingly, the word 'bastard' takes on a fun and dangerous edge watch out world! Ann doesn't care what you think.
7. "Oh, Ann. You beautiful, naïve, sophisticated newborn baby."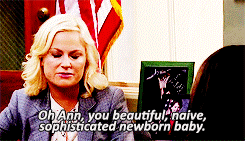 Leslie perfectly conveys the balance of beauty and perfection in Ann's political innocence. It's like "bless your heart," only much funnier.
6. "Ann, you beautiful spinster."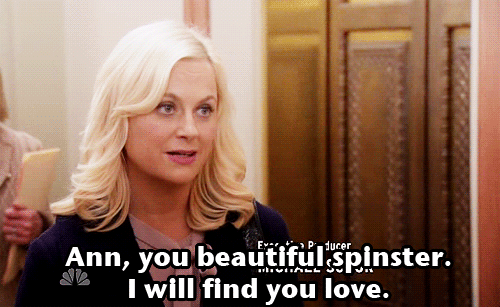 "I will find you love," Leslie says almost menacingly before getting everyone in the office to bring potential suitors in front of Ann at a Valentine's dance for older couples. Leslie's compliments often veil impending action—actions like painting your garage pink even though she wasn't asked to.
5. "Oh, Ann, you beautiful, rule-breaking moth."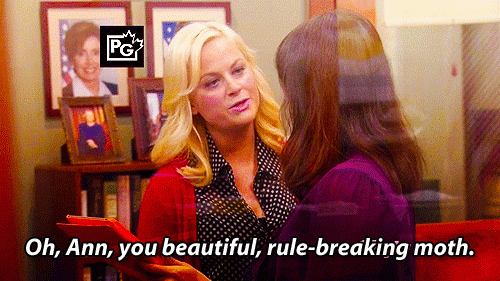 When in doubt, combine two adjectives (at least one of which has to be the word "beautiful") with an unlikely animal and your compliment is bound to reach Knopean proportions.
4. "Oh Ann, you beautiful tropical fish."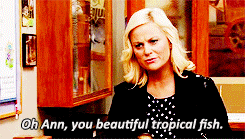 See: previous point, with the added bonus of complete surprise.
3. "You are a beautiful, talented, brilliant, powerful musk ox."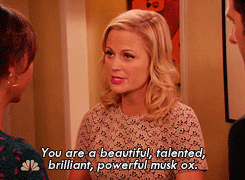 This one is a reminder that not all compliments must be based around visually appealing animals, either: compliment your Ann's work ethic, strength (of body, or of character), powerful legs, or wide-set eyes. Don't limit yourself!
2. "Ann, you poetic noble land mermaid."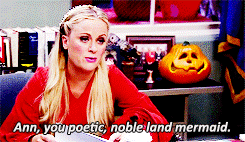 When in doubt, get mythological with it—then again, what is a land mermaid? Ann. Ann is a land mermaid.
1. "You are the most beautiful, glowing, sun goddess ever."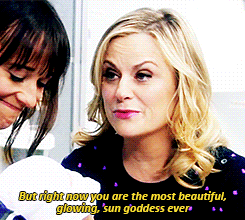 Don't be afraid to elevate your Ann to the level of deity; Ann Perkins' departure from Pawnee and from Parks and Recreation has done just that in the eyes of both the characters and the viewers. No longer is she just regular, old Ann/nurse/best friend. Now she is the Ann who helped build a park, helped Leslie win office, and helped unite two towns; she's Ann who built a mythology around herself and left everyone behind to take care of things while she lives her life elsewhere.
?We miss you, Ann, you beautiful and majestic crocodile.
Whitney Baker lives in Carrboro, North Carolina, where she wrangles digital media, has her toes and fingers in comedy and yoga (but not at the same time) and contributes to Paste. You can follow her on Twitter.