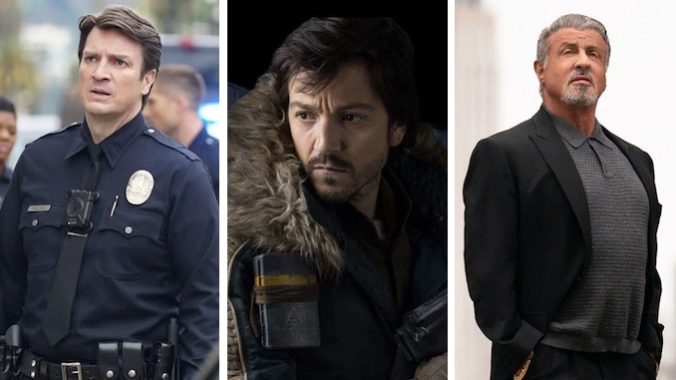 In January, FX head honcho John Landgraf revealed during a Television Critics Association panel that 599 original series aired in 2022 and that we've finally hit the Peak TV era. But forget Peak TV, what we're really in is the era of Peak DAD TV. Or put another way, if you're a male over 30, dad or not, there's a plethora of fascinating TV programming to binge and indulge in.
To be sure, we still love to grill, enjoy listening to our favorite SiriusXM radio stations, take naps, tell everyone that we don't need anything for our birthday, and brag about what big partiers we were in college. But now that the Peak Dad TV era is upon us, we'll also happily talk ad nauseam about our favorite shows as well. And why wouldn't we when there are so many options? Every week it seems like a new program is released that is specifically aimed at our demographic. Or maybe there's just a new Taylor Sheridan series.
Surprisingly, Dad TV programming is incredibly diverse. As you'd expect, we tend to lean towards shows with elements of action, science fiction, history, or sports. But we also love a good joke (especially a corny dad one), adore an underdog story, have nostalgic tendencies, and will melt into a puddle and become completely addicted to a series if a dog or child is protected by a father figure, because our exterior shell often belies the big softie we hide inside. Throw in a relatable protagonist we can picture ourselves hanging out with, and you have everything you need to get a dad glued to the tube.
With all that in mind, grab some snacks, a beer, and get out of pop's designated spot on the couch. You'll screw up his ass groove. It's time to start streaming the best dad TV shows. Here are our picks:
1. The Last of Us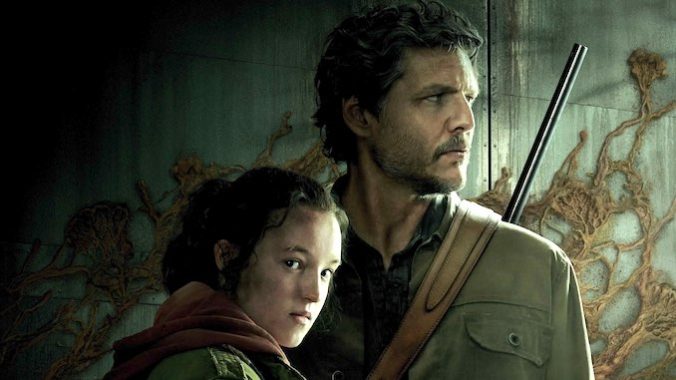 Why It's Great Dad TV: It proves that dads love puns and can't help but be protectors.
You wouldn't think puns would work as connective tissue between characters in any television series, yet alone a brutal post-apocalyptic drama, but it does just that whenever 14-year-old Ellie (Bella Ramsey) throws them at 50-something Joel (Pedro Pascal) throughout the first season of The Last of Us. In a world as dark and dangerous as the one viewers see onscreen, measured humor goes a long way.
Humor is one of the many tools that series creators/writers Craig Mazin (Chernobyl) and Neil Druckmann (designer of the videogame the series is based on) use to build layered characters to tell a heartbreaking, yet inspiring story filled with loss, hope, determination, and redemption. And it all revolves around Ellie and Joel.
Pascal positively shines as Joel, perfectly balancing the physical aspects of the role with an emotional heft that's hard to pull off in a character who is a man of action and few words. But the breakout star of The Last of Us is Ramsey. The actor, who was a scene stealer as Lady Mormont in Game of Thrones, is a wisecracking badass and certain to be a fan favorite. Together, the duo make a team that's easy to root for and more importantly, care about. Complex characters combined with stellar acting, a wonderfully paced story, and an emotionally engaging plot make The Last of Us a brilliant series that is now the template all other videogame-to-TV adaptations should follow. —Terry Terrones
---
2. Andor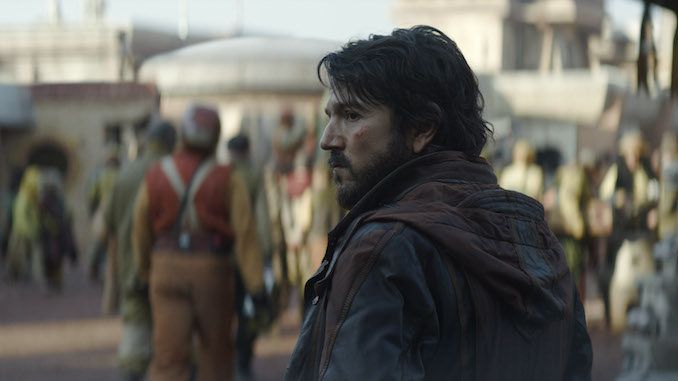 Why It's Great Dad TV: It blends two of our favorite things—spy thrillers and Star Wars.
Despite being set in a fictional, Star Wars setting, Cassian Andor's journey feels real. His home planet was abandoned after a mining disaster left it useless. He's an immigrant on a planet scrounging for work and a way to move up. He's lost his family and is beaten down by a lack of opportunities. All Cassian needs is a union card and a wedding coat and he'd be a Bruce Springsteen song. And through it all there is Diego Luna, who manages to channel rage, disappointment, and the will to keep fighting with either a skillfully delivered line or an adroit facial expression. Luna is masterful in Andor. It's a performance inspiring enough to make me want to fight the Empire right along with him. —Terry Terrones
---
3. The Boys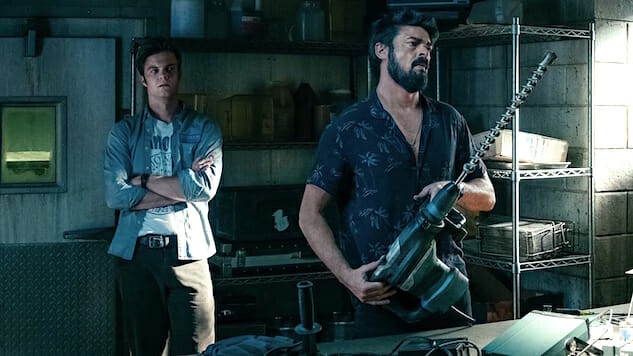 Why It's Great Dad TV: It's a live-action R-rated comic book and we are SO down for that.
At no point did I ever expect to say The Boys was the best thing I've seen on TV all year, especially given that it was initially promoted with clips putting the focus on shocking acts of superheroes behaving badly. But the reality is The Boys is a true surprise, walking a careful line between Robocop and The X-Files to deliver jaw-dropping television.
Based on Garth Ennis' bloodsoaked comic book satire of the same name, Prime Video's The Boys takes place in a world where superheroes are modern celebrities. Thanks to a partnership with the ironically Amazon-like corporate juggernaut Vought International, over 200 supers bring in billions a year from movies, commercials, and every endorsement that comes within reach. When a superpowered being behaves badly, Vought is there to pick up the pieces, sometimes of people's families. The world we see in The Boys is a savagely cynical place, full of sociopathic superheroes, conspiracies, staggering violence, and debauchery.
Yes, it's crass as hell and one of the most violent shows on TV right now. But deep down, when you push past the gore, sex, and horrors committed to screen, the thing that sticks with you is the show's emotional core. If you've grown tired of superhero stories, here's one last essential tale to take out your frustrations on people who wear capes.—John-Michael Bond
---
4. The Rookie
Why It's Great Dad TV: Nathan Fillion is the lighthearted Everyman we'd love to be neighbors with.
How adored is Nathan Fillion? The Rookie was ordered straight to series before a pilot was even filmed, which doesn't happen very often. The beloved Canadian actor, whose charisma gives off a "Ryan Reynolds' less threatening older brother" vibe, stars as John Nolan, a cop for the Los Angeles Police Department. When the program debuted in 2018, Fillion's character was a 40-year-old rookie making a career change after going through a divorce and a personal tragedy. "Young" Nolan often had a hard time fitting in. Years later, the character has evolved into a relatable, dependable, witty leader who people can count on to both save the day and spout a quick quip. In other words, a classic Fillion role. —Terry Terrones
---
5. Star Trek: Strange New Words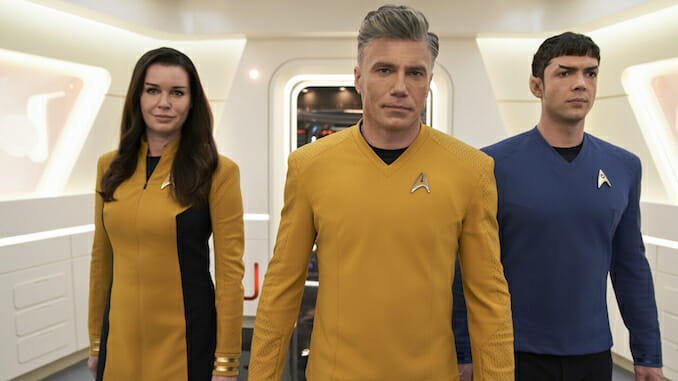 Why It's Great Dad TV: It appeals to the space aficionado inside every father.
Star Trek: Strange New Worlds is an absolute blast, and a big reason for its success is that it's deeply rooted in the DNA of the Star Trek mythos. It's full of compelling characters, and its episodic format serves as one of several bridges that link it to The Original Series. Allowing viewers to see the action aboard the Enterprise from multiple perspectives is refreshing. Smart, addictive, and flat-out fun, Strange New Worlds is the best Star Trek series since The Next Generation, and acts as a faithful love letter to the original. Old fan or new, this is a trek you'll certainly want to take. —Terry Terrones
---
6. Billions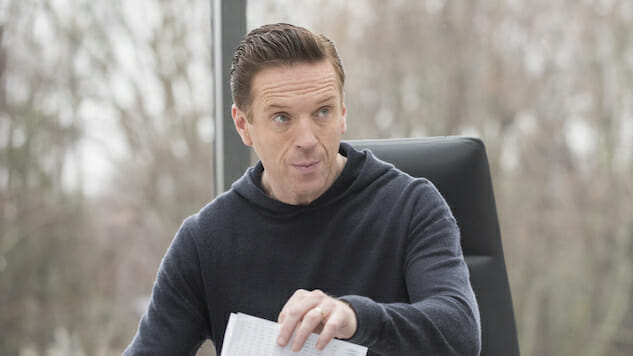 Why It's Great Dad TV: It's Succession without the bratty adult children
Billions has long established itself as one of Showtime's strongest voices. The reason it stands out is because it knows exactly what it is. It's confident in its overblown dialogue and unrelenting in its application of machismo, portraying the world of cutthroat hedge fund managers, and the "good guy" government bureaucrats as power hungry as they are, in a way that never once shies away from the sheer theater of it all. By amplifying the worst aspects of its main characters, Billions becomes so much more than a self-satisfied, wholly entertaining financial drama. It's also a scathing bit of satire, using its bombastic dialogue and performances— Damian Lewis and Paul Giamatti chew scenery like starved carnivores—to expose the emptiness not only at the heart of neoliberalism, but also inside those who use the system to manipulate and oppress others. —Kyle Fowle
---
7. Peacemaker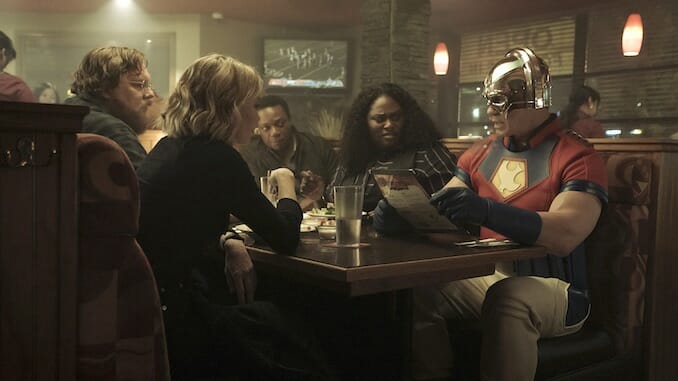 Why It's Great Dad TV: It's silly, action-packed, has a killer soundtrack, and is from James Gunn who we adore.
Chris Smith, aka Peacemaker, is a ridiculous character.
The red, white, and blue-clad superhero/supervillain is a walking, dudebro-talking contradiction. Peacemaker is arrogant, socially unaware, misogynistic, and culturally insensitive. His ridiculousness extends not just to his costume (that's not a toilet seat he's wearing on his head, that's a beacon of freedom) or to his pet bald eagle named Eagly, but also to his most commonly used catchphrase. "I cherish peace with all my heart," says Peacemaker in The Suicide Squad. "I don't care how many men, women, and children I need to kill to get it."
While Peacemaker carries some darkness, this is a James Gunn production, so it's also filled with humor and music. The script is rich with witty banter, action scenes are destructive and wacky, and star John Cena will clearly say or do anything for a laugh. "This is my jam," says Peacemaker while flipping through a stack of '80s hair metal albums from the likes of Cinderella and Faster Pussycat. "This is back when men were real men because they weren't afraid to be women." A few moments later he's singing along to the Quireboys song "I Don't Love You Anymore," using a vibrator as a mic while wearing only tighty whities and dancing around like Axl Rose. It's embarrassing and hilarious at the same time. This series luxuriates in its own ridiculousness, which it manages to balance with a compelling story. Bottom line, Peacemaker is just flat-out fun to watch. —Terry Terrones
---
8. black-ish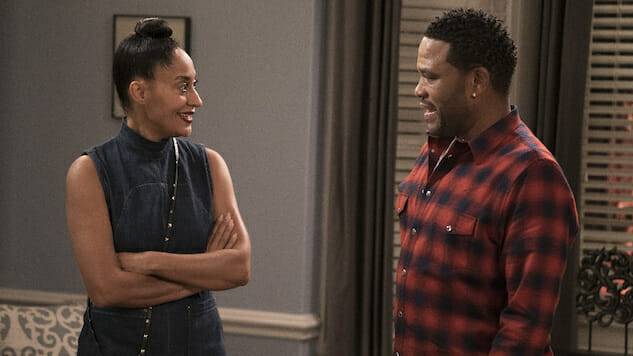 Why It's Great Dad TV: It's funny and thoughtful, like every dad hopes to be.
To enjoy black-ish is to enjoy all that the show has to offer in the name of entertainment. The sitcom about a wealthy black family is especially hilarious when the child stars (Marsai Martin and Miles Brown) are leading the plot. But when the show veers to address topics that reflect America's race relations and systematic injustices, it shines brightest, because the writers are not afraid to be strikingly honest and come at an issue from different angles (without losing any of the writers room wit). From Season 2's "Hope" to Season 4's "Juneteenth, black-ish stands apart in its ability to be simultaneously conscious and comedic. There's a reason it's spawned two spinoffs. It has been pure joy to see the Johnson children continue to grow up and the show continue to blossom. —Iris Barreto
---
9. Welcome to Wrexham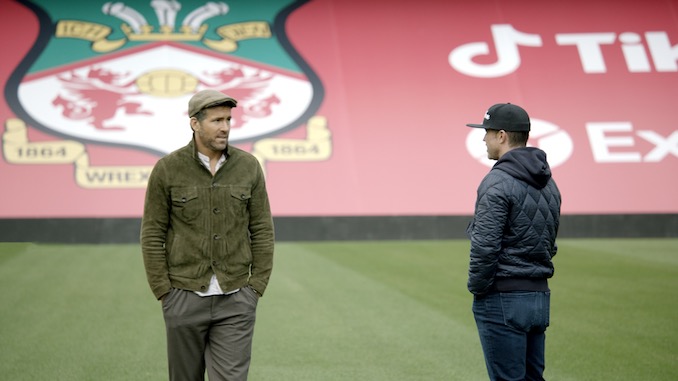 Why It's Great Dad TV: We love sports and an underdog story.
When rich people buy a sports team, the risk is always that it's a vanity project, and when a minor league Welsh soccer team is purchased by two Hollywood celebrities who don't know soccer, don't know each other, have never been to Wales, and are making a documentary about it… well, the red flags are waving. In this case, though, Rob McElhenney (It's Always Sunny in Philadelphia) and Ryan Reynolds are convincing in their ambition to return Wrexham to its former glory, and that ingredient is enough to propel FX's Welcome to Wrexham into the upper tiers of recent TV docuseries. McElhenney in particular is relentless in his quest, ensuring that the club has a top-notch manager and one of the best goalscorers in lower-league British soccer. This singular drive, and the buy-in from the town, is the engine of what makes Wrexham such a resounding success. The documentary itself focuses just as much on the town, and the terrific, funny, heartbreaking stories of its citizens, as it does on McElhenney and Reynolds, and the final product is overflowing with heart. Wrexham is in this for a long haul, but it seems like the Americans are, too. —Shane Ryan
---
10. Reacher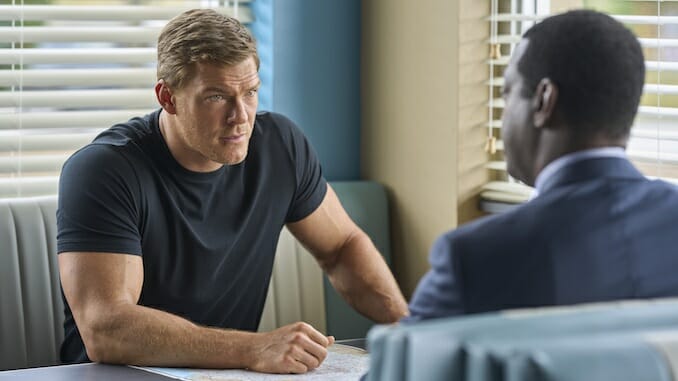 Why It's Great Dad TV: We always root for cool dudes who kick ass.
Tom Cruise may have played Jack Reacher in two separate films, but when it comes to the embodiment of the character from the popular Lee Child novels, the actor doesn't quite match the description. In the long-running book series, Jack Reacher is described as being 6' 5," around 250 pounds, with dirty blonde hair and blue eyes. That's a far cry from the 5'7" star of Mission Impossible and Top Gun. The height of a lead actor for a television series may seem unimportant, but not in this case. Reacher's imposing size is part of the character's identity, something more appropriately personified in the brawny 6'2" Alan Ritchson (Titans, Smallville), who takes over the role in the TV series. Thankfully for viewers, there's a lot more to Reacher than looking like an intimidating NFL defensive lineman; all of his unique character traits from the Lee Child novels have made their way into the series, as well as his compelling backstory. —Terry Terrones
---
11. Tulsa King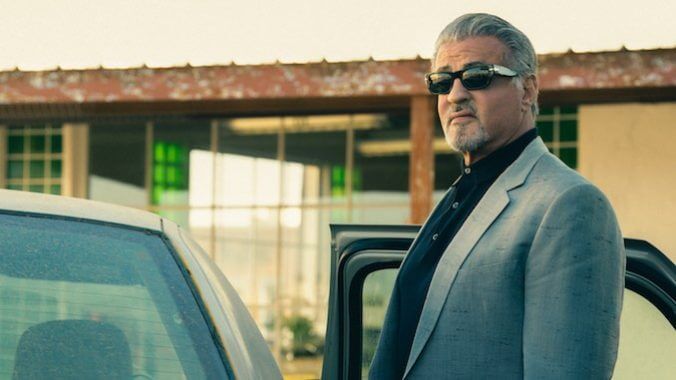 Why It's Great Dad TV: Every dad, regardless of age, is required by law to love Sylvester Stallone.
The premise of a mafia show starring Sylvester Stallone and written/directed by Taylor Sheridan, the man who gave us brilliant films like Sicario, Wind River, and Hell or High Water—and even the eminently watchable and occasionally great Yellowstone—seemed almost too good to be true, and I'm sorry to bear the bad news that, well… it absolutely is. The reality of Paramount+'s Tulsa King doesn't match up to the promise, and that has to be the headline here. But if you're in the market for Stallone in a role that can best be described as "Jack Reacher, but old and Italian," you're going to have some fun. And in the current TV landscape, you could do a lot worse than a good time. Stallone's Dwight Manfredi comes out of a prison to find a New York City that has no place for him, and the Invernizzi crime family to whom he showed decades of loyalty has decided to exile him to Tulsa with the mandate to make money. He breaks a jaw on that way out the door, but ultimately does as he's told, and the narrative spirals from there. Like Tulsa itself, it may not be the most appealing destination in the world, but come in with the right attitude, and you'll have more fun than you expected. —Shane Ryan
---
12. The Terminal List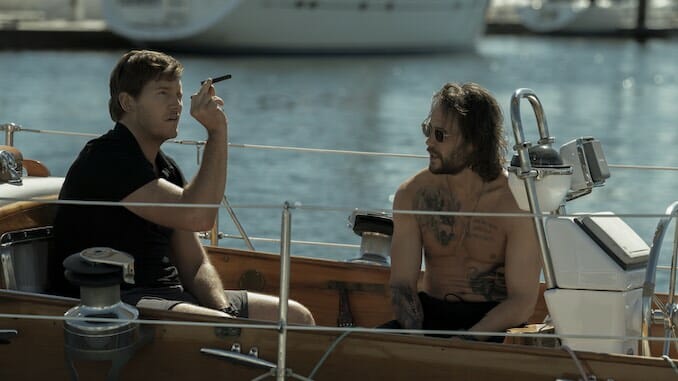 Why It's Great Dad TV: It's the dad trifecta: revenge, the military, and Chris Pratt
If you're looking for a 40-something male to be tough, action-oriented, charming, and hold a weapon with a smirk, Chris Pratt is your guy. As such, an easy-to-root-for, determined hero is exactly what viewers can expect from Pratt as Lt. Commander James Reece in The Terminal List. The gung-ho drama flowing with military jargon focuses on a Navy SEAL unraveling the mystery of how a subversive tech company murdered his family and killed off his platoon to cover up a complex conspiracy. It's a bona fide buffet of dad programming. Action forward and loaded with intrigue—yet not without significant flaws—the series remains enjoyable due to its star. —Terry Terrones
---
Terry Terrones is a Television Critics Association and Critics Choice Association member, licensed drone pilot, and aspiring hand model. When he's not hanging out with his son Connor and daughter Grace, you can find him hiking in the mountains of Colorado. You can follow him on Twitter @terryterrones.
For all the latest TV news, reviews, lists and features, follow @Paste_TV.